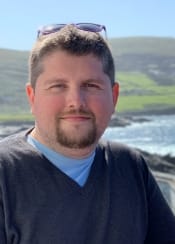 Patrick McDermott
Consultant
Before joining Team Heller, Patrick previously worked in the nonprofit sector for Common Threads, a nationwide nonprofit providing cooking and nutrition education to children and families. He also worked for Americans for Informed Democracy as their Global Peace and Security Fellow and has held numerous positions in the food and beverage industries since 2008. Patrick believes individuals and communities alike have the power to reshape the world for the better. He sees it as his mission to enable them to do this through a forward-looking spirit, a focus on efficiency, and an understanding of the transformative power of people-centered innovation and technology. He loves being able to put this personal mission statement into practice here at Heller with the clients he serves. Patrick works with his clients to create technology roadmaps and guide them in solution selections, business process maps and more strategic deliverables.
Patrick is an Advisory Board member for Learning Life and is helping them to organize a first-ever Democracy Learning Community in the DC Metro area.
Certifications
Salesforce Certified Administrator
Education
B.A. in Political Science from Moravian University
Interests
In his spare time, he occasionally freelances and consults on projects ranging from website design to enhancing productivity through technology. He also loves all things Star Wars and Batman and watching football and soccer and traveling anywhere and everywhere with his wife and daughter.