Digital Transformation for Nonprofits: It's as Much About People as it is About Tech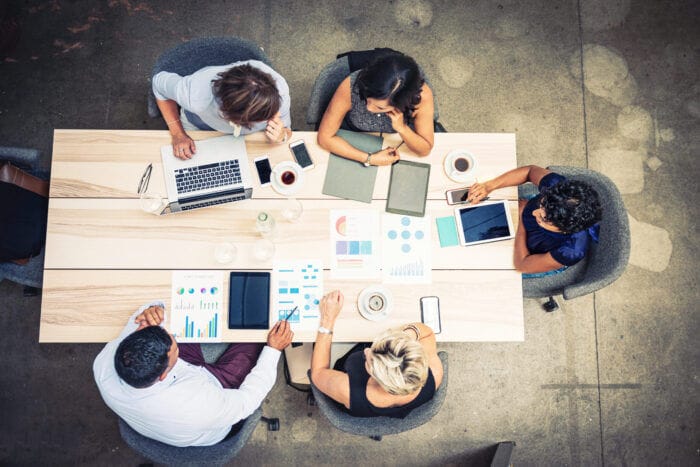 When you think about digital transformation for your nonprofit, you might think about moving to more modern technology. But digital transformation is about more than just the tools you use.
It's about re-thinking processes, customer experiences, and even organizational culture to meet changing business and market needs in today's digital era. And it requires your nonprofit's staff to adopt new technology and new ways of doing things.
So, when it comes down to it, digital transformation is as much about people as it is about technology.
TIP: Discover more insights and tips on digital transformation: Download The Nonprofit's 2022 Guide to Digital Transformation. 
The evolution of how nonprofits are using technology
There's an important shift in how nonprofits put technology to work to facilitate processes and support their staff. In the past, technology planning focused mostly on improving fundraising, reporting, and programs. Today, there's an added emphasis on how technology is used to improve collaboration and empower employees in their jobs.
For example:
Staff collaboration – How staff members collaborate is now a core part of the larger technology picture. This is one reason we see Microsoft promoting its Teams integration with Microsoft Cloud for Nonprofit and Salesforce to focus on Slack for nonprofits.
Online community interactions – Online communities are quickly becoming must-haves for nonprofits that want to deliver a modern constituent experience that's relevant in today's virtual environment. In a community, it is common for constituents to interact and make connections with each other and the organization. For example, if you have aa community of volunteers responsible for planning a large event, they can collaborate on marketing collateral, event logistics, and keeping track of event registrations and revenue raised using dashboards, email, SMS, and more.
Online community portals also serve customer support functions, empowering people to engage with nonprofits in new ways. For instance, an online community or a portal that's connected to your customer relationship management (CRM) system can allow donors to update their credit cards, giving amount, or cadence through a donor portal. A volunteer portal might allow prospective volunteers to apply, receive training, and sign up for relevant volunteer opportunities. These approaches can free up your organization from some of the day-to-day administrative work and offer constituents more control.
Efficiencies – The Harvard Business Review article, How Smart Tech is Transforming Nonprofits, points out how nonprofits are integrating advanced digital technologies that make decisions for people (such as artificial intelligence) into internal workflows, fundraising, communications, finance operations, and service deliver efforts. This approach is best used for manual tasks, such as reconciling expense reports and answering commonly asked questions online – freeing up staff time to focus on other activities, such as getting to know constituents on a deeper level and focusing more on ways to achieve the organization's mission.

Minimizing the disruption of changes during digital transformation
There's another aspect to the "people" part of digital transformation. When it comes to people and how we work, we can find change stressful and unsettling – even when it moves us forward.
That's why change management is such an important part of digital transformation. It gives you a way to help your organization adapt to changing technology and processes with minimal disruption to work.


TIP: For a deeper dive on change management for nonprofits, read The Nonprofit's Guide to Change Management.
Let's look at three key concepts when it comes to the "people" aspect of introducing new technology to your organization and how you can minimize disruptions:
Reducing fear – When a digital transformation project starts, people can respond in a fearful way. They might be afraid that they'll lose their jobs or that they'll lack the skills needed for the new system. As a nonprofit leader, you can proactively manage the organization through the change by providing a framework that gives staff a sense of clarity and certainty that helps to reduce stress levels and improve enthusiasm for the project. It can even increase overall job satisfaction for staff members.
Encouraging support – People need a reason to get behind a new project. They need to understand the vision you're working toward – giving them a better idea of why you're moving to new technology, not just how you'll be moving there.A helpful approach is to create a "why statement" that explains why your organization is doing the project in the first place and why you're doing it now. Ultimately, this approach will help you get buy-in from project team members. It can also keep the team focused if (and when) times get tough during a new technology implementation.
Improving adoption – Consider this: Telling people that they need to adopt a new tool and be more data-driven can be confusing and overwhelming to a staff member. Expecting someone in a development role, for example, to suddenly become a techy data person without proper training will likely make them more resistant to new technology.
That's why training is a big part of change management. It helps to overcome resistance by getting staff members more comfortable with new technology and processes. It also gets them working efficiently as soon as possible.
So, be sure to let all users of any new technology in your organization know that they will be provided training. Set up training opportunities that offer modern online learning options so that your staff can learn in a way that best fits their schedule and the way they learn best.
Digital transformation is the key to success in today's digital age. Just remember that it's about people as much as it is about technology.
And keep in mind that digital transformation can be approached from multiple angles. The important thing is to get started. We're here to help you decide how to do just that. Contact us today to speak with one of our experts.
More Digital Transformation Resources:
Download The Nonprofit's Guide to Digital Transformation: