Online Communities and Portals for Nonprofits: How You Can Get Started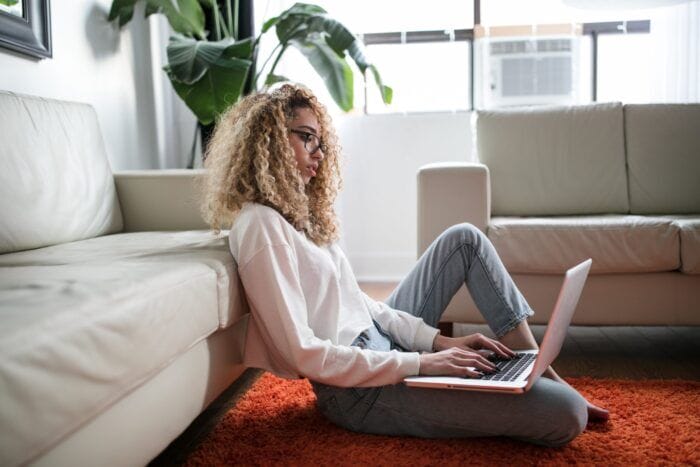 A current trend you're probably familiar with is the increased pace of digital transformation in organizations. It makes sense: In response to the global pandemic and the move toward online interactions, businesses — both for-profit and nonprofit — have recognized the need to strengthen the way they interact digitally with their customers and constituents.
As part of this trend, online communities are growing in popularity. Key findings from the State of Community Management 2021 report show that:
Executive interest and engagement in communities has increased dramatically
The maturity of online communities has improved significantly
Community maturity correlates to increased value for the organization
The growing interest in online communities at nonprofits

Here at Heller Consulting, we're seeing this interest in online communities growing in the nonprofit sector. Nonprofits are more interested than ever in building online constituent communities into their technology ecosystem.
In fact, we're seeing that nonprofits are beginning to view online communities and portals as an essential part of how they do business. Communities help them deliver services, connect with constituents, and even conduct donor prospecting, in today's virtual environment.
Communities and portals support digital transformation
An online community or portal that is part of or connected to your customer relationship management (CRM) system offers the benefit of being able to expose some of your CRM data to your constituents and allow them to interact with that data in a secure manner. For example:
a donor portal can allow donors to update their own credit card number, change their donation amount or date, etc.
a volunteer portal might allow prospective volunteers to apply securely and create a record in your CRM system for processing, then once approved, search for and sign up for relevant volunteer opportunities.
Approaches like these allow you to shift some of the work for keeping your records up to date to your constituents.
In a community, it's also common for constituents to interact with each other and your organization. An example here might be a community of leadership volunteers who are planning and executing a large event, and can collaborate on marketing collateral and event logistics; keep track of event registrations and revenue raised using dashboards, email, and SMS; and more. Typically in these communities, constituents have robust profiles that can be seen by other members, and like-minded people can create online spaces for collaboration.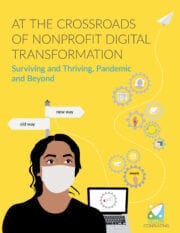 Read more about how nonprofits are using technology since the COVID-19 pandemic hit in our free guide: At the Crossroads of Nonprofit Digital Transformation
What to know about online community technology for nonprofits
If you're interested in including an online community in your strategy and want to find the right technology to support it, you have multiple options. Here are a few of the most popular online community platforms and some considerations for each:
Platform-owned and -managed online community tools
There are two primary online community, or portal, tools owned and managed by primary technology platforms, Salesforce Experience Cloud (formerly Community Cloud) and Microsoft Power Apps Portals:

Salesforce Experience Cloud brings the benefits of the customer-centric Salesforce platform to your online community. It can be pricier than other online community tools, however, community development requires a lower level of technical expertise than some options, and the tool comes with community management and reporting features that can be handy. This solution might be a preferred option if your technology ecosystem has (or will have) Salesforce-CRM at its core.
Microsoft Power Apps Portals was released in 2019 and has already grown from 300 million page views in 2019 to 600 million per month in late 2020. Microsoft has rolled out more features and decreased pricing during that time. Microsoft Power Apps Portals is still relatively new and less mature than other tools available on the market, but it's becoming more robust with every release, and its consumption-based and volume pricing options can make it particularly attractive — especially if your tech ecosystem is Microsoft-based.
Online community tools built on platforms, but not owned by platforms
Both Salesforce and Microsoft ecosystems offer online community tools that are built on their platforms but are not owned or managed by the platforms. These options vary in cost, many have integrated ecommerce capabilities, and are often purpose-built applications, such membership or event attendee portals. Some of these options are more mature and worth considering if you have a specific audience requirement and your tech ecosystem is built around Salesforce or Microsoft.Some examples of this type of online community offerings include:

Built on Salesforce platform:

Fonteva – Fonteva offers communities with integrated ecommerce and is best known in the nonprofit sector for its association-based membership portals.
Linvio – Linvio communities can be fully customized or can be bundled with other Linvio apps to support donor portals, event attendee portals, and more.

Built on the Microsoft platform:

The Portal Connector for Dynamics 365/CRM – The Portal Connector for Dynamics 365 and The Power Platform enables you to rapidly deliver a flexible, scalable, and highly secure web portal solution that provides immediate communication with your customers, vendors, and partners without the need for coding, custom programming, or other complex technical requirements.
Wipfli – Wipfli offers an online volunteer portal that leverages the Nonprofit Accelerator and NCDM. Check out this video to see it in action.

Online community tools that integrate with Salesforce and Microsoft
Another category of options is independent online community tools that integrate with Salesforce and Microsoft (either directly or through tools like Zapier) but are not built on either of those platforms. These tools generally are known to offer a far superior user experience for your constituents because the vendors are focused only on the community product and can invest more into user experience. These independent community or portal solutions often offer integrated ecommerce, a wider range of collaboration and communication tools, and other features that are attractive to community members. Some solutions that are popular with nonprofits include:
Higher Logic — Integrates with Microsoft Dynamics 365 and Salesforce and is highly rated for its ease of setup, use, and support.
Hivebrite — Integrates with Blackbaud CRM, Microsoft Dynamics 365, Blackbaud RENXT, and Salesforce, and features engagement analytics and online payment capabilities.
Mighty Networks — Integrates via Zapier with Salesforce, Microsoft (Outlook/Teams/Dynamics 365), Neon CRM, and Virtuous CRM, and features a mobile app and social media integration.

Custom-built online communities built on Salesforce or Microsoft
Of course, you can always go the custom development route. This option typically comes with a high up-front cost for the initial build as well as ongoing costs for portal management and web application hosting. Additionally, you might need to budget for enhancements if you don't have in-house developers on staff. However, when the user experience is critically important, and you want to have complete control over the design and function of your online community, a custom portal might be the right option for you.
Take the next step with online communities 
Online communities are quickly becoming must-haves for nonprofits that want to deliver a modern constituent experience that's relevant in today's virtual environment. If you're considering adding an online community to your strategic plan and would like help determining which community tool is right for your organization, the Heller Consulting team is ready to help.
Join the list
Want more nonprofit tech resources delivered to your inbox? Fill out the quick form below!
Categories: