What Does Digital Transformation Look Like Today for Nonprofits?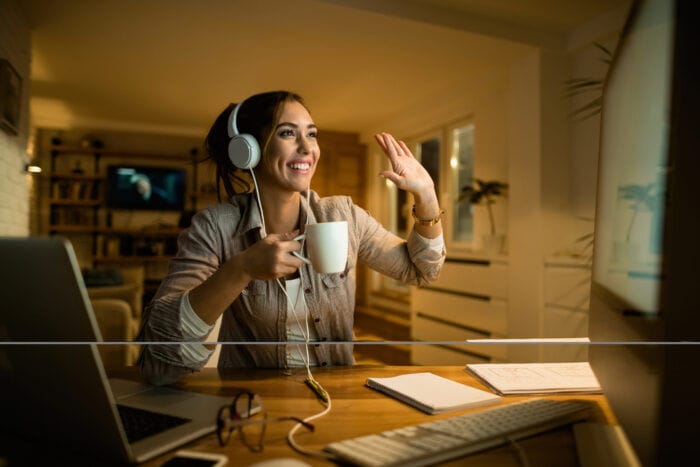 Digital transformation for nonprofits is not a new concept but has become an even more urgent reality since the fallout of COVID-19.  Nonprofits need to have a solid technical foundation in order to carry on with their important work. The organizations that had the foresight to implement nimble tools were able to quickly adapt to the ever-changing set of challenges and scale their operations. They are thriving. Organizations that did not have the right solutions and processes had to scramble – and those who are unable to pivot quickly are struggling.
But there is still time to adapt and build that foundation that will serve your organization now and into the future.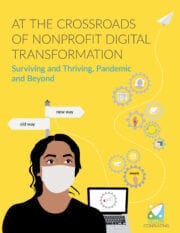 Download our guide: At the Crossroads of Nonprofit Digital Transformation
When the pandemic began to sweep across the world, the nonprofit response was to leverage digital tools to replace or replicate activities and experiences that were not possible with social distancing realities. Nonprofit professionals worked tirelessly and creatively to continue serving their populations and raise funds.
Then it became clear that the pandemic was not a fleeting experience, and we began to understand the depth of its impact. Organizations realized that during this time of isolation it is vital to think differently about communications and engagement, beyond sending more email. That means putting in place new solutions, augmenting existing systems, and creating innovative processes to support these new realities.
All of this is shaping how we are thinking about digital transformation and we boiled down five ways we've seen our clients adapt:
Create an ecosystem combining best-of-breed tools
For some time now we've been advising nonprofits to build out technology ecosystems that combine solutions to address their needs with a nimble CRM platform at its center, rather than trying to identify a single tool that does it all and compromise on functionalities. This best-of-breed approach is even more relevant now. Organizations are more budget-conscious and have urgent needs to solve. Flexibility with technology is key to address those urgent needs.
It's ok to take an incremental approach to technology
We have always been encouraging clients to think long term and to have a vision for their future technology ecosystem before diving in. But in extraordinary times, these "rules" can be broken. Focus on your most pressing issues and select solutions that can be rolled out quickly – you can smooth out the connections between your systems later. Companies like Microsoft and Salesforce also understand these realities and their solutions allow nonprofits to take these incremental approaches.
Technology is replacing human assets.
In a manner of speaking. Unfortunately, many organizations have had to make difficult financial decisions and technology is one way to continue with operations with only a skeleton crew in place. Other nonprofits are meeting increased demand for their services or the need to raise more money without adding more staff. Automating repetitive manual tasks can free up staff to handle more important efforts and high touch cultivation. We anticipate that these changes to how we do business will take root and nonprofits will be seeking talent to manage complex tools and handle high touch stewardship, while the day-to-day basic task will be handled via automations.
Technology is transforming previously overlooked processes
For many organizations, necessity was the catalyst they needed to change. Some business processes were hopelessly outdated but making updates was on the backburner. Take volunteer management as an example. Many organizations' need for volunteers increased as they tried to scale up their service delivery. Suddenly finding a way to manage volunteers, without in-person interactions, became an unavoidable priority. Crisis and urgency accelerated digitizing of these overlooked analog and manual processes.
Organizations are more pragmatic and effective in their decision-making.
The ability to make quick and strategic decisions in these challenging times is critical. Many organizations are making better decisions around technology. Leadership is focusing on the most important business needs and ways to maximize their budgets. They are clear about expected outcomes. They are decisive as expediency is often one of the primary drivers to solve urgent challenges.
Take the Next Step
Digital transformation at your nonprofit can be approached from a lot of different angles. We're here to help you decide where to start. Contact us today to speak with one of our experts.
Join the list
Want more nonprofit tech resources delivered to your inbox? Fill out the quick form below!