Nonprofit Data Management: 7 Metrics to Keep an Eye On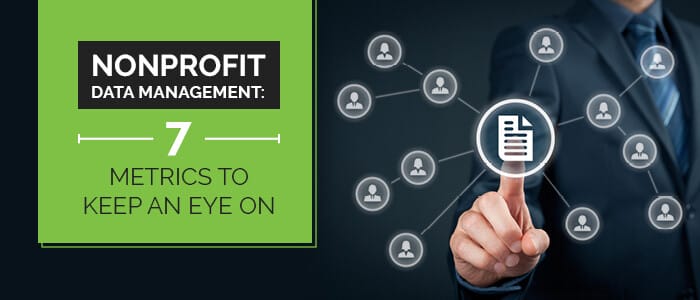 In the midst of the COVID-19 crisis, nonprofits everywhere are expecting radical shifts in strategy, revenue, and day-to-day operations. Because of this, many organizations are worried about staying afloat and coming out the other side. 
That's why it's more important than ever to keep a close watch on your organization's health and current standing —  including your response to the pandemic as well as your plans for continued growth in the foreseeable future. 
At CharityEngine, we believe that successful online fundraising strategies can make the difference between securing vital support and having to close your doors.
So, how do you measure the health and success of a nonprofit? There are many different metrics that go into an overall analysis of an organization. Let's walk through 7 of the most important ones, including how to measure each and what that means for your nonprofit specifically:
Average gift size

Donor retention rate

Fundraising ROI

Recurring revenue

Digital marketing engagement

Year-over-year growth

Employee retention 
By gaining a solid understanding of these key metrics and the way they impact your organization, you can determine what's working well and prepare your team for any necessary adjustments. Let's get started!
1. Average gift size
One way of quantifying your organization's health via fundraising revenue is by taking a look at the average gift size. To calculate this figure, simply divide your total fundraising revenue for the year by the number of individual donors.
Imagine you took in $1,000,000 in fundraising revenue in the past year from 10,000 donors. Your average gift size would be $100.
The average gift size is especially easy to measure if the majority of donations to your organization are made through virtual fundraising platforms, processed online with a nonprofit payment processor, and stored in a donor database. This way, all your fundraising information is collected and kept in one place for quick and easy retrieval.!
This metric is likely to ebb and flow with the economy, so it's only natural that you'll  see some change. For instance, in the current economic and health crisis, donors' budgets are likely tightened, and you may see less or smaller gifts as a result. This isn't necessarily a fault of your organization, but is instead a natural consequence of a financial crisis.
While it may be intriguing to compare your average gift with other organizations and national averages, a better use of the metric is to compare your donations with donations in previous years. This is because every organization has a vastly different audience. For instance, it's not plausible to compare a local school's average donation with that of a national foundation.
2. Donor retention rate
Your organization's donor retention rate is the measure of donors that return to make a donation the following year. Specifically, it is calculated by dividing the number of returning donors by the total number of donors from the previous year.
Imagine you had 1,000 donors one year, and 500 of them returned the following year to make a second donation. Your donor retention rate would be 50%.
As a nonprofit professional, you likely know the importance of repeat donors in a successful fundraising strategy. After all, it's much more cost effective to retain donors year over year than to be constantly seeking new ones!
So how can you boost your donor retention rate and ensure donors keep coming back year after year? To start, it's important to focus on building relationships with your donors and to effectively express your appreciation.
Here are some of our favorite donor retention strategies for building lifelong donor relationships and increasing revenue streams:
Be sure to follow up and thank individuals for each donation.

Personalize your messaging with each donor's name and gift details.

Demonstrate the impact of a donor's gift by sharing project updates.
This might seem overwhelming, but luckily, a majority of donor communications can be streamlined with the right tools! Learn more about our favorite donor management software providers here.
3. Fundraising ROI
Fundraising is one of the most important aspects involved in running a nonprofit organization, as the majority are highly funded by charitable donations. That's why it's crucial that you put effective fundraising practices in place within your organization and bring in as much revenue as possible.
You've probably heard the saying, "you have to spend money to make money." Although it's a typical business mantra, this phrase is applicable to nonprofit fundraising as well. In either case, the important part is that you make significantly more than you spend!
In the nonprofit sector, this is what's called your fundraising return on investment, or ROI. This metric is calculated by dividing your net revenue (gains minus investments) by your investments. 
That means if you invested $500 in planning a fundraising event that brought you $1,000 in fundraising revenue, your ROI would be 100%.
Basically, your primary goal here is to raise the most money with the smallest investment! This is an important metric to understand.Make note of it, because it will likely affect your overall fundraising strategy.
For example, direct mail campaigns tend to have a lower ROI than digital fundraisers do, which means organizations looking to raise money quickly will likely go the digital route.
4. Recurring revenue
Recurring donations are those that occur automatically on a fixed schedule. Some donors may choose to have a certain donation amount taken from their bank account on a weekly, monthly, or yearly basis.
On top of the added convenience for donors who only have to input their payment information once, it's extremely beneficial to nonprofits who receive a steady stream of revenue throughout the year. 
And while the general point of recurring donations is to keep a fairly consistent income, there's always room for growth! Noting your level of recurring fundraising revenue from one year to the next is a great way to keep an eye on your donor retention levels as well.
5. Digital marketing engagement
There are several different ways to calculate digital marketing engagement levels, many of which are dependent on your particular digital strategy. Digital marketing tools, including your email lists, social media platforms, and your own website, are great ways to get the word out about your organization and its mission.
However, it's important to know which tactics are working most effectively and which produce the least results so that you can better distribute your time and resources accordingly.
Popular digital marketing engagement metrics to track include:
Email open/bounce rate

Website conversions

Website click-through rate

Social media impressions
Noting each of these engagement rates over time is a great way to visualize the increasing or decreasing media attention your nonprofit is receiving!
It's also important to remember that digital marketing engagement can be highly dependent on your nonprofit's audience. Check out DNL OmniMedia's guide to crafting a powerful nonprofit digital strategy to explore this concept further, and set your team up for success!
6. Year-over-year growth
Again, one of the best ways to measure nonprofit growth is to compare your organization to a previous version of itself. That's why year-over-year growth is so important!
To calculate this simple metric, divide your increase in fundraising revenue by that of the previous year.
Imagine you've earned $10,000 in fundraising revenue this year, and only $5,000 the previous year. That means your year-over-year growth is 100% (and your revenue has doubled!).
While growth is certainly beneficial for opening up new opportunities and pursuing your mission, it's important to remember that the other metrics can play a huge role in the health of an organization as well. 
7. Employee retention
Employee retention is similar to donor retention, though this time, the focus is on your paid employees. An organization is going to be most successful if it consists of a solid workforce, rather than having to constantly hire and train new employees.
Your retention rate is calculated by dividing the number of employees you retain throughout the year by the number you started with. If you start to notice your employee retention rate decreasing, it might be a warning sign pointing to a larger problem.
Imagine you go into the new year with 10 employees. 3 employees quit throughout the year, and you end the year with 7 of the same employees. Your retention rate would be 70%.
Nonprofits sometimes struggle with employee retention rates due to not being able to offer competitive salaries. That's why your organization's employee compensation strategy likely plays a major role in retention rates. After all, underpaid employees are more likely to seek out a new employer, while employees that feel their contributions are sufficiently valued and compensated for are likely to remain at the company.
In addition to compensation, another major aspect of employee retention is the working environment. Employees seek a job that treats them well and appreciates the hard work that goes into the position. 
That's why it's also important that you avoid overworking your employees in response to the pandemic. Overworked employees can lead to staff burnout, which hurts your organization rather than helps it.
Keeping an eye on these various metrics is a good practice to get into no matter the current health of your organization. After all, any nonprofit will go through highs and lows, but it's important to maintain a solid understanding of your status as it flows. 
About the Author:
Leigh Kessler is VP of Marketing and Communications at donor management software platform CharityEngine and a frequent speaker on branding, fundraising, data and technology.  He is a former nationally touring headline comedian and has appeared on numerous TV shows including VH1's "Best Week Ever", CNN's "Showbiz Tonight", Discovery Channel & Sirius Radio. He has overseen and informed research and branding strategies for some of the most well known brands in America. 
Categories: