Microsoft's Nonprofit Accelerator for Dynamics 365 Built On the Nonprofit Common Data Model and What it Means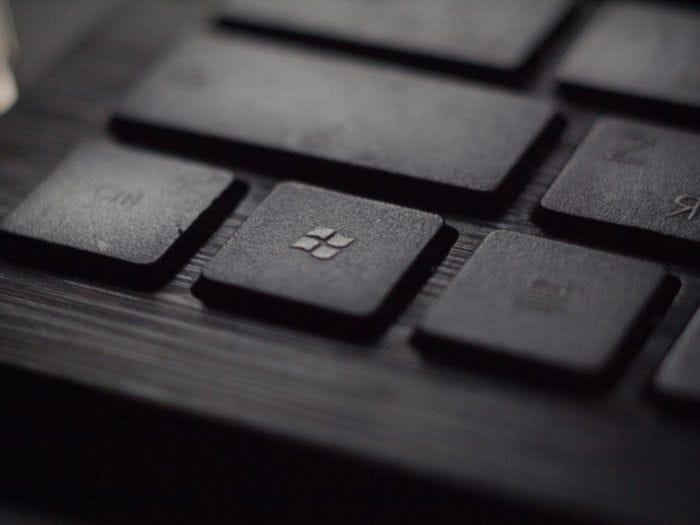 For many of our clients, standardizing business processes and increasing efficiency across the organization are key priorities. It can be incredibly challenging to streamline operations when you have an Enterprise Resource Planning (ERP) solution to manage your warehouse or distribution operations and a Customer Relationship Management (CRM), a digital fundraising solution, and a marketing automation tool that don't talk to each other. It's even more challenging to provide a unified constituent experience for your donors, volunteers and clients.
Enter the Nonprofit Common Data Model and the Microsoft Nonprofit Accelerator for Dynamics 365.
Let's start with the Nonprofit Common Data Model (NCDM). Microsoft's Tech for Social Impact worked with NetHope's nonprofit members and other technology vendors to define a common data framework that is specific to nonprofit industry. Built in partnership with many of the world's leading nonprofits, institutional donors, and private foundations, and industry vendors like Heller Consulting, the data model is specific to the nonprofit sector. It continues to evolve as the sector does.
Basically, the Nonprofit Common Data Model (NCDM) is a set of standard data definitions. By using a NCDM when building applications, application developers can ensure their products more easily exchange data with other solutions that are built using the same NCDM.
Hear how the Arthritis Foundation adopted three Microsoft clouds and saved seven figures in our on-demand webinar: Digital Transformation with Microsoft Products for Nonprofits
Microsoft's standard common data model (CDM) is open and available for use with any service or application. To enhance the value of the CDM, Microsoft works closely with people from various industries, including the nonprofit sector, to make the CDM more relevant to specific verticals by creating "Industry Solution Accelerators." In short, these accelerators extend the CDM to specific verticals to enable independent software vendors (ISVs) and other solution providers to quickly build industry-specific solutions. The potential of these accelerators is that they will be easier to integrate and maintain because they leverage the CDM. This will translate into lower overall cost of ownership for the end customer. Without the CDM, each ISV would start from scratch to build a custom data model into custom solutions connected through highly customized, costly integrations.
Microsoft's Nonprofit Accelerator for Dynamics 365  is one of many industry-specific accelerators developed by Microsoft to support the rapid development of solutions on Dynamics 365 for those industries. In this case, the Nonprofit Accelerator builds on both the standard Microsoft Common Data Model and extends that to include the Nonprofit Common Data Model (NCDM).
As a nonprofit professional, it's not necessarily important that you know the ins and outs of how the NCDM works. It is important, though, to understand what it is and its implications for the nonprofit sector. So, let's dig in.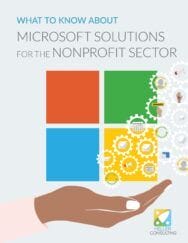 Dive deeper into Microsoft. Download our free guide: What to Know About Microsoft Solutions for the Nonprofit Sector.
Microsoft's CDM-first strategy
Microsoft not only entered the nonprofit market, offering more technology choices for the sector, but also started right off the bat by playing a leadership role in the development of the NCDM and the launch of their Nonprofit Industry Accelerator for Dynamics 365. This is critically important for Microsoft's strategy of building a strong community of multiple ISVs and system implementers (SIs) that deliver solutions to the sector.
To put this in context, when Salesforce entered the nonprofit sector, they started with the intention of developing a strong ecosystem of partners. However, because they began with a core nonprofit CRM application versus a CDM standard, some ISV partners have found it difficult to build applications that extend the core CRM solution (for functionality such as volunteer management, payment processing, and peer-to-peer fundraising) and also integrate quickly and smoothly with Salesforce-based nonprofit CRM applications.
This paradigm results in added integration and maintenance costs for nonprofits that use these solutions. It also has led Salesforce to shift their strategy and begin to deliver and manage their own nonprofit applications that integrate with each other (yet compete with their own ISV partners — effectively limiting the growth of the partner ecosystem).
With the benefit of hindsight, Salesforce has since made their Nonprofit Success Pack (NPSP) their default CDM, but this covers primarily donation and volunteer management data structure, and is not as extensive as the NCDM. They also developed the Higher Education Data Architecture (HEDA) as they moved into the higher education market.
Microsoft's entry to the market and commitment to the NCDM and a vibrant and sustainable partner ecosystem are worth watching. Add to this that Microsoft's Nonprofit Accelerator, which is build on the NCDM, is not tied to the Dynamics CRM solution, but rather is available to the entire Microsoft tech stack. As a result, the data stored in the NCDM can be used in Dynamics CRM, the Power Platform, and beyond — allowing nonprofits to leverage their data and automations in and across the stack and also leverage Flow and Power BI to automate processes and build model-driven apps between Excel, SharePoint, Teams, Dynamics, and more. In addition, the Nonprofit Data Warehouse Quickstart is a pre-packaged, 'one-click deployment,' Azure based data warehouse solution that is currently in private preview, will offer nonprofits further extensibility of the CDM. Over time, this approach likely will have a much greater positive impact to nonprofits than if they started right out of the gate building products for the sector.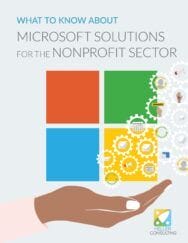 Read more about the Nonprofit Common Data Model in our Microsoft guide.
What does the Nonprofit Common Data Model mean for your nonprofit?
In the past, the tech strategy for many nonprofits was to look to a single platform for all their technology needs. In today's evolving market, though, there are an increasing number of solutions that can help you meet your strategic goals. The three key vendors in the space now offer world-class commercial CRM platforms with accompanying business intelligence tools (Salesforce and Microsoft) and proven nonprofit point solutions (Blackbaud).
The evolution of strategy and approach by these nonprofit technology companies represents a dynamic time in the sector. As a relative latecomer, Microsoft has the benefit of learning from successes and missteps of the two other key vendors in the space, Salesforce and Blackbaud. Salesforce, on the other hand, knows the market well and has made tremendous contributions to nonprofit technology in the past 12 years. With nearly 40 years in the market, Blackbaud also has its own unique foothold in the sector.
Ultimately, your future technology strategy will likely be cross-platform, with a CRM solution at the center, augmented by best-of-breed point solutions from a variety of vendors and tied together through a BI tool. That's why the Heller Consulting team keeps a close eye on Blackbaud, Salesforce, and Microsoft so we can help you find and implement the right combination of solutions to meet your goals.
Get Microsoft Updates Delivered To Your Inbox
Join our Microsoft subscriber list to get the latest on what Microsoft is doing in the nonprofit sector as well as Microsoft tips from our consultants.
Categories: