5 Classy Integrations to Help Nonprofits Improve Operations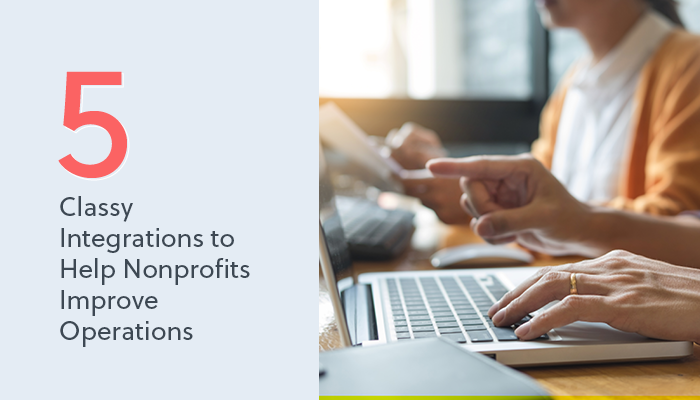 Relatively new to the nonprofit sector or not, you've likely heard of Classy, a leading social enterprise that creates online fundraising tools for nonprofits. The innovators behind this platform seek to modernize the giving experience and accelerate social impact around the world. As part of this initiative, they've actively built out their platform's functionality by integrating with 15+ other leading providers in the nonprofit space.
Attempting to improve your online fundraising, optimize your marketing appeals, or tap into corporate giving? Classy integrates with most technology your organization uses every day. 
To initiate a digital transformation at your organization, it's up to your team to conduct plenty of research to determine the best integrations for your unique needs. We've narrowed down that list of 18 platforms to five choices to help. We'll explore these recommendations for Classy integrations that can help boost revenue and awareness:
360MatchPro by Double the Donation | Matching Gifts

Salesforce | Constituent Management

Bonfire | T-Shirt Fundraising

Kindful | Donor Engagement

HubSpot | Digital Marketing
When leveraged effectively, these integrations can streamline your nonprofit's day-to-day operations, resulting in happier supporters and expanding your reach. Let's kick things off with 360MatchPro by Double the Donation.
1. 360MatchPro by Double the Donation | Best for Matching Gifts
360MatchPro is the industry leader in matching gift automation for nonprofits and educational institutions. With updated information on 20,000+ employers, the platform leverages the world's largest and most accurate matching gift database. Its nonprofit users can pinpoint match-eligible donations as they roll in using the convenient search tool, making the most of every contribution. 
360MatchPro integrates directly with Classy, helping organizations capture employment information and follow up with donors about matching gift opportunities. Share access to the user-friendly tool anywhere on your site, including your Classy donation form. After entering their employer's name, donors receive available requirements, instructions, and forms.
After connecting your account, here's what you'll be able to accomplish with this integration:
Identify all available match opportunities from past and incoming donations

Send the correct corporate giving information to the right donors

Provide your fundraising team with actionable insights to focus on top revenue opportunities

Allow supporter data (name, amount, contact info, etc.) to flow from your Classy campaigns into 360MatchPro
According to this resource, $2 – $3 billion in matching gifts is donated every year, meaning you likely have existing opportunities in your database. 
When paired with Classy's fundraising tools, 360MatchPro will help you capture these extra donations, so you can effortlessly multiply your nonprofit's revenue. Keep in mind that you'll need a 360MatchPro account to activate the matching gift functionality within Classy.
2. Salesforce | Works Well for Constituent Management
Trusted by more than 47,000 nonprofits, Salesforce is the world's most-used CRM. It empowers nonprofit teams to unite with constituents, accelerate their performance, and run their entire mission within a single integrated platform. Organizations turn to Salesforce to break down silos across their fundraising, marketing, and program management teams. They can then spend more time building meaningful and enduring relationships with those who support their causes.
Salesforce is known for its range of integrations with other leading nonprofit tools, including Classy. As a partner on Salesforce's Nonprofit Cloud, Classy allows you to optimize your fundraising data and nurture supporter relationships.
Classy for Salesforce is designed for data-driven nonprofits and enables your team to do the following:
Sync online fundraising data in near-real-time to make informed decisions and deepen connections using personalized appeals.

Take charge of your constituent information with features like contact matching tools and customizable profiles.

Accurately report on and designate funds from Classy, including NPSP recurring donors, GAUs, and allocations.

Accept donations in up to 130 currencies and analyze fundraising performance.
The Classy for Salesforce integration keeps all of your operations aligned, so you have the most robust constituent relationship management system possible. With this integration, you unlock the power of program management, fundraising, and marketing to increase operational efficiency across the board.
3. Bonfire | Best for Custom T-Shirt Fundraising
Bonfire is the industry leader in custom t-shirt and apparel fundraising. The free platform makes it easy to design and sell standout custom products online with intuitive, customizable design templates. Perfect for nonprofit fundraising, they offer a risk-free way to raise money online. They handle all of the logistics, from payment processing and order fulfillment to printing and shipping.
Using the Bonfire + Classy integration, your nonprofit can run t-shirt fundraisers on Bonfire that are directly connected to your Classy peer-to-peer campaigns. To create a seamless experience across the platforms, all of the money raised from shirt sales is sent directly to your organization, the donor data collected on Bonfire is synced to your Classy account, and your supporters are sent their custom shirts.
Here's how it works:
Connect your Classy account to your Bonfire account, and select which Classy campaigns you want to make available for connection.

Create a t-shirt design for your team captains to customize with their team name or phrase.

Let your team captains know how they can get started on Bonfire, where they can get the design for their shirt, and how they can connect their Bonfire campaign to their Classy campaign so their sales show up on their donor feed. 

At the end of each campaign, the shirts are printed and shipped to your supporters, the donor data from Bonfire is automatically synced to your Classy account, and the proceeds from your shirt sales are sent to your organization. 
As a bonus, all verified nonprofits on Bonfire gain access to the Classy integration for free. Bonfire offers other special fundraising tools for nonprofits, including reduced donation fees, customizable organization profile pages, chapter-based fundraising, and downloadable supporter lists that contain contact information acquired during your campaigns. 
Bonfire is an excellent way to supercharge your online fundraising through Classy.
4. Kindful | Top Choice for Donor Engagement
Kindful is a cloud-based online fundraising and CRM solution built exclusively for nonprofits. The platform offers fundraising automation, online donation pages, constituent profiles, and reporting tools. 
After managing more than 16 million donors, Kindful's team knows a thing or two about engaging supporters and understands that running a nonprofit involves coordinating many moving pieces. That's why they designed the platform to empower nonprofits to deepen donor engagement by easily tracking all touchpoints in a centralized system. 
Kindful boasts 50 integrations, including one with Classy. Pair Classy's beautifully designed donation pages with Kindful's powerful analytics to streamline your fundraising efforts. The Kindful + Classy integration makes it easy to:
Create standout crowdfunding and peer-to-peer campaigns and track all collected data from donor contact information to the tax-deductible amount.

Automatically sync current and historical gifts from Classy to Kindful to gain a holistic view of each donor.

Search all donor data to create personalized appeals.

Combine your Classy data with offline data sources to create a complete picture of your fundraising.
Understand everything from your overall fundraising campaigns down to specific donor behavior and online donation habits. By leveraging this Classy integration, you'll spend less time manipulating data and more time engaging with donors. 
5. HubSpot | Great for Digital Marketing
HubSpot's all-in-one marketing platform makes connecting with donors, volunteers, advocates, and other supporters easy. Marketing teams can leverage tools like its user-friendly website builder, email marketing capabilities, and social media automation to forge deeper relationships with supporters.
When paired with Classy, HubSpot enables nonprofits to fully align fundraising with marketing, resulting in personalized fundraising appeals and positive interactions with constituents. You can keep tabs on your most ardent supporters and send timely marketing information based on data. Nonprofits leverage the HubSpot + Classy integration to:
Sync contacts between systems and assign them into meaningful segments

Create personalized

communication across email

, SMS, and other inbound channels

Launch fundraising campaigns and track integral fundraising lead nurtures directly from HubSpot

Track the full donor lifecycle and every interaction with each supporter

Consolidate data and use closed-loop reporting to analyze campaign performance thoroughly
Designed for the average marketing professional, HubSpot requires little-to-no tech knowledge to deliver exceptional results for your nonprofit's marketing. Bear in mind that SyncSmart manages all integrations for HubSpot, giving you a direct resource to troubleshoot any challenges when enabling the Classy integration.
As one of the top fundraising platforms available, Classy makes managing a nonprofit and increasing social impact attainable for all organizations. While highly functional on its own, its expansive list of integrations extends that functionality even further. Leverage the right integrations for your nonprofit, and optimize everything from your marketing to corporate philanthropy initiatives.
About the Author
Kevin Penney has been working in digital media for over ten years. He's the CMO and co-founder of Bonfire, an online platform that's reinventing the way people create, sell and purchase custom apparel. He enjoys strategizing, working closely with his team, and hockey, exactly in that order.
Categories: