Beyond Fundraising: The Many Ways Nonprofits are Using Salesforce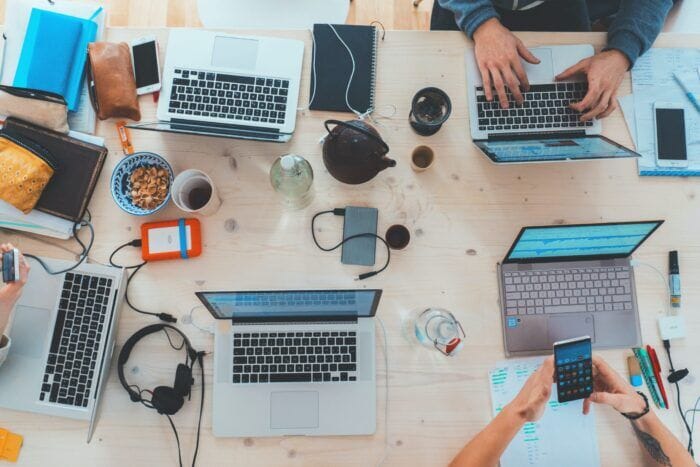 If you've worked in the nonprofit sector for very long, you likely know about Salesforce Nonprofit Success Pack (NPSP). It's a customer relationship management (CRM) solution that many nonprofits use to build donor relationships, accelerate major giving, and connect multiple giving channels on a single fundraising platform.
But you might not know that Salesforce is highly flexible. It can be used for more than just fundraising. In fact, it can be used to manage everything from volunteers to nonprofit programs and operations.
This makes Salesforce a significant technology option for nonprofits looking to move forward with digital transformation. The idea of digital transformation — essentially using digital technologies to create or change processes, programs, and other business activities — has become even more relevant now, as nonprofits deal with the fallout from COVID-19.
Learn how nonprofits are approaching digital transformation to adapt to our changing world: Read the guide, The 2022 Guide to Digital Transformation
At Team Heller, we've seeing that nonprofits with a solid technology foundation when the pandemic hit have been able to adapt quickly to:
Working from home
Changing operational processes
Adding or modifying programs to meet a growing demand for services
Scaling up fundraising
Engaging with donors and constituents in new ways
For many of those organizations, their technology foundation is made up of an ecosystem of best-in-class tools connected to a strong and nimble CRM system, like Salesforce, that helps them put data to work across their organization.

So, how are nonprofits using Salesforce in the real world? Here are a few examples of the many ways our clients are using Salesforce:
Program management and constituent engagement

Humane Society of Silicon Valley (HSSV) worked with our team on a solution to replace their previous CRM and online marketing solutions that weren't keeping up with the organization's goals for constituent engagement. The result was an ecosystem of connected technologies, including Salesforce NPSP as their CRM platform.
One example of how HSSV is putting their technology ecosystem to work is through personalized constituent journeys with pet adopters. Using the new technology and with support from Team Heller, they were able to:
Map out various adoption path possibilities — including different types of pets, multiple pets, and returned pets — and how each adoption pathway and related data flow through the technology ecosystem.
Fill in any gaps in data to ensure they had the right information to send communications with accurate personalization.
Set up automated, highly personalized email communications that:

Mention pets by name
Provide tips appropriate for their type of pet or pets
Encourage deeper engagement with HSSV, including joining conversations on social media, volunteering, and making donations
HSSV is also able to use the new technology ecosystem to analyze and adjust the pet adopter journey as needed. They can view real-time information about how well the journey is performing.
By keeping tabs on open, click-through, unsubscribe, and bounce rates of each email in the journey, they can quickly adjust and refine content. They can even test different types of content through different pathways in the journey to see what is most effective.
Learn more about how HSSV implemented a Salesforce CRM solution to meet their long-term goals: Read the case study
Another animal welfare organization uses Salesforce to track dog breeding and whelping – including the mother's history and care for the newly whelped puppies. The organization also tracks kennels for boarding, with a map that shows open and occupied spaces.
Volunteer management and tracking
Starting in 2018, we helped San Antonio Food Bank move through a digital transformation initiative. We worked with the organization to develop a CRM ecosystem that placed Salesforce NPSP at its center. Additional tools were then integrated, including:
Volunteers for Salesforce to transform their volunteer tracking
FormAssembly to create custom volunteer sign up experiences
Neon Fundraise to create custom landing pages
With these systems in place, the organization has been able to lean on their technology and data to support their efforts no matter what the circumstances. According to Michael Guerra, chief resource officer at San Antonio Food Bank, having the CRM and fundraising technology already in place was a "godsend" when the COVID-19 pandemic hit.
Learn more about how San Antonio Food Bank has scaled its efforts by leaning on a customized Salesforce CRM implementation: Read the case study
Internal processes and communications
One of our clients uses Salesforce to power an intranet — a site to share information among staff. Another client uses Salesforce to drive a Craigslist-style bulletin board for staff to post items available for free, for sale, or for trade.
Take the next step
Nonprofits with a strong technical foundation have the tools they need carry on with their important work — continuing toward their goals and adapting as needed when times get tough. Many are finding that a technology ecosystem with a flexible CRM system like Salesforce at the center helps them manage their entire digital transformation strategy while staying resilient.
Team Heller is ready to help you develop a vision for your technology ecosystem, choose the right systems and solutions, and build a detailed tech strategy that serves you now and keeps you going strong no matter what the future brings. Contact us today to get started.
Join the list
Want more nonprofit tech resources delivered to your inbox? Fill out the quick form below!
Categories: