3 Tips for Getting Started with Nonprofit Marketing Automation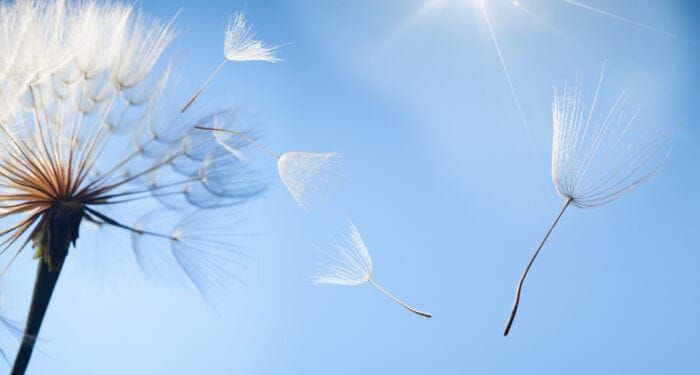 We've seen marketing automation open up possibilities for nonprofits. It can help meet many objectives across organizational functions to engage constituents in different ways to give their time, talents, and financial support.
There is an initial effort to put marketing automation software in place, but ultimately, it allows nonprofits to deliver a better constituent experience, driving engagement, participation, and giving.
We've seen the power of these tools and the creative ways nonprofits have put them to use. Tapping into our experiences, we put together these three things to keep in mind as you consider marketing automation tools.
#1: It's Not Just Email  
It is not uncommon to focus on email marketing as a jumping off point for marketing automation. While that is a logical place to start, marketing automation can take many forms across different communications channels including social media, remarketing, SMS messaging, direct mail, and much more.
Some examples of how our clients have used marketing automation include:
Welcome series or engagement journeys for new donors and constituents
Sustainer streams to convert monthly contributors
Efforts focused on improving retention and reactivation of lapsed donors or constituents
Grassroots advocacy messages to encourage supporters to call or write their lawmakers around specific topics
Stewardship communications to deepen constituent's engagement and affinity
Topic-specific automations to connect constituents with a specific program area
Lead scoring to identify best prospects for specific opportunities
Automated processes to manage processes around mission delivery
Email is an important part of these tools, but when looking at different options, bring in programs and fundraising departments to dream up what could be accomplished with marketing automation.
#2: Consider What Your Staff Needs  
When you are weighing investment in marketing automation tool implementation, consider the manual processes taking up staff time. Once automations are brought to life, you will quickly discover that the tools are powerful enough to meet organizational objectives and flexible enough to do so with relative ease. Eliminating unnecessary manual processes frees up staff members to focus on the mission of your organization.
Beyond the practical benefit of technology solving clunky processes, marketing automation can be a big step forward for nonprofit marketers.
Some limited marketing activities, like new donor welcome series, are almost certainly possible using an existing CRM system. However, these journeys are limited and linear. You may also find yourself compromising strategy because of technical limitations and unable to leverage all the necessary or most current data points.
Advanced automation tools are nimble enough to develop more complex communication streams that take in consideration various data points about constituents and can be responsive to behavioral triggers throughout the automation.
These automation tools typically would not replace your CRM but instead become a seamless part of a larger technology ecosystem, marrying the data you have in your CRM with custom automations and folding into marketing strategy.
#3: Think about Marketing Automation Within the Context of Your CRM
For best results, we encourage you to think about how a marketing automation wool will integrate with your CRM. Your current platform will likely play an important role in selecting the right marketing automation tool. Alternatively, selecting a marketing automation tool may then lead to a CRM transition down the road.
We recommend deciding on a marketing automation tool within the context of your CRM system so you can take advantage of the data in your CRM. It should be a part of your overall technology ecosystem. Accordingly, we advise nonprofits to shift thinking from what's the best marketing automation tool to what's the best marketing automation tool that integrates with your CRM.
CRM is a database of record, a single source of truth designed to manage information. Marketing automation tools only contain a small share of relevant data and are designed to help manage triggered interactions toward an objective or path. While CRM may have the capabilities to automate some marketing tasks, resulting campaigns are limited and often present difficulties.
Getting Marketing Automation Off the Ground
Planning for marketing automation can seem daunting at first. To help prioritize, we advise our clients to step back and consider the bigger picture.
What are your organization's business objectives that can be improved through marketing automation?
Who are your key audiences?
What use cases will improve stakeholders experience and get them closer to desired organizational objectives?
Lastly, we remind our clients that implementing a marketing automation tool is an iterative process that can be optimized and calibrated over time.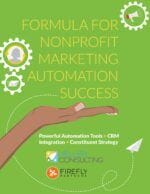 For more on marketing automation success, download our guide that includes real life examples from our clients.
We're here to help you select the right tool for your organization. Contact us with any specific questions here.
Join the list
Want more nonprofit tech resources delivered to your inbox? Fill out the quick form below!
Categories: