Volunteer Management Options Are Expanding. Here's what Microsoft is Offering.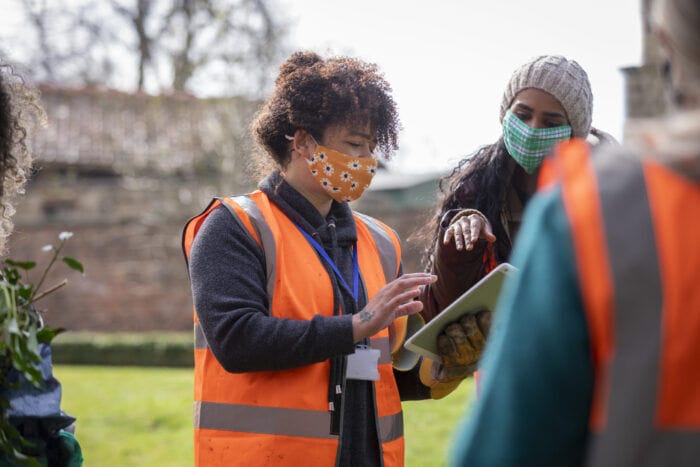 Managing your nonprofit's volunteer program can get complex. You have to communicate with volunteers and track who they are, what volunteer jobs and shifts they're filling, what hours they work, and more. Having the right volunteer management software is critically important for a successful program.
The great news is that your options for volunteer management solutions are expanding. In addition to an increasing number of third-party tools, Salesforce offers a volunteer management solution with Volunteers for Salesforce with the possibility of extension through the use of Experience Cloud for Nonprofits to help manage volunteer engagement.  With the release of Microsoft Cloud for Nonprofits, Microsoft has joined the landscape with Volunteer Management and Volunteer Engagement solutions to help you recruit, onboard, and engage with volunteers.
To give you a better understanding of the latest from Microsoft, here is a rundown of how volunteer management and engagement functionalities, now part of Microsoft Cloud for Nonprofit, can help support your volunteer program:
Microsoft includes functionality to help you manage volunteer opportunities and schedules more smoothly, including:
The Volunteer Management Power App – This app allows your nonprofit to manage volunteer operations. You can capture information about your various volunteer roles with the skills needed to fulfill those roles and schedule specific volunteer shifts. You can also capture details about your volunteers and their skills, interests, and availability – ultimately allowing you to match the right volunteer with the right opportunity. The Volunteer Management Power App comes prebuilt to manage corporate and group volunteers as well.
Email messaging and other interactions – You can use Microsoft's tools to automate communications to volunteers to remind them and thank them before and after a specific shift. You can see email messages that your staff sends to volunteers right on each volunteer's contact record and on the record for that specific volunteer activity. You can also record all communications and interactions with your volunteers, including phone calls and meetings, so that you have a history of your interaction with each volunteer.
Volunteer Engagement Portal – You can extend your Volunteer Management App to your volunteers by adding a Volunteer Engagement Portal. Volunteers can set up an account in your branded Volunteer Engagement Portal to find and apply for specific volunteer opportunities. After volunteers fill out a profile the first time, their information is saved so that they don't need to fill out a new application every time they want to volunteer for a new opportunity. They can also access a summary of their volunteer activities and the number of volunteer hours they've completed with your nonprofit, which is especially handy for students who require volunteer hours as part of their education.
Onboarding and training volunteers
To run a successful volunteer program, you need tools to help you get volunteers on board and ready to work. This Microsoft functionality can help:
Volunteer center SharePoint template – This template for a volunteer website is built on the familiar Office 365 platform and helps you surface information and resources to volunteers for onboarding, training, event details, and more. This is more of a central location for volunteers to stay updated versus a place for two-way communication and engagement like the Volunteer Engagement Portal.
Training – Microsoft Community Training is a user-friendly platform that helps you build personalized training for your volunteers (and your employees and program participants, too!). You can custom-brand the platform, add content, and use built-in and custom reports to track usage of the platform to help you monitor how training is progressing. There's no additional licensing fee for this platform – you pay only for the cloud services used while learners are actually training on the platform.

Connecting and collaborating with volunteers
To operate smoothly, your organization's staff and volunteers must be able to communicate, share documents, and check on volunteer program details. Here are three ways that Microsoft helps:
Video meetings – You can meet virtually face-to-face with volunteers using Microsoft Teams. This is a great way to build and maintain relationships with volunteers, no matter where they're located.
Document sharing – Microsoft 365 gives you the ability to store and share volunteer-related documents and sites – even with people who don't have an account in your system. Your staff can work with volunteers using familiar Microsoft Office apps, including Word, PowerPoint, Excel, OneDrive, and SharePoint.
Secure collaboration – Collaborating and sharing online is backed by Microsoft 365 security and compliance standards, so you can keep data and communications safe. (And, here's another thing: Microsoft offers a Security Program for Nonprofits that's worth checking out.)
These are just a few of the capabilities offered by Microsoft to help you manage your volunteer engagement. If you'd like to learn more about Microsoft functionality for volunteer management and engagement, you can watch this demo video.
And, if you have questions or would like to understand if Microsoft volunteer management and engagement functionality is right for your organization, the Heller Consulting team is ready to help. Contact us today to get started or sign up for a one-hour consultation to find out how your organization can use the Microsoft ecosystem of technology – including Microsoft Cloud for Nonprofit, Fundraising & Engagement, Volunteer Management and Engagement, and more – to raise more, reach more people, and do more.
Join the list
Want more nonprofit tech resources delivered to your inbox? Fill out the quick form below!
Categories: