Supporting Volunteers with Microsoft Cloud for Nonprofit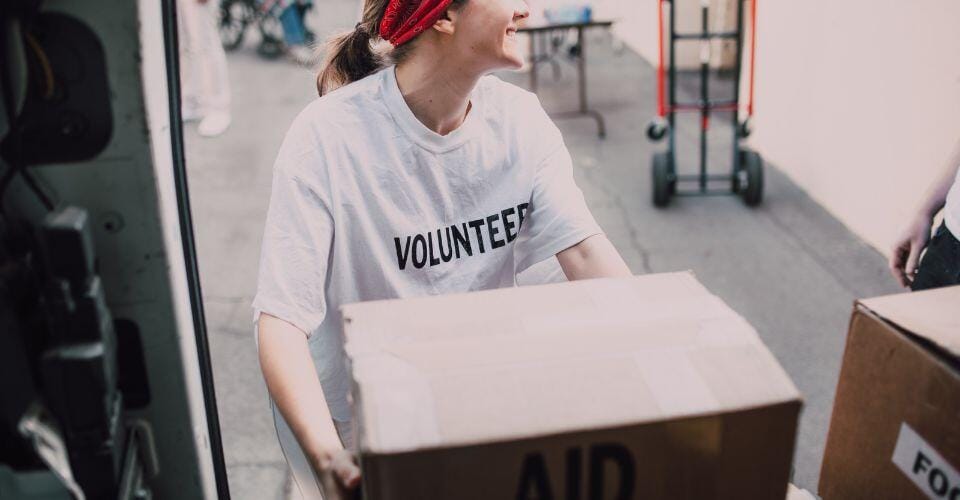 Nonprofit organizations play a crucial role in addressing some of the world's most pressing challenges. These organizations rely on the selfless efforts of volunteers who offer their time, skills, and expertise to help fulfill the organization's mission. However, managing and engaging volunteers can be a complex and time-consuming task. But there is technology that can help. In today's digital age, nonprofits need the right tools and solutions to manage and engage their volunteers effectively. Microsoft Cloud for Nonprofit's volunteer solutions offer an array of features and capabilities to help organizations streamline their volunteer management process and engage with volunteers more efficiently.
At Heller Consulting, we have designed Momentum packages that make it faster and easier to implement Microsoft Cloud for Nonprofit. Whether you're looking to implement one element from Microsoft Cloud for Nonprofit for a specific need, or you want to ultimately move a large portion of your nonprofit's technology stack to the Microsoft ecosystem, these packages break the implementation into manageable pieces. Like Microsoft, Heller can meet your nonprofit where you are in your journey and help you do more with less, one area at a time.
In this four-part blog series, we'll explore each of the business areas that the Microsoft Cloud for Nonprofit Momentum packages cover, including fundraising, volunteers, programs, and marketing. Be sure to check out the other areas – Fundraising, Marketing and Programs.
In this post, we'll be exploring how nonprofits can use Microsoft Cloud for Nonprofit to better manage and engage with volunteers.
Supporting Your Volunteers with Microsoft Cloud for Nonprofit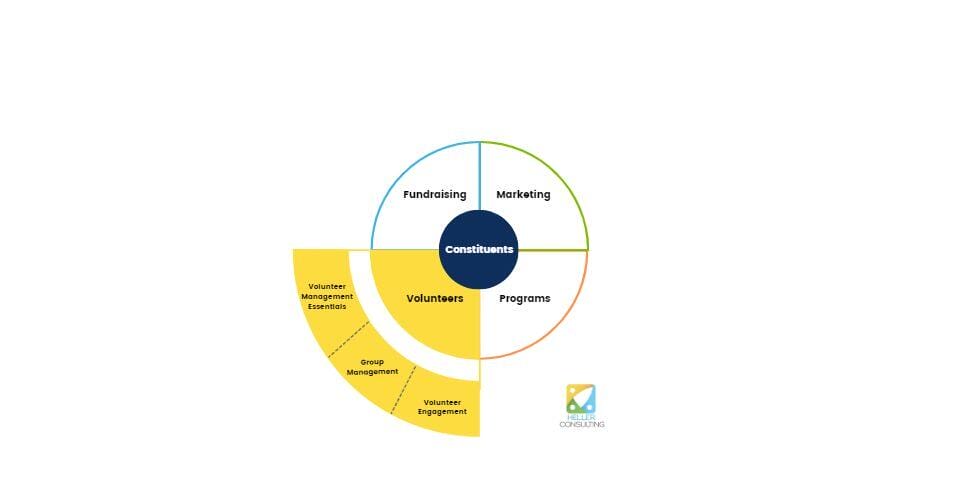 1. Volunteer Management

In this implementation package, we install and set up the baseline Microsoft Volunteer Management Power App solution.
We then configure the App to support the most common fields for tracking volunteer information to support the ability to capture a profile of each of your volunteers. We also configure your volunteer intake and onboarding processes using best practice. We determine the best way to set up the system to support your organization's volunteer job and shift structure, plus show your team how to continue this setup as new jobs and shifts are defined. We also show you how to schedule and check-in volunteers to ensure appropriate roll-up calculations are captured on each volunteer's record.
This package also includes configuration of basic volunteer management reports and dashboards that will allow your team to work proactively to manage and fill volunteer opportunities.
2. Group Management
This package builds on the Volunteer Management Momentum package for organizations that offer group and corporate volunteer opportunities.
We set up group volunteer management elements to support the specific types of groups you work with, such as businesses, community groups, and/or friend and family groups. We configure the ability to capture a group leader and ensure you can roll up group metrics to the organization so that you can report back to your partners on the total hours donated by their employees or group members.
3. Volunteer Engagement

The Volunteer Engagement package enhances the Volunteer Management Momentum package.
We will configure and connect an online volunteer application form to your Volunteer Management Power App. We will then set up a branded Power Pages portal for your volunteers to securely log in and update their personal volunteer profile, including adding and updating their interests, skills, and schedules.
We'll also expose appropriate volunteer jobs and shifts to the volunteer portal so that volunteers whose applications have been approved are able to search for and apply or sign up for specific volunteer shifts, as well as view their current and past volunteer engagement with the organization.
We'll train your team to add new volunteer opportunities, change or update display fields, and expose those elements through the portal into the future, ensuring that you can manage your volunteers securely as your organization evolves into the future.
NOTE: All Volunteer Momentum packages require the purchase of prerequisite Microsoft licensing, including the appropriate tier of Microsoft Cloud for Nonprofit and Power Apps licenses. The Volunteer Engagement package also requires the purchase of licenses for portal users to allow your volunteers to access the portal using secure authenticated access.
What are the overall benefits of Heller Consulting's Microsoft Cloud for Nonprofit Momentum Packages?
Microsoft Cloud for Nonprofit Momentum packages are designed to make it faster and easier to start using Microsoft solutions for nonprofits – in a way that works with your technology roadmap. These Momentum packages:
Allow you to implement the right solution for wherever you are in your nonprofit's digital transformation journey
Help you get into the system and start taking advantage of key functionality right away
Incorporate our decades of experience working in the full range of nonprofit operations
Support configuration based on industry best practice and your high-priority business processes
This is part 2 of a four-part blog series:
Volunteers

Why work with Heller Consulting to implement Microsoft Cloud for Nonprofit?
As a Microsoft Tech for Social Impact partner, and a launch partner for Microsoft Cloud for Nonprofit, we're well-versed in Microsoft Cloud for Nonprofit solutions. In fact, our team members even helped Microsoft develop specific apps by providing advice, sample content and feedback after testing. We also have experience working on thousands of technology projects for nonprofits. With this combination of experience and expertise, you get:
A trusted partner who will guide you through your implementation project using industry best practices
Experienced consultants who will help you refine your goals, configure the system to meet these goals and support your team with user adoption techniques
Training and enablement to help your team optimize the use of your Microsoft Cloud for Nonprofit apps
Need help with Microsoft licensing?
As noted, these Momentum packages require the purchase of certain Microsoft licenses. Please contact us for assistance in pricing your licensing needs.
What about our Legacy Data?
Legacy data migration and/or imports are excluded from these Momentum packages as they require data analysis to provide a specific estimate and recommended approach.
What if I need a more custom approach?
If you need a more customized approach to your nonprofit's technology strategy and implementations, the Heller team would be happy to work with you. Together, we can build a tailored customer relationship management (CRM) roadmap, conduct a data migration assessment, scope projects that combine one or more momentum implementations, or develop full-scale custom implementations.
Let's get started!
Complete the form below to tell us a little more about your next project. You can also email Jett Winders, Director of Sales, directly at jwinders@teamheller.com.