The Importance of Training for Your Nonprofit's Digital Strategy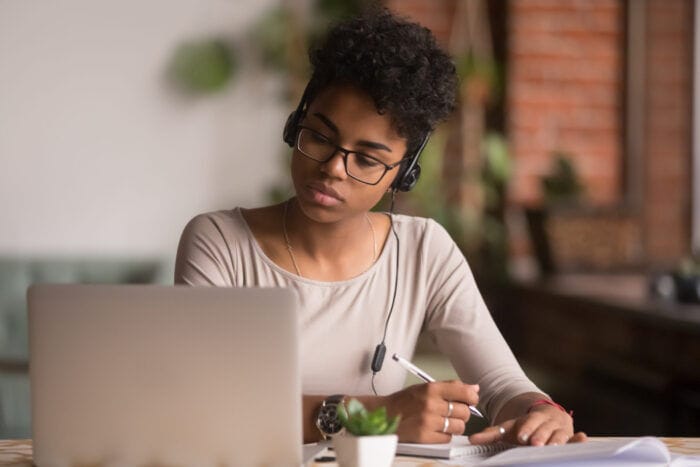 When you think about your nonprofit's digital strategy, training might not immediately come to mind. But having a plan for training is more important than you might think — especially in today's environment of remote workforces.
Training is a key part of change management. It's a way to help ensure employees, volunteers, and other non-staff members adopt new technology and business processes as your organization evolves.
In this article, we're sharing concepts and tips around four key areas related to training:
Why e-learning has become a better option for nonprofits than traditional in-person training
How online learning approaches, based on principles of adult learning, can benefit your organization
What considerations to keep in mind when choosing a learning management system (LMS) to support your e-learning strategy
How to take the next step in online learning for your organization
Before we move on, let's get one thing out of the way: Online learning isn't new. It's been around for years and has been growing in popularity — especially in the education sector.
What has changed more recently, though, is an accelerated adoption of online learning outside of the education world. Traditionally, businesses (and, particularly nonprofits) have tended to use face-to-face training. Then the COVID-19 pandemic hit, and things changed.
Today, in-person training isn't feasible. But it turns out that's not necessarily a bad thing.
Why e-learning has become a better option for nonprofits
In face-to-face training settings, learners must all be in the same place. They must set aside their work for the duration of the training. And they receive the training all at once versus in the context of when they'll actually need to use it.
While moving classroom-style learning online addresses some of these issues, it comes with its own challenges: Learners might be in different time zones, making it difficult to attend a live training. If they're working from home, they might have distractions. Eventually, they might grow tired of sitting in front of the computer for hours on end.
In contrast, the evolution of e-learning uses principles of adult learning to deliver content in formats that make it easier to learn. Two specific examples:
Micro-learning — This approach includes short, topic-specific content that learners can access at the specific time they need it.
Flipped classroom — Learners complete online courses and then join other learners online with an instructor to review content and ask any questions they might have.
Learn how Canadian Cancer Society tackled user training for a major technology project. Read the article, Changing the Approach to User Training for a CRM Implementation During a Pandemic
How online learning approaches can benefit your organization
These e-learning best practices, paired with a modern LMS, offer multiple benefits for your organization:
When software and processes change, you can quickly and easily update only the videos and resources that are affected by the changes, and then ask specific learners to review those individual learning segments.
Learners can reference individual lessons any time they need a refresher.
New employees can complete training as part of their onboarding process versus having to wait for the next training session.
You can quickly train staff members any time your organization makes a business process or technology change — whether it's big or small. You can also train volunteers and other non-staff members any time they need to understand how to complete tasks or processes.
What considerations to keep in mind for your LMS

A modern LMS helps you bring your e-learning strategy to life. There are multiple LMS products on the market today — ranging in price and functionality.
Here are some considerations as you look for an LMS for your organization:
Some LMS products offer only the ability to create custom content. Others also come with lessons included. Be sure you aren't paying more for a system with lessons included unless you are certain your organization will use them.
Some systems support both synchronous (real-time) and asynchronous (on-demand) learning options. Make sure the system you choose supports your e-learning strategy.
Some LMS products can integrate with your customer relationship management (CRM) platform. This can be helpful if you want to give learners the convenience of viewing training videos and resources in the context of the process they are performing in the platform. For example, there are multiple LMS applications in the Salesforce AppExchange that integrate with the Salesforce platform. Also, multiple LMS applications integrate with the Microsoft Dynamics CRM platform, and Microsoft is developing an LMS that will integrate with Teams.
Learning Management Systems offer various functionality, including the ability to:

Create content in small "chunks" to support micro-learning.
Set up learning pathways to give learners only the training segments they need for their individual jobs.
Catalog content so that learners can search for and review specific topics.
Employ gamification (such as awarding badges for course completions) to engage learners through friendly competition.
Track progress so you can check in on learners who might be lagging.
As you might expect, the more functionality an LMS offers, the higher the price tag. Just keep in mind that there are options at varying price points, and the return on investment can be quick when you consider how much you'll save by eliminating in-person training and how efficient your well-trained staff and volunteers will be.
How to take the next step in online learning for your organization

Ultimately, to have a successful online learning program, you need more than just an LMS. You need to define your learner audiences and what they need to learn for their individual jobs, and then create content in a format that's easy to consume and effective at educating the learner.
If that sounds like a tall order, rest assured that you don't have to do everything at once. You can start small, creating training for specific processes or technologies, and then grow over time. You also don't have to worry about locking yourself into a specific LMS. Many systems support the Sharable Content Object Reference Model (SCORM), which means you can choose a system that meets your needs today and then easily move content from one SCORM-compliant system to another when your needs change.
And you're not alone. The Heller Consulting team is here to support you. We can help with as much or as little as you need for your e-learning program, including:
Selecting the right LMS for your organization
Developing a learning strategy, including audiences and content plans
Creating training content — from videos to quick reference guides
Creating a strategy for rolling out your e-learning program
Learn more: Contact us today
Join the list
Want more nonprofit tech resources delivered to your inbox? Fill out the quick form below!