How Technology Can Assist Your Board Management Approach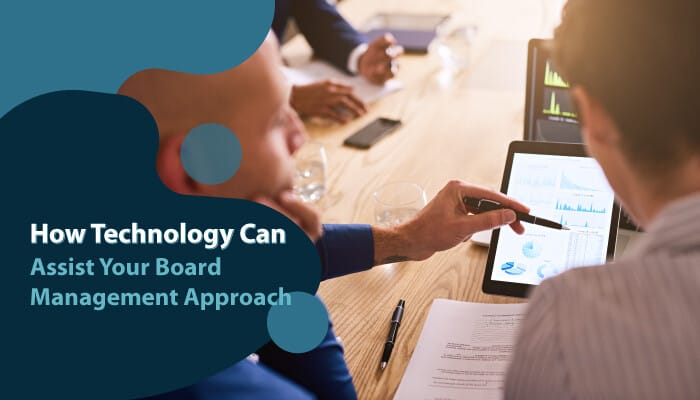 Modern technology has revolutionized the way organizations operate, and mission-driven organizations are no exception. Your organization's technology stack shapes how your staff carries out both routine, day-to-day tasks and major undertakings that impact your organization's future growth. 
As an entity responsible for guiding your organization's future goals, your board of directors can particularly benefit from streamlining daily tasks, allowing them to invest their focus into long-term strategic planning and overcoming immediate challenges.
Today's boards have access to software solutions made specifically for streamlining their responsibilities, so they can focus less on logistics and more on providing your organization with skilled insight. 
To demonstrate how technology can transform your board management for the better, this article will explore four benefits that the right tools can bring to your board of directors, including how they can help you:
Fine-tune the onboarding process.

Streamline planning for board meetings.

Improve board meeting facilitation. 

Maintain productivity outside of the boardroom. 
Like most modern tech solutions, board management software is constantly evolving to support the workflows that modern boards use. Stay updated on innovation in board management platforms and explore new solutions that might just be the answer to boosting your board's productivity and leadership. 
Fine-tune the onboarding process.
Technology can help your board members bring value to your organization even on their very first day. When you welcome new board members to the team, the last thing you want is to stall their momentum with a dull, inefficient onboarding process. Board members need to get up and running quickly, and your board technology can refine that process with:
Centralized onboarding resources.

Your organization likely has many resources your board members will need to familiarize themselves with in order to understand the inner workings of your organization and their role in it. Centralized online storage allows you to combine all of these resources into one location, saving you the time of sharing everything individually (or worse, overwhelming them with mountains of paper).

Streamlined forms.

Between commitment forms and

conflicts of interest forms

, filling out paperwork is a necessary, although time-consuming, part of the onboarding experience. Speed up this process with eSignatures and online documentation storage, allowing your new members to spend their time learning about your organization instead of filling out tedious paperwork. 

One-step communication updates.

It may sound obvious, but don't forget to update all of your email lists to include your new board members. The right board software can transform this from a monotonous task into a one-step process after adding them to your system. Your platform will be a one-stop-shop for communication, documents, tasks, and everything else they need to stay informed. 
Remember that a smooth onboarding process isn't just relevant for your new board members, either. Key changes in technology, communication practices, and organizational policies all require your board members to refresh themselves on fundamental forms and materials that can be found in your onboarding process. 
Streamline planning for board meetings.
Meetings are your board's core method for discussing organizational performance and implementing changes at your organization. Well-planned meetings are the optimal time to bring your board together to collaborate on your organization's strategies. By contrast, poorly-planned meetings can lead to wasted time for both your board members and your organization as a whole. 
Board technology can streamline your meeting planning process to allow for faster planning and more prepared meetings. Here are just a few aspects of your planning that you can target for improved efficiency:
Automate scheduling to eliminate the tedious process of lining up meetings.

Finding the time for even a handful of people to meet can be a hassle. Board software automates this process, keeping your meetings consistent and on schedule. 

Board administrators can build and share dynamic agendas.

Board administrators are responsible for preparing useful agendas that address everything your board needs to discuss and keep meetings on track.

Boardable's guide to board administration

suggests supporting your administrator with digital tools to build and securely share dynamic agendas that cover all vital discussion items.

Centralize documentation so everyone knows what to review.

Nothing on your agenda should ever be a surprise to your board members. Centralizing documentation allows board members to quickly get up to speed on upcoming topics and review any documents you've shared to prepare for their next meeting.
It may seem excessive, but all of the prep work you complete before meetings directly impacts how effective your board members will be when they're finally together. If your board members only meet a few times a year, your pre-meeting preparation becomes even more vital for ensuring board members can devote that time to focused conversation instead of shuffling through papers. 
Improve board meeting facilitation.
While your planning determines your board meeting's efficiency, successful meetings also follow best management practices during the meeting. Make sure all of your dedicated planning doesn't go to waste by leveraging your board software to improve how your meetings are facilitated. 
Here's how today's technology can transform facilitation and keep the conversation flowing in the boardroom:
Digital voting.

Voting is one of your board's most important responsibilities, and keeping a record of votes ensures your organization remains transparent. Digital voting tools help simplify the voting process, and some software solutions even have the option to enable anonymous voting, which may be necessary for sensitive matters. 

Virtual and hybrid meetings.

Virtual and hybrid board meetings

have been used by some organizations for quite some time, and recently they've become the new norm for many organizations. Being able to host board meetings, no matter where your members are, creates a more convenient meeting experience and opens your board up to new members from outside your local community. 

Informative minutes recording.

Meeting minutes are an official record of your board meetings. They serve multiple purposes from helping absent members catch up on what they missed to following your organization's internal governance protocols. The right technology will help quicken this process, allowing you to record discussions and final decisions directly on your agenda.
In the past, technology may have been optional for running well-organized meetings. Today, with the increased popularity and necessity of virtual meetings, meeting management technology is a necessity. 
Re:charity's guide to working from home recommends a few platforms that organizations running remote meetings should explore, ranging from basic software most people are familiar with such as Google Suite and Zoom, to more specialized solutions that target organizational (and board!) management. 
Maintaidn productivity outside of the boardroom.
So far, we've stressed the importance of board meetings, and for good reason. Meetings are when vital decisions are made. However, it's after meetings that these decisions are implemented. Fortunately, comprehensive board software solutions take this into account and can boost your members' efficiency outside of meetings by allowing them to:
See complete and incomplete tasks for individual board members to ensure objectives are met.

Even the most

engaged board members

won't be able to follow through on responsibilities if they don't know what their next steps are. Your board software should allow you to designate responsibilities and update tasks as they are completed to keep board members on track. 

Stay in contact and review resources.

There's something wrong if your board members have to wait for your next meeting to get in touch with each other. All of your board members should have the necessary communication tools to reach out to each other and share resources to help complete their individual objectives. 

Assess progress toward goals.

Your board works to provide value for your organization. But how do you measure that work? Reporting tools enable boards to set goals, both for the board and the organization as a whole, keeping your board focused on moving forward. 
Finding the right board software can be an investment. While each organization has its own approach for selecting technology, most can find the solution that's right for them by making a list of their must-have features. For example, an organization that has trouble following up with board members after meetings may want to prioritize solutions with strong communication tools and task-management features designed for accountability. 
The right technology can simplify board management, allowing your board to reinvest its focus into strategizing and setting your organization up for success. However, bear in mind that even the most sophisticated technology is ultimately a tool, and its helpfulness will be determined by how your organization uses it. After all, your board members likely have a wide range of tech fluency levels, meaning user-friendly, intuitive tools may ultimately be more successful at transforming your board for the better than the newest, most complex software available.  
About the Author
Jeb is the founder and CEO of Boardable, a board management software provider for mission-driven boards. He is also the founder of two nonprofits, The Speak Easy and Musical Family Tree, as well as a board member of United Way of Central Indiana and ProAct. Jeb is based in Indianapolis, Indiana.
Categories: