Transitioning to Hybrid Events: 4 Points to Remember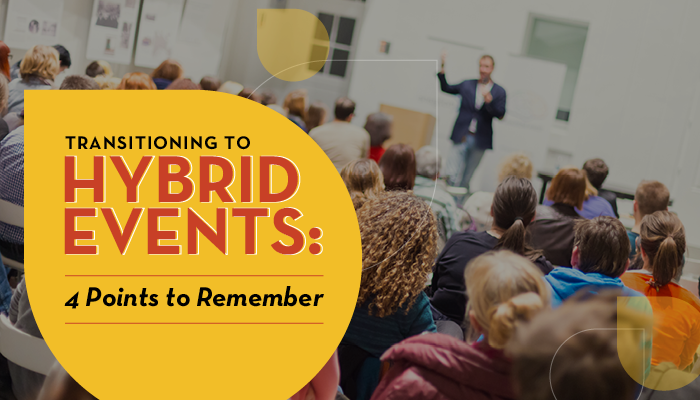 Virtual events have become more popular than ever due to COVID-19 and social distancing guidelines. Now, with the vaccine rollout and things returning to some level of normalcy, organizations are beginning to plan and host in-person events once again. 
According to The Giving Experience Study recently released by our team at OneCause, 71% of today's donors say they are or will be ready to return to in-person events in 2021. That's great news! But what about the roughly 30% of donors who are still hesitant? How do you reach them?
The solution? Meet your donors where they are with hybrid events.
Hybrid events encompass both in-person and virtual engagement elements, effectively offering the best of both worlds for donors looking to support your cause. Hybrid events provide flexibility for donors, and likely will continue to be a popular choice for nonprofits of all shapes and sizes. 
At OneCause, we work with organizations to pull off successful and engaging virtual and hybrid events—and we've put together this quick guide to help steer you in the right direction. Specifically, we've compiled these four best practices to remember as you plan or transition your upcoming hybrid event:
Understand the flexibility of hybrid events.

Double check your tech toolkit.

Plan a virtual-friendly program.

Recruit teams to handle both live and virtual elements.
In this blog we will cover the Must Knows for logistics, planning, and executing a seamless hybrid event. Let's dive in.
1. Understand the flexibility of hybrid events.
When it comes to planning your hybrid event, you might imagine simply live streaming your in-person event to your virtual audiences. But there's a variety of options to engage your at-home attendees! Remember, this is a dual experience for your guests, so you want to think about all the ways you can connect both audiences to your event and fundraising.
Take time to craft the right hybrid experience for your audiences and event plans. A few of our favorite strategies include:
Smaller VIP events:

If you're looking to maximize revenue collected through your hybrid events, consider selling

VIP in-person ticket packages alongside a virtual component that's open to everyone. This is an especially popular choice for galas, auctions, and other exclusive fundraising events, as the limited number of in-person attendees can encourage higher contributions.

Viewing parties:

Coordinate with key volunteers or campaign ambassadors to host event viewing parties in their homes. This way, remote supporters can gather in smaller groups to watch the event livestream and

engage with the event HQ

and other fundraising opportunities. 

Hybrid walk-a-thons:

While traditional walk-a-thons involve a large number of individuals gathering in a single area, a hybrid walking event can take a number of different forms. For example, you might invite a limited group of participants to walk a designated course, while encouraging others to complete their walk at a remote location and simply track their time and distance.

Educational and community discussion events:

Organizations that host community discussion events can make use of hybrid event strategies by allowing a small in-person audience to gather physically with a more extensive virtual audience tuned in online. This way, people can join the experience from all over the country.
By offering unique and engaging event components for both your virtual and in-person audiences, you create a compelling experience for all supporters, making them feel a part of the event (not just viewers) and a part of your mission. This increases active participation and fosters continued support. And luckily, advancements in technology continue to increase the flexibility offered for these types of hybrid events.
2. Double check your tech toolkit.
If you've already hosted one or more fully virtual events, you likely have a few useful tools at your disposal. Before diving into planning a hybrid event, take the time to double check your toolkit. 
Then, ask the following questions: Is everything in your toolkit working? Are there technology gaps? Are there any additional tools you'll need to reach both the in-person and virtual attendees? 
When it comes to technology, consider the following tools:
Event-specific technology:

Depending on the kind of event you choose to host, your tech toolkit can vary drastically. For example, if you're

planning a hybrid fundraising auction

, a set of mobile bidding tools is non-negotiable. 

Registration and ticketing tools:

Regardless of whether a guest is attending your event virtually or in-person, it's important to provide a streamlined event registration and ticketing experience. This way, you can collect donor and payment information and enhance the guest experience with online ticketing and add-on purchases.

Online giving platform:

Online donation tools and other virtual fundraising platforms are critical for generating revenue through your hybrid events. With this software in hand, you can create a streamlined giving process and encourage event attendees to support your organization beyond any ticket sales.

Livestreaming software:

Especially for your virtual event elements, live-streaming software is critical for engaging your attendees. This is how you'll broadcast components of your in-person events to your virtual audience in real-time.
As with any event, outline a budget and weigh your tech needs to give yourself plenty of time to find and adopt the right solutions. Since technology is crucial for a successful hybrid event, be sure to get started as early as possible.
3. Plan a virtual-friendly program.
In a successful hybrid event, you don't want virtual attendees to feel like they're passively watching a show. Instead, they should be actively engaged in your programming—even from afar.
Take the best practices from virtual events that you've seen or executed over the past year. Adopt the best pieces from them and adapt them to your hybrid strategies. 
According to our OneCause guide to virtual fundraising events, "flexibility enables nonprofits to customize and launch virtual events that fit their unique needs." The same is true for hybrid offerings! Here are a few key tips to remember as you plan your upcoming event:
Keep the program fairly short

. It's hard to keep your guests' attention virtually as well as you can with in-person engagement, so we recommend you keep the livestreamed portions of your event short, sweet, and to the point. This can maintain focus on the most important aspects – your fundraising.

Save the main attraction for the end.

Similarly, saving your main attraction for the end of the event can be a great way to hold guests' focus until the finale. Make sure to tease the big ending beforehand so that attendees know what they're waiting for. For an auction, this might be a big-ticket item that everyone will want to bid on.

Ensure virtual attendees always have something to watch or do.

Contests, gamification, polls, and quizzes make the virtual experience fun. This way, your supporters will be entertained throughout the entire program and less likely to click away during your event.

Make use of pre-recorded video.

These types of content are great for filling in during the aforementioned lulls. For example, you can incorporate clips of constituents sharing personal impact stories, supporters completing peer-to-peer challenges, or staff communicating an overview of your past year. Feel free to include a message from your

corporate sponsors

as well!

Show your attendees on screen.

This is a great way to boost engagement with both virtual and on-site guests. Just include a scrolling view of virtual attendees on the main stage, with a live view of the ballroom for virtual attendees.
Your virtual elements will likely comprise a significant portion of your hybrid planning. These tips can help foster a sense of community among your attendees and encourage continued support for your organization.
4. Recruit teams to handle both live and virtual elements.
A successful event starts with a strong team! Just as with an in-person event, there are important roles that will need to be filled to execute a seamless hybrid event. Here are a few key team members to keep in mind:
Live tech support:

As we mentioned, hybrid events rely heavily on

technology

—and technology can be finicky. Thus, it's critical to have a team of experienced tech support on standby to help solve any issues as they arise during the event itself to help virtual attendees.

Production team:

These individuals will handle the backend production aspects of your hybrid, wrangling technology, keeping the program running smoothly, and monitoring engagement along the way. Some nonprofits choose to work with professional production companies for larger-scale events.

Fundraising team:

This onsite team will take charge of your event's fundraising elements and opportunities. They'll ensure everything runs smoothly for both in-person and remote attendees. 

Two emcees:

You'll want to have a dedicated emcee for both your live and virtual attendees to ensure that each audience is addressed specifically and provided with a high-quality experience.

Social media or chat lead:

This person should monitor engagement, share incoming posts and messages, and facilitate discussions during the event. Online chats and other virtual engagement elements are great for encouraging interaction between attendees near and far, but you have to actively monitor and engage with them.
While planning a hybrid event does involve creating a dual experience, with a little planning, a good strategy, and the right team, you can be on your way to reaching and engaging both the in-person and virtual supporters in your donor base,
Hybrid events continue to unleash new potential for organizations looking to increase their engagement with supporters. When you dedicate the time and effort into pulling together a successful event for your guests, you can provide an accessible, entertaining, and valuable experience for those who support your mission.
Just remember to understand (and leverage) the flexibility of hybrid events, invest in the right technology, prioritize virtual engagement, and recruit dedicated event teams, and you'll be off to a great start.
Categories: