The Story of Microsoft's Commitment to the Nonprofit Sector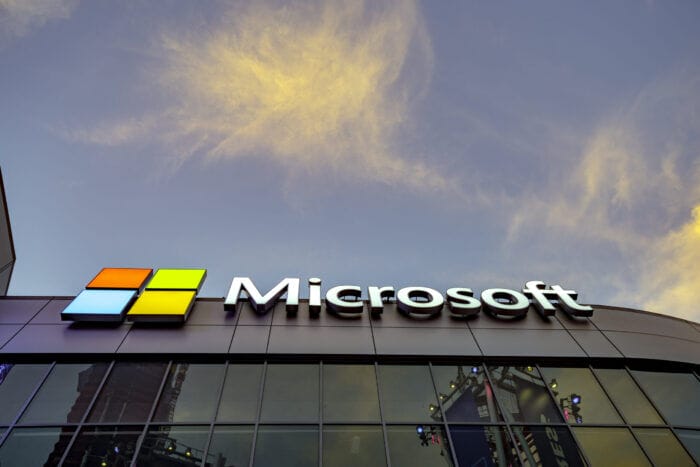 If you've read this blog for a while, you probably know that Team Heller has been closely following Microsoft's movements in the nonprofit sector. We've watched Microsoft go from initial investments in the sector to the launch of specific nonprofit solutions. And, we've even been involved along the way.
We've been excited about the growing potential of Microsoft solutions for nonprofits for several years now because it represents the availability of a whole new level of technology options for nonprofits. But you likely haven't been following their story as closely as we have. So, we thought you might find it helpful to understand some of the key milestones that exemplify Microsoft's commitment to nonprofits.
Here is a summary of Microsoft's increased support for the nonprofit sector in the last few years
2015: The start of Microsoft Philanthropies

In 2015, Microsoft announced an expansion of their commitment to worldwide corporate philanthropy with the creation of a new organization, Microsoft Philanthropies. This group is focused on delivering the benefits of technology to people with the greatest need.
2017: The formation of Technology for Social Impact

In 2017, Microsoft made significant moves into the nonprofit tech market by forming Technology for Social Impact (TSI), a division of Microsoft Philanthropies. This group is responsible for adapting the strength of Microsoft's core commercial solutions to effectively meet the needs of nonprofits.
Given Microsoft's unrivaled scale and brand presence in the commercial sector, we at Heller Consulting recognized the massive potential for nonprofits. That's why Team Heller has participated as advisors at some TSI Advisory Steering Team meetings.
2018: The development of Common Data Model for Nonprofits and the Nonprofit Accelerators
One thing we quickly learned from our involvement with TSI is that they had (and still have) substantial plans for their Microsoft Dynamics 365 Nonprofit Accelerator. Microsoft's Nonprofit Accelerator builds on the platform agnostic Nonprofit Common Data Model (NCDM) . We could write a lot about the Nonprofit Accelerator and NCDM, but here's the key point: The introduction of the Nonprofit Accelerator two years ago made it easier for Microsoft partners to develop solutions for nonprofits that are built on the Microsoft Dynamics 365 platform and easily work with other Microsoft products. Since the NCDM was developed in partnership with nonprofits and technology vendors in the market, anyone can build solutions based on this data schema, resulting in easier integrations of point solutions with the Microsoft Dynamics 365.
Update: In December 2020, Microsoft's Nonprofit Accelerator was completely decoupled from Dynamics 365, and can be used with any Microsoft tool or product, as well as with other solutions.
2019: Introduction of new tools for small to mid-size nonprofits to execute digital transformation
In September 2019, Microsoft launched the Microsoft 365 Business for Nonprofits, Microsoft Digital Skills Centre for Nonprofits and Microsoft Nonprofits Operations Toolkit build on Teams. Microsoft's research found that small nonprofits are at the highest risk of being left behind in a digital world and 60% nonprofits do not have appropriate policies to manage digital cybersecurity risk. Looking to support the important work of these organizations around the world, Microsoft introduce three important tools:
Microsoft 365 Business for Nonprofits offer: Qualified nonprofits are entitled to 10 free licenses of Microsoft 365 Business productivity tools including Office 365, as well as Windows advanced security and device management capabilities.
Microsoft's Digital Skills Center for Nonprofits: The Microsoft Digital Skills Center for Nonprofits, in partnership with TechSoup, offers product-specific training and skill-building content to help nonprofits successfully leverage technology.
Microsoft Nonprofit Operations Toolkit: This toolkit is built on Power Platform to provide small nonprofits with an out-of-the-box solution for project and awards management.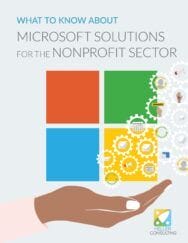 Learn more about how your organization can get started with Microsoft. Download our free guide!
The development of purpose built Microsoft solutions for nonprofits
Microsoft and their partners have been developing enhanced technology offerings to support nonprofits.
Using the NCDM as a foundation, along with Dynamics 365, Azure and Teams, Microsoft partner Wipfli built a volunteer management system to leverage the skills of Team Rubicon's 80,000 volunteers and allow for more faster more effective deployment of volunteers and equipment in response to disasters.
As a Microsoft Partner with a background in developing on Microsoft technology in the commercial sector, MISSION CRM began developing an application on Microsoft Dynamics 365 focused on fundraising and development.
Within a year, the Heller Consulting team began working with the MISSION CRM team. We shared knowledge from our deep experience in fundraising strategies, operations, and solutions to help inform the development of key aspects of the solution.
2020: The launch of the new Fundraising and Engagement solution from Microsoft
This year, Microsoft launched Fundraising and Engagement Built for Dynamics 365 Sales — that has nonprofit-specific capabilities and offers benefits from the full stack of Microsoft technology. Out of the box, the solution offers immediate access to real-time information about loyal donors and prospects so you can engage them in a personalized way.
Watch the demo: Fundraising and Engagement Built for Microsoft Dynamics 365 Sales
The Heller Consulting team plans to continue working with the Fundraising and Engagement development team to take the solution to the market, help nonprofits understand how it fits in their own technology ecosystem, and implement it for nonprofits that decide it's right for their organization.
The Microsoft Nonprofit Data Warehouse Quickstart offers nonprofits a script-to-deploy data warehouse that leverages Azure and connects into the NCDM, with the goal of helping nonprofits modernize their data estate by leveraging Azure.
Microsoft TechSpark partners with local organizations working to ensure that as technology evolves, people are not left behind. TechSpark works with nonprofits and other community organizations to ensure that that people can obtain new skills and are employable, and that organizations have the resources to benefit from the digital economy.
As part of its work towards social justice, Microsoft offers the Nonprofit Tech Acceleration for Black and African American Communities. US nonprofits serving Black and African American communities can benefit from an Onboarding Concierge team that will match your organization with the technical software and services that can help modernize and streamline your technical operations and increase the impact of your mission.
The Azure Foundation for Nonprofits helps nonprofits with limited budgets accelerate their cloud adoption by offering guidance, tools and templates that address the most common nonprofit scenarios.
Microsoft continued its history of support of the nonprofit community when it announced a number of measures specifically designed to help frontline nonprofits, critical care and COVID-19 research organizations that will help free up scarce resources, support remote work and training, and enable organizations to securely utilize data analysis in their COVID-19 response.
2021 and beyond
On February 24, 2021, Microsoft increased its commitment to the sector when it announced the launch of the Microsoft Cloud for Nonprofits. And then Microsoft made the solution generally available worldwide with new and exciting features in November 2021. Heller Consulting is an official launch partner for Microsoft Cloud for Nonprofit.
Watch the demo: Fundraising and Engagement Built for Microsoft Dynamics 365 Sales

Download the guide: What to Know about Microsoft Solutions for the Nonprofit Sector
As Microsoft continues their work in the nonprofit sector, we will continue to watch and work with them. By keeping a close eye on the nonprofit technology space, we're ready to help you understand the landscape, determine the best technology options for your organization, and implement and support the solutions you choose. Contact us today to find out more and get started.
Join the list
Want more nonprofit tech resources delivered to your inbox? Fill out the quick form below!
Categories: