How Food Banks are Using Salesforce Throughout the Organization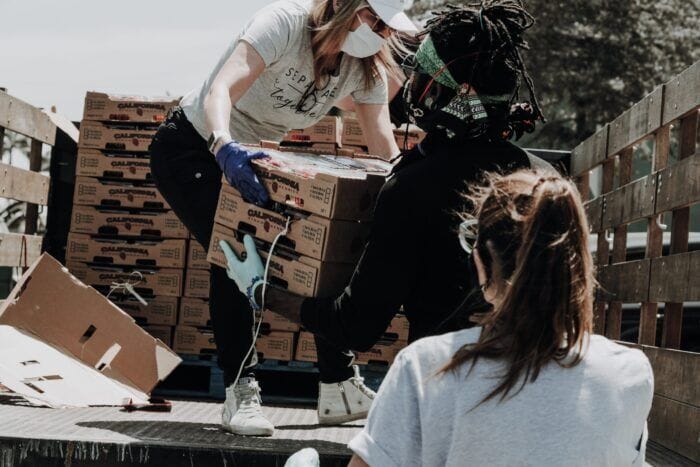 As food banks continue to meet the needs of their communities, a significant number are now using Salesforce Nonprofit Success Pack (NPSP). They're using this customer relationship management (CRM) solution as the core of their technology ecosystem to improve efficiency and effectiveness around everything from programs and fundraising to volunteer management.

How food banks are using Salesforce

Salesforce has a lot to offer food banks, across the organization. For example:
For programs, tracking geography, demographic information from children to seniors, and agency partner data can supercharge activity across programs.
For volunteer management, tracking volunteer opportunities, schedules, and participation can help scale volunteer support up or down as demand for services changes.
For fundraising departments, access to a more complete view of constituents, including their volunteer activities, can transform communications and ultimately raise more money for the organization.
Learn how San Antonio Food Bank scaled up to support a dramatic increase in volunteers, donors, and beneficiaries through a customized Salesforce CRM system: Read the article

Real-world examples of food banks using Salesforce
We've seen the benefits of Salesforce firsthand in our work with food banks, food pantries, and hunger relief organizations. Here are several examples:
Programs

One of our large food bank clients uses Salesforce to make communications for their food distribution programs more efficient:

For their partner agencies, the food bank can send important communications — about changes in supplies, food recalls, and protocol changes — automatically through their Salesforce system. Quick communication is critically important when it comes to this type of information, which can impact the services the agencies provide if they do not receive updates in a timely manner.
Service recipients can receive confirmation emails, or even a text message (in their preferred language and method of communication), as soon as they click the sign-up button for a service, such as a food distribution. They can also then receive an email or text reminder before their first distribution.
For the organization, using Salesforce for communications related to their programs helps them fulfill their mission by ensuring their clients have the information and reminders they need to receive the services they sign up for.
Learn how your food bank can optimize CRM technology to prepare for the future: Read the guide, The Food Bank's Guide to Optimizing CRM Technology to Meet a Growing Demand for Services.
Volunteers

Another of our larger food bank clients, which depends heavily on help from their volunteers, relies on Salesforce to get important information related to volunteer opportunities — including farming, sorting food, and packing — out to prospective volunteers. They also use Salesforce to send details to confirmed volunteers quickly and accurately. For example, if a volunteer is in the process of completing a home delivery and there is a special request made by the client receiving the service, the volunteer driver can be immediately notified of the request.
Yet another of our food bank clients wanted a system to help better manage their volunteer jobs and shifts. We implemented a quick, customized Volunteers for Salesforce app and the Pardot marketing automation tool from Salesforce to support how they engage and track volunteers. The results:
Individuals can now sign up to volunteer via a shift calendar on the food bank's website, making the sign-up process more efficient for both staff and volunteers.
The food bank can more easily manage volunteer groups: Food bank staff can create group reservations in Salesforce, and then an email is sent automatically to group leaders prompting them to contact group members. Then, group members can easily sign up individually and have their sign-up be connected automatically to the group.
The system allows the food bank to collect more data about volunteers — such as interests, skills, languages, and how they heard about the volunteer opportunities — in a systematic way; house it in one system for use in reporting, list segmentation, and relationship-building; and automatically send targeted communications to volunteers.
Fundraising


One more example: A food bank came to us to implement Salesforce to meet multiple goals — one of which was to improve donor and grant management. To meet this particular goal, we set up a system with Salesforce CRM at its core that also connected with Classy to power the organization's donation form and Apsona to power batch gift entry and document merge capabilities for donor acknowledgements. The system also supports many other fundraising operations, including managing donor details and fundraising dashboards and reporting.
Discover how food banks are using Salesforce to meet the needs of their communities: Watch the on-demand webinar, How Salesforce Has Helped Food Banks Respond to the COVID Crisis.
The flexibility of Salesforce to meet food bank needs
These examples are just a fraction of the ways we're helping our food bank clients use Salesforce to work more efficiently and effectively across their entire organization. One of the perks for food banks that move to Salesforce is that the technology is so flexible. While many food banks share similar fundamental processes, the details and number of those processes can change quickly and often, and Salesforce can be customized to meet just about any specific need.
Also, Salesforce doesn't have to be implemented across the entire organization all at once. In fact, our team at Heller Consulting recommends taking a phased approach, gradually implementing the technology for each department to eventually bring greater efficiency and collaboration to departments across the entire organization. This method allows the organization to establish a strong CRM solution for their highest priority areas, and then build off of each success in future phases.
Moving forward with Salesforce for your food bank
One of the great things about the growing list of food banks using Salesforce is that if your food bank is interested in learning more about Salesforce, there are many who have gone before you and can share their experience. Consider talking to your peers at other food banks who are using Salesforce. Or talk with the Heller Consulting team — we have deep expertise in technology services for food banks and can help you determine if Salesforce is the right solution for your organization.
Join the list
Want more nonprofit tech resources delivered to your inbox? Fill out the quick form below!
Categories: