Food Banks, Intrigued by Salesforce, Wonder What to do Next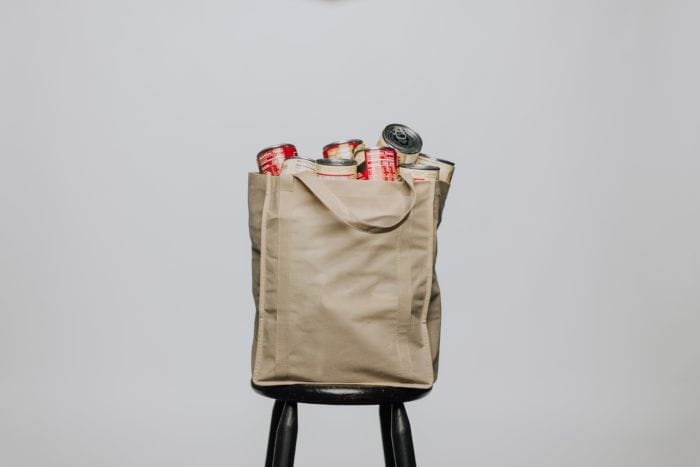 Food banks and hunger relief organizations across the country are taking a closer look at Salesforce and its potential to transform business operations throughout the organization. Connecting data across programs that serve diverse needs can bring efficiency to business operations and new opportunities to track and identify the impact that is being made. For programs, tracking geography, demographic information from children to seniors, and agency partner data can supercharge activity across programs. For fundraising departments, access to a true 360-degree view of constituents, including their volunteer activities, can transform communications and ultimately raise more money for the organization. But for organizations considering Salesforce to unlock this potential, taking the first step is often the biggest challenge.
At Heller Consulting, in working with Feeding America food banks and hunger relief organizations, we've developed a process for identifying what next steps organizations considering Salesforce should take. First, we ask organizations to identify their current Mindset when it comes to Salesforce. There are usually three mindsets we see – 1) Leaders know they need to make a change; 2) Leaders need to be sure about Salesforce; and 3)Leaders have already decided they want Salesforce. Then we look to the business Motivation that best fits the organization. The business motivation focuses on how an organization would measure success for any next step taken. This is particularly important for organizations who have already considered and are determined to move to Salesforce. Their business motivation will be key in selecting their next step. Finally, based on the mindset and motivation, there are five Next Steps that an organization can choose to take to begin its Salesforce journey. Through this exercise, food banks and hunger organizations can have confidence that they are setting their organization up for success.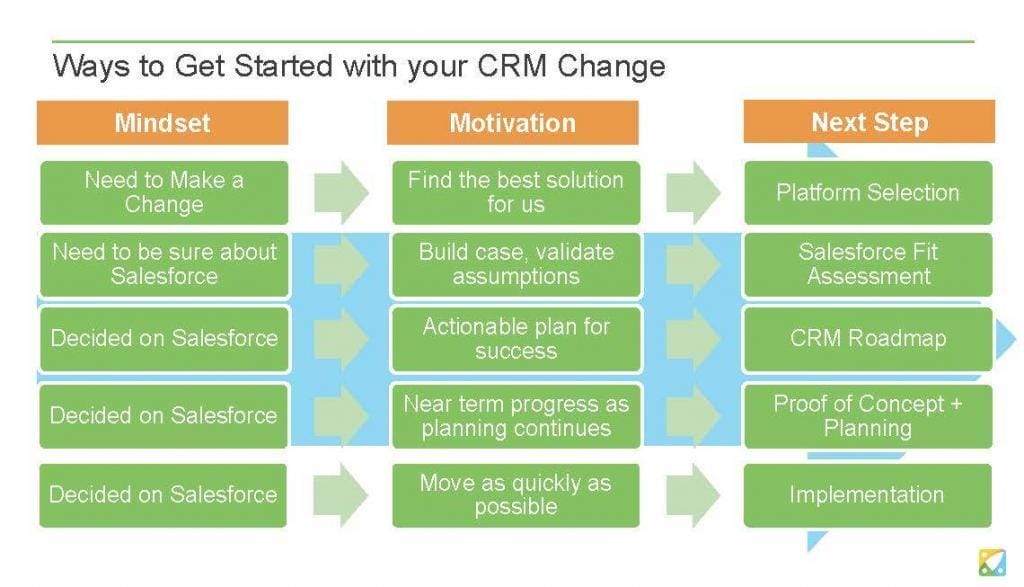 Need to make a Change
Ironically, the first profile for a food bank and hunger relief organization who is beginning a process to move to Salesforce is the organization that does not yet know if Salesforce is a good fit at all. These organizations know that something isn't working with their current systems or aspire to take their activities to the next level. They have the mindset that they need to make a change in order to do that and are motivated to find the best solution for their organization – whatever that solution may be. Because Salesforce meets many of the programmatic and fundraising needs for food banks and hunger organizations, Salesforce is often a top consideration when surveying the CRM marketplace broadly. However, Salesforce may not be the perfect fit for every organization based on its specific needs and there are many reasons an organization may choose to look at CRM options broadly.
For these organizations, we recommend they conduct a Platform Selection project. As part of this effort, we document requirements that are specific to the organization while also bringing our expertise in working across the sector to bear. We compare those requirements to both the organization's current technology ecosystem as well as other products in the marketplace. We seek to understand what CRM systems best fulfill these needs, if and where gaps exist, and whether additional tools or customization will fill those gaps. Finally, we provide details on how each choice affects the overall costs and what type of staffing will be needed to effectively manage the tools.
At the end of a Platform Selection engagement, the food bank will have all the information it needs to engage directly with one or two technology providers to get specific quotes for cost of services, and ultimately decide on what CRM platform to choose.
Need to be sure about Salesforce
Many food bank and hunger relief organizations have heard from contemporaries at other organizations about the viability of Salesforce as a solution to better connect information across programs and the Nonprofit Success Pack (NPSP) as a foundation for fundraising. But while they may have a general understanding that Salesforce may be a good fit, they need more certainty and specific information to build the case internally and initiate a technology change. These organizations have the mindset that they need to be sure about Salesforce before they can move forward and are motivated to build a business case and validate assumptions they have about the product.
A Salesforce Fit Assessment allows these organizations to gather all the information they need while focusing on a single CRM, Salesforce. Unlike a platform selection that would look at multiple CRM solutions, a Salesforce Fit Assessment with its focused use of time and effort can be an efficient use of staff resources and budget. Number of users, data storage amounts, associated applications or subscriptions, and migrations needs can all be evaluated to establish specific costs and impact on the organization.
From the information gathered in the Salesforce Fit Assessment, a food bank will be able to work with leadership and funders to achieve a go or no-go determination on the technology change with the confidence that they have all the information they need to make a good decision.
Decided on Salesforce
Our final mindset for food banks and hunger relief organizations we talk to are those who have already decided on Salesforce. They have done their own internal research, have spoken with Salesforce directly, or have staff who have worked within other successful organizations using Salesforce. They have confidence in the capabilities of Salesforce to perform the critical business functions they need. But many questions still remain unanswered for these organizations. Which departments and programs should migrate, over what timeframe and what will the total cost and effort of these changes be? In order to determine what these food banks should do next, we look to their motivations to understand what they need most to continue on their Salesforce journey. We have identified three motivations for organizations that help us understand what next step is appropriate for them.
1. Want an Actionable Plan for Success
We often encourage organizations begin with the end in mind, which means stepping back and envisioning a future for their organization on Salesforce. Which programs are connected? Which departments are involved? How will business be done differently in the future? Organizations can answer these questions by documenting all the use cases or user stories that need to be achieved both now and in the future. Through this process, we develop a comprehensive CRM Roadmap that serves as a guide for the organization to achieve their end-state technology ecosystem.
The CRM Roadmap organizes the migration and implementation process into a timeline of activities so that the organization can understand which programs or departments should be implemented first, and how to build on the success of each prior implementation phase. The CRM Roadmap also ensures that licenses and subscriptions are purchased just in time for when the organization needs them, saving budget. Finally, changes to business processes or other organizational activities can be layered onto the overall roadmap so that a comprehensive view of the organization's activities is achieved.
With a CRM Roadmap in hand, the organization will have a blueprint for their Salesforce implementation to guide them as they expand the use of the tool.
2. Balance Progress and Planning
Some organizations need to meet internal business objectives and are motivated to demonstrate early success on the Salesforce platform. In these cases, a pilot or Proof of Concept engagement on a program or department can meet an immediate need while building confidence within the organization that Salesforce is the right fit. In these projects, we determine a set of functionalities for a department or program that can be accomplished in a relatively short amount of time and move forward with implementation quickly. Throughout this initial Proof of Concept project, we simultaneously continue Planning for future implementations in order to minimize any rework.
Having an early success can help build momentum by both showing progress and encouraging the organization to keep building on that success. Early adopters within the organization can then demonstrate the effectiveness of the new system and serve as internal champions for further changes. And organizations can begin seeing the impact of their investment in terms of efficiency and mission effectiveness in the shortest amount of time.
By simultaneously developing a Proof of Concept while engaging in appropriate Planning, the organization can balance its need to move quickly and think ahead!
3. Need to Move as Quickly as Possible
Sometimes an immediate need must be met. With a deadline looming, moving directly into Implementation may be the only option even for the most conscientious food banks. When moving directly into implementation, based on an initial set of requirements, everyone on the project must be flexible when new information comes to light or an unexpected risk comes to pass. Especially for organizations that are comfortable with a more Agile approach to implementation, a project that moves right into Implementation can still be extremely successful.
These projects make critical changes as quickly as possible while the project teams collaborate in real time to build the tracks as the train begins to move along them.
Many food banks and hunger relief organizations find that a technology architecture, with Salesforce at the center, reduces the total number of systems overall and centralized core constituent management functions into one system. With common elements to consider – programs and services, fundraising, volunteers, marketing, analytics – food banks need a reliable way to conduct their important work and make an impact in their communities. They shouldn't let the questions of how to get started be a barrier to taking action. By identifying where your organization stands in terms of Mindset, you can then look to your current Motivations to ultimately determine the Next Step that is right your organization.
Categories: