Best Sessions for Nonprofits at Dreamforce 2017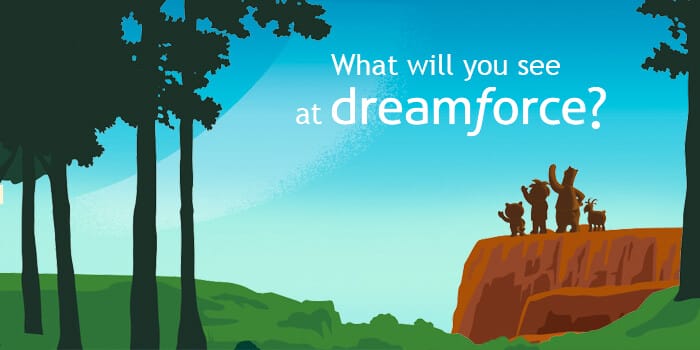 At last year's Dreamforce conference over 118 breakout sessions were offered specifically for nonprofit and higher education causes to over 8,000 nonprofit attendees. Dreamforce 2017 promises even more. So with all that going on for nonprofits, plus the 165,000 additional people, businesses, and organizations descending on San Francisco, how do you make the most of your time?
Clearly, everyone will want to see Marc Benioff's keynote about the forward-looking technology landscape. As nonprofits, this is a chance to glimpse into our future. Technology investments discussed this year will be tested and refined by the commercial sector in the coming months. Some will be proven not so useful, others will be refined and added as core components of the platform, including the products offered to nonprofits at a discount. We will quickly see the benefit of the research and development done for the much larger Salesforce.com community.
This is why it's important to approach Dreamforce with a dual perspective. Certainly pay attention to the nonprofit-focused sessions, but also pay attention to what's happening in the larger ecosystem. With that in mind, I'd like to point out the emerging themes that I think are worth paying attention to. Pay attention to these, and you will come home from Dreamforce with more than a bagful of swag. Use the session links to add these to your agenda.
---
Where is Salesforce is headed for NGOs?
As a nonprofit, the first thing to pay attention to is simple: What is Salesforce planning for NGOs in the coming year? Not just from a product perspective, but from an overall strategy as well. What do they see as important enough to focus on, invest money in, to provide value to their customers? These sessions should provide a clear indication of how they plan to serve nonprofits.
Strategy
Salesforce.org Kickoff: The Empowered Individual
Monday, November 6, 10:30 AM – 11:30 AM – Session Link
Hilton Union Square Hotel, Grand Ballroom B
Kick off Dreamforce with trailblazers from the nonprofit and education sectors. Join Rob Acker, CEO of Salesforce.org, for a thought-provoking discussion about creating impact in the connected world, the social revolutions happening all around us, and the shift toward personalized impact. Meet the Salesforce.org team, and thought leaders from leading nonprofits and universities that are transforming for the future with the help of Salesforce technology.
Salesforce.org Nonprofit Kickoff
Monday, November 6, 1:30 PM – 2:30 PM – Session Link
Hilton Union Square Hotel, Grand Ballroom B
Start Dreamforce with the entire nonprofit community and hear from other passionate trailblazers like you. The world today needs the work of nonprofits more than ever before, and people across the globe want to help. Yet, nonprofits are struggling to connect individuals to their mission. Join us to hear how three inspiring nonprofits have used technology and data to find, connect, and activate their constituents like never before. Learn how you can become a Connected Nonprofit and drive impact through empowerment, engagement, and intelligence.
Product: Nonprofit Success Pack (NPSP)
Salesforce.org Product Roadmap for Nonprofits: Where We Are & Where We're Headed
Tuesday, November 7, 12:00 PM – 12:40 PM – Session Link
The Westin St. Francis, California West
Join the Salesforce.org Technology & Products team for the low-down on current and future product offerings for the nonprofit sector—including the roadmap for NPSP—as well as relevant updates from Salesforce innovations.
---
Business Intelligence and Artificial Intelligence (BI/AI) for Nonprofits
No doubt you've heard discussions about business intelligence, analytics, and artificial intelligence in the news lately. Salesforce is riding the front of the wave with their Einstein technology, and will be demonstrating its capability. It's important to understand what nonprofit organizations are doing with Einstein, but it's just as important to watch what the commercial sector is doing. It's been true year after year that technology and techniques first tested and refined by companies in the commercial are soon translated to be effective for nonprofits as well. These are sessions you should consider to stay abreast of these exciting developments..
Nonprofit & Strategy
Taking Nonprofit Reporting and Analytics to the Next Level with Einstein
Tuesday, November 7, 8:00 AM – 8:40 AM – Session Link
The Westin St. Francis, California West
Year Up uses Einstein Analytics to track employment and salary data of the young people that are a part of their internships after they leave the program. They also use demographic analysis to predict participant success rates & take proactive measures and use data to improve programs and course correct when needed. One of the main pillars of Teach for America's programs is accepting applications from college graduates, uncovering the best opportunities for those that are a good fit for their programs, and placing them into schools so that they can teach students in 53 communities and schools around the US. With the help of Salesforce, they plan to recruit the right candidates and retain the good candidates they have.
Using Einstein Analytics to Improve Operational Efficiencies
Wednesday, November 8, 11:00 AM – 11:40 AM – Session Link
The Westin St. Francis, California East
Are you tired of writing "sorry for the delay" in your emails? With Einstein Analytics you can say "so long" to that phrase, just ask Open Society Foundations (OSF). For this human rights foundation, it is critical that they respond quickly to crisis around the world. Which means releasing funding to their grantees who put this important work into action, as soon as possible. Using Einstein Analytics, OSF has created dashboards which enable a more in-depth understanding of the approval processes required to release funding. It also allows staff to identify bottlenecks and understand how to avoid delays in the future.
Are Your Programs Working? Reports & Dashboards Can Help Answer The Question
Wednesday, November 8, 2:00 PM – 2:40 PM – Session Link
The Westin St. Francis, California East
Habitat for Humanity of Greater San Francisco uses Salesforce reports and dashboards to understand their impact and course correct as needed. These insights also enable better reporting to its board and to grant making institutions and individual donors. The Center for Global Development (CDG) used 14 different systems to tell the story of how research outputs, activities, and outcomes led to the realization of CGD's mission. By consolidating these systems in Salesforce, CGD leveraged the platform to work more effectively, drive more impact, and connect with CGD's audiences and supporters in a whole new way.
Product and Commercial Focused
Salesforce Einstein: Blaze New Trails with AI
Tuesday, November 7, 11:30 AM – 12:30 PM – Session Link
Moscone North, Keynote Room – North Hall D
Salesforce Einstein is delivering more than 475m predictions every day, helping companies make their employees smarter and their customers happier. We'll be announcing exciting new Einstein powered features that will allow companies to build AI powered apps and create intelligent experiences throughout their entire business. Join the Einstein product team along with Bill Hoffman, Chief Analytics Officer of US Bank, as we showcase the latest innovation from Einstein and help everyone blaze new trails with AI.
Salesforce Analytics Keynote: Complete Analytics Powered by Einstein
Wednesday, November 8, 1:00 PM – 2:00 PM – Session Link
Moscone West, Keynote Room – West Level 3
Join us to learn how Salesforce is bringing together reports and dashboards, augmented intelligence, and advanced analytics to surface Einstein-powered insights right where you work. Salesforce customers across sales, service, and marketing are using the entire range of analytics each day–running 1 billion reports and analyzing 1 trillion rows of data every month. Hear how leaders at Shazam, ABB, and YearUp are using Salesforce Analytics to transform their organizations, and get inspired by groundbreaking new features, must-see new products, and killer demos.
---
Online Marketing
Online marketing technology is advancing by leaps and bounds every year. A few years ago, you could actually read this graphic listing the different options in the marketplace. Not so much anymore. Similar to the BI and AI space, it's important to pay attention to the marketing automation tools and techniques nonprofits are using successfully as well as what the commercial sector is using and how they apply it. Successful strategies and techniques will quickly be adopted by nonprofits. Take a look at these sessions to stay informed of what's coming.
Nonprofit: Marketing Cloud & Exact Target
Debunking the Myth: Automated, Personalized Emails at Mass Scale
Tuesday, November 7, 8:00 AM – 8:40 AM – Session Link
The Westin St. Francis, California East
The National MS Society relies on events such as Bike MS to raise funds and awareness for their important cause. Using Marketing Cloud's automated emails that include dynamic, localized content, they support the user experience, and drive registrations and fundraising for these important events. The Girl Scouts of the USA has a diversity of constituents, from alumna and donors to cookie consumers, parents and volunteers. The Salesforce Marketing Cloud enables staff to send mass, automated emails that remain personalized, saving staff time and increasing engagement with audiences.
Pardot
Parlez-vous Pardot: Speak Your Constituent's Language with Nonprofit Marketing
Wednesday, November 8, 2:30 PM – 3:10 PM – Session Link
The Westin St. Francis, Tower Salon A
When you have hundreds to thousands of constituents to engage with, how do you make sure each and every one is communicated with in a personalized way? (RED) and The SPCA International uses Pardot and its CRM-integration to do exactly that. The SPCA uses engagement studio to welcome new donors and send them on a personalized journey based on giving history and subsequent activity. (RED) cultivates new and existing partnerships by leveraging analytics to engage through preferred channels.
Product and Commercial Focused
B2C Marketing Keynote: Welcome to the Age of Intelligent Marketing
Tuesday, November 7, 3:30 PM – 4:30 PM – Session Link
Moscone North, Keynote Room – North Hall D
Join Salesforce Marketing Cloud and leaders from Hotels.com, Fidelity and Sierra Club to learn how the #1 marketing platform is helping trailblazers deliver personalized journeys that connect marketing to commerce, sales, and service, and win the hearts, minds, and loyalty of consumers. See the latest techniques for orchestrating data, mobile, social, and artificial intelligence to raise the bar on consumer engagement and grow your brand. Be inspired, gain insight and get ready for the age of intelligent marketing.
---
We'll be in the Grand View Theater in the Salesforce.org Lodge
Heller will be on stage in the Salesforce.org Lodge again this year sharing best practices we've learned through hundreds of client projects. This year we'll be speaking with The Chicago Council on Global Affairs' Database Services Officer Sara Darga about how The Council used a comprehensive Change Management Success Framework during their Salesforce implementation project. They will outline how the combination of an effective change management plan and real-time monitoring was instrumental in helping them achieve 100% user adoption on their system.
Change Is in the Air: How to Strategically Support Change Management
Thursday, November 9, Noon PT– Session link
Salesforce.org Lodge, Grand View Theater
Westin St. Francis Union Square Hotel – Map
Please join us, and be sure to stay in the Salesforce.org Lodge afterward for open discussion with other nonprofits with similar challenges.
Join us for Girlforce@Dreamforce
Girlforce is an online group more than 4,400 strong who use Salesforce to support nonprofits and higher education. Its mission is to enable women/nonbinary/trans persons in our Salesforce community to be fearless leaders in technology. This is their fifth year at Dreamforce, and we are proud to provide our support by sponsoring the Girlforce@Dreamforce event. Join us to learn more about the community, events, and resources they share all year, and what they have planned for 2018.
Find out more about the event and the community here – We Are Girlforce
Girlforce@Dreamforce  – Details
Tuesday, November 7, 8:00 am – 10:30 am PT
Salesforce East Tower
Ohana Floor – 30th Floor
350 Mission Street , San Francisco, CA 94105 – Map
***Important*** Please plan to arrive at the Salesforce East lobby by 7:45 AM in order to check-in with security, get your visitor badge, and take the elevators up to the 30th Floor.
What sessions are you most interested in? Leave them in the comments below, and I may see you there!
Categories: