5 Ways Nonprofits Are Using AI to Drive More Revenue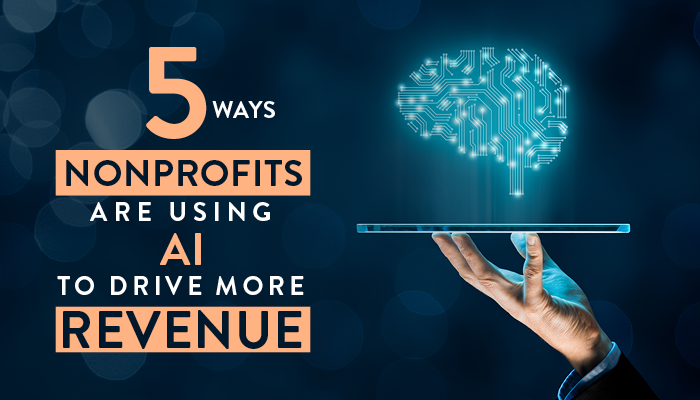 In the past, a typical small or mid-size nonprofit might host one or two events a year, run an annual fundraising drive, and sporadically promote its membership program, if it had one at all.  But not anymore. The new norm is to consistently offer a diverse range of engagement opportunities to your community—hybrid fundraising events, peer-to-peer campaigns, livestreams, robust social media presences, and more. 
Things have changed quickly over the past decade, plus the push towards offering more diverse offerings digitally has been drastically accelerated by the pandemic. But this trend brings a lot more complexity over the long run. 
How can organizations best position themselves to diversify their fundraising strategies and engagement offerings without sacrificing ROI or their time?
AI for nonprofits exists to take the guesswork out of modern fundraising. It can dramatically streamline many of your most fundamental fundraising activities to drive more revenue and healthier ROIs. Plus, it can free up your team's time and let them focus more on developing new offerings and building donor relationships.
Specifically, nonprofits are already using AI to significantly boost their bottom lines in these areas:
Direct Mail Appeals
Direct mail is a classic form of fundraising, but it's often thought of as inefficient and outdated. This isn't necessarily true—although printing high-quality mailers is costly, the misconception that direct mail doesn't work largely springs from the fact that many direct mail campaigns are unfocused or poorly targeted. 
Simply put, casting too wide of a net with direct mail can result in disappointing returns. But if you can laser focus on the donors who'll actually want to give to your appeal, you'll see much stronger results.
AI simplifies the process of generating targeted mailing lists for direct mail appeals, which saves you time and money while boosting revenue. 
By analyzing your entire database of historical donor interactions, machine learning can pinpoint the individuals who'll be most likely to donate after receiving an appeal. This means you can focus on contacting those donors and save on printing costs.
Dataro worked with Parkinson's UK to test the effectiveness of AI in this exact situation. Our software studied their data and made some predictions about which donors would be most likely to give to a direct mail appeal. Then, we compared the AI predictions against the actual performance of their traditional selection strategy. AI predictions resulted in:
23% increase in net revenue

411 extra gifts that would have been missed

Over £15,000 additional raised
Most notably, these results sprang from a recommended reduction in campaign size, meaning Parkinson's UK could actually raise more money by contacting fewer donors via direct mail. 
This idea—more precise, actionable predictions with less effort needed from your team—is at the heart of why AI is so valuable for nonprofits, and it applies to all of the following use cases.
Conversion to Monthly Giving
Monthly giving is an invaluable revenue stream for nonprofits that know how to effectively manage their programs and steward their donor relationships. Recurring gifts add up fast, meaning new additions to your tech stack that boost recurring giving can quickly cover their initial costs.
Just as AI can identify individuals likely to give to a direct mail appeal, it can also find donors who'll be likely to join your recurring giving or membership program.
With a quick list of donors who are ready to sign up, you can easily reach out with personalized emails explaining the impact that their monthly gift will have on your mission. This level of focus can boost your conversion rates and drive more long-term revenue without requiring an inordinate amount of time from your team. 
Donor Churn Prevention
On the flipside of conversions, AI can also show you which donors are likely to churn out of your regular giving program. 
Churn is extremely costly for nonprofits, but most organizations simply don't have the bandwidth to combat it strategically. Besides, manually studying your data to keep close tabs on incoming recurring gifts isn't a sustainable solution. Instead, AI can proactively flag donors at risk of churning.
We worked with Victor Chang Cardiac Research Institute to help them reduce churn, defined as a donor missing three consecutive gifts in the next six months. The machine learning algorithm studied VCCRI's historical donation data to assign each recurring donor a churn propensity score. These metrics reported straight to VCCRI's Raiser's Edge instance, making it easy for their team to funnel at-risk donors into a rolling call program to thank them for their support.
An estimated 296 recurring donors retained

$57,311 estimated campaign return, assuming each retained donor gave at least 6 further gifts

3.19 estimated campaign ROI
This approach is truly proactive and much more efficient than trying to tackle churn through traditional data analysis and broad outreach. AI lets you instead focus on calling a much smaller set of truly at-risk donors to re-engage them more personally. 
Mid-Level Donor Engagement
Mid-level donor stewardship is easily neglected by nonprofits—major donors will naturally require more personal communication and attention. But your mid-level donors are extremely valuable supporters of your mission, many of whom could even be stewarded towards making more or larger gifts over time. 
AI can identify donors who are likely to give a mid-level gift or the equivalent of one in the next year. This allows your development team to take a one-to-few approach in a sustainable, scalable way.
Ongoing Stewardship Efforts
Like identifying mid-level donation opportunities, machine learning algorithms can also be trained to comb your nonprofit's data for other stewardship opportunities to pass to your development team. 
For example, our solution can also identify donors likely to make major gifts and to bequest your organization a gift in their will. This gives you the immediate benefit of focusing your efforts exactly where they're most likely to generate results. 
While traditional relationship-building with key supporters should never be flatly replaced by technology, AI instead serves to support those efforts, streamlining your prospect research strategies and making predictions that your development might miss on their own. Comparing AI-generated lists of likely major donors with your own prospect lists can give your major gift fundraising and large-scale campaigns a serious head start.
Through each of these use cases, AI makes advanced fundraising and development activities more feasible and efficient for nonprofits of all sizes. 
It allows nonprofits to better target their campaigns and proactively identify both risks and opportunities. This level of precision, combined with the time saved by a reduced need for manual data analysis, means more revenue for your mission and healthier ROIs over time.
Categories: