Microsoft Cloud for Nonprofit: The Latest Offering from Microsoft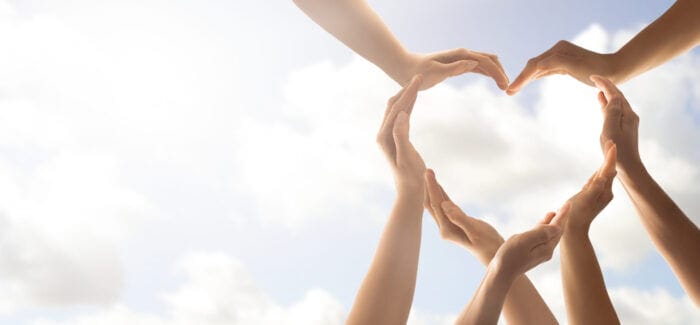 The pace of new technology from Microsoft for the nonprofit sector seems to be accelerating. The latest offering — announced last month — is Microsoft Cloud for Nonprofit.
In our continued efforts to keep you in-the-know about Microsoft technology for nonprofits, here's a summary of Microsoft Cloud for Nonprofit and what it means for the sector:
The technology of Microsoft Cloud for Nonprofit
Microsoft Cloud for Nonprofit brings together capabilities from multiple Microsoft platforms and products to meet common needs of nonprofits, including:
Fundraising and engagement
Staff collaboration
Volunteer engagement and management
Program design and delivery
The foundation for Microsoft Cloud for Nonprofit is a Nonprofit Common Data Model for Nonprofits (NCDM), which is a set of standard data definitions that makes it easier for developers to create solutions for nonprofits that are built for interoperability.
With the introduction of Microsoft Cloud for Nonprofit, we see the power of Microsoft's commitment to the nonprofit sector because it has ensured that Microsoft's business application platform — Dynamics 365 — is aligned with the NCDM.  This ensures that not only will organizations that adopt this powerful solution be able to easily work and share data with other Microsoft products — such as Teams, SharePoint, Office, and Outlook — but they will also have a host of other solutions that can work with and exchange data with their Microsoft Suite of tools.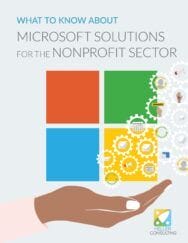 Dive deeper into Microsoft. Download our free guide: What to Know about Microsoft Solutions for the Nonprofit Sector.
Innovating for the nonprofit sector
While the NCDM makes it easier for independent software vendors (ISVs) and other solution providers to quickly build nonprofit-specific solutions, Microsoft Cloud for Nonprofit represents the latest innovation in the vendor's long-term commitment to evolve its own solutions to ensure they are accessible and easy to adopt for the nonprofit sector.
Late last year, Microsoft launched Fundraising and Engagement, a solution for nonprofits, which now sits within Microsoft Cloud for Nonprofit. It's an open-source solution built on Dynamics 365 for Sales and the NCDM. Out of the box, the solution offers immediate access to real-time information on donors and prospects so you can engage them in a personalized way. For our clients who are interested in Fundraising and Engagement, Heller Consulting is trained and certified to implement and support the solution.
Watch the Demo: Fundraising and Engagement Built for Microsoft Dynamics 365 Sales
There are more nonprofit offerings on the way, including new solutions to power volunteer engagement and management.
The Microsoft ecosystem for nonprofits

Microsoft works with partners to use the NCDM and other development tools to build even more solutions for nonprofits. Combined with solutions in Microsoft Cloud for Nonprofit, this has resulted in an ecosystem with multiple solutions for every aspect of a nonprofit organization, including:
Engagement solutions — These are what we typically think of as customer relationship management (CRM) or donor management tools.
Efficiency and collaboration tools — These include the systems that support internal work, such as Microsoft 365 tools: Outlook, SharePoint, and Teams; and finance and operations tools for things like accounting, human resources, inventory, and supply chain management.
Azure tools — These include Microsoft Azure for Cloud Services, Security and Authentication, and Enterprise Mobility Management to provide the infrastructure needed to share and access applications and data securely from any device.
Intelligence and impact solutions — These include tools for business intelligence, artificial intelligence, and machine learning.
What Microsoft Cloud Can Do for Nonprofits
Here's a real-world example of what Microsoft Cloud for Nonprofit can do for nonprofits: Team Rubicon is a volunteer-led nonprofit that responds to natural disasters and humanitarian crises around the world. Recently, the organization mobilized more than a million volunteers to provide support for COVID-19 vaccinations. During this complicated project, the organization also responded to six different tornadoes across the U.S. and partnered with Feeding America to help 200 affiliate agencies address food insecurity in vulnerable communities. Team Rubicon built their volunteer management system on Microsoft Dynamics 365, and with it, have been able to better address their volunteer deployments.
Efficiency is critical for today's nonprofit organizations. Microsoft Cloud for Nonprofit will bring together Microsoft solutions that are tailored to address nonprofit-specific challenges, like those of Team Rubicon.
Take the next step to learn more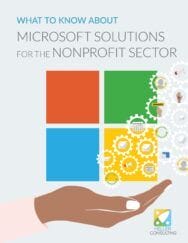 Download our guide: What to Know About Microsoft Solutions for the Nonprofit Sector.
The Heller Consulting team is ready to help you determine if Microsoft products are right for your organization, develop a business case and roadmap, and implement and support the solutions. Contact us today to find out more and get started.
Join the list
Want more nonprofit tech resources delivered to your inbox? Fill out the quick form below!
Categories: