How To Pull Off a Nonprofit Event That Gets Donors Talking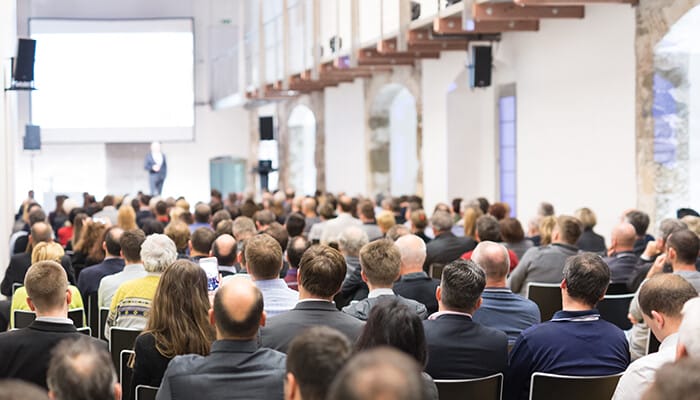 Have you ever attended an event that seemed to never end? You probably felt like the speakers could have taken a "less is more" approach or the schedule could have included more than a series of PowerPoint presentations. Events like these can feel more like they exist to check a box on a nonprofit's activities calendar rather than an opportunity to get donors excited. 
As a nonprofit fundraising professional, events are likely an important part of your annual fundraising calendar. You know it's critical that your donors are never bored or frustrated while attending one of your events. But creating an engaging, exciting nonprofit event is easier said than done, especially as modern events incorporate more technology in their planning, marketing, and hosting. 
So, how can you design a fundraising event that draws in new supporters while effectively engaging your existing donors? Use these six tips to plan a fundraising event that grabs your donors' attention and boosts your fundraising efforts: 
Use robust event planning and donor management software.

Offer virtual and hybrid engagement options.

Make it easy for donors to give. 

Plan a surprise. 

Promote your event across multiple platforms.

Show your appreciation to event attendees. 
Whether you're planning an in-person, virtual, or hybrid event, you want to offer attendees something engaging, exciting, and completely unique. This can help secure your donors' attention and support for the long term. 
1. Use robust event planning and donor management software.
Any successful event starts with a strategic, organized planning process. Events involve many moving parts, from selling tickets and inviting speakers to finalizing the schedule. A well-thought-out plan keeps your team on the same page and working toward common goals. 
One of the most useful tools to guide the planning process is your event planning and donor management software system. These platforms offer plenty of benefits, allowing you to: 
Create custom online registration forms.

Design sign-up forms and customize them using your organization and event branding. This helps promote brand awareness and recognition. 

Manage donors with your integrated fundraising constituent relationship management (CRM) platform.

When you invest in an all-inclusive donor CRM with built-in event management tools, you can easily invite loyal donors to your events and track your interactions with them. 

Promote your event to a wider audience using built-in marketing tools.

Get your supporters talking before your event even begins with email and social media management tools. 
Review Double the Donation's list of top event management software to explore your options for powerful CRM and event management tools. Remember, choosing an event management tool that syncs with your CRM allows you to keep your event planning, fundraising, and marketing plans all in one place. 
2. Offer virtual and hybrid engagement options.
The COVID-19 pandemic led to a major upswell in virtual and hybrid nonprofit events, but these experiences were picking up steam even before the pandemic. That's because these event formats offer a few inherent benefits. 
First, virtual events allow supporters to participate from the comfort of home, offering greater flexibility to fit their busy schedules. Also, this format expands your nonprofit's reach to a wider audience since anyone with an internet connection can join. 
Appeal to donors' interests for more flexible event opportunities by offering virtual and hybrid engagement options at your next event. For instance, if you're hosting an auction, open simultaneous bidding to both in-person and online participants. Or, if you're hosting a 5K fundraising event, allow runners to choose whether they'd like to compete in your in-person race or remote option. 
Remember, the key to an effective virtual or hybrid event is to make the experience equally as valuable as your in-person opportunities. Use these tips to offer engaging online experiences:
Ensure your organization has access to robust livestreaming tools.

These allow you to broadcast your live events to a wider online audience. 

Provide opportunities for interactivity.

Use live polling or chat boxes throughout your event for virtual attendees to chime in and interact with your presenters or one another. 

Plan a game or challenge for virtual attendees.

Keep participants engaged with a trivia game or virtual scavenger hunt. 
Your donors will appreciate your efforts to provide multiple ways to engage with your nonprofit's event. Additionally, ensure you've scheduled an appropriate amount of time into your event timeline to allow your team to familiarize themselves with any software you're adding to your techstack. This is especially important to do for any software that your attendees will engage with directly and might have questions about using, such as conferencing and registration tools. 
3. Make it easy for donors to give. 
If fundraising is your event's main focus, make it as simple and painless as possible for supporters to give. Whether they're attending in-person or remotely, donating should only take a few minutes at most. Here's how to simplify the giving process throughout your next event: 
Make submitting cashless donations simple.

Most people don't walk around with large amounts of cash in their pockets, and your nonprofit's donors are no different. Nowadays, most donors prefer to give using their credit or debit cards, even when donating at in-person events. To support this, you might station volunteers with donation hardware to quickly swipe donors' cards or tablets to quickly fill out your online donation form for them. 

Create a streamlined online donation form.

If your event features virtual or hybrid elements, you don't want to leave your online attendees out of the fundraising process. Create a streamlined online donation form for attendees to access throughout the event. Ensure your giving page is mobile-optimized with a large font and an eye-catching

donation button

so donors can easily complete the form no matter what device they're using. 

Share your fundraising page throughout the event.

Promote your online fundraising page using your social media pages throughout the event. Keep supporters updated on your progress so they know how much you have left to raise before reaching your goal. 
The more you can naturally and unobtrusively weave fundraising into the event, the more engagement you'll see with your donation opportunities. These are just a few popular options you might consider. As you ramp up your event planning, brainstorm any other ways you can simplify giving.
4. Plan a surprise. 
To really get donors talking about your nonprofit's event, you have to do more than just offer a professional, well-planned experience. You have to offer attendees something unexpected. What better way to capture everyone's attention than by planning a special surprise? 
Here are a few ideas for exciting, unexpected elements to add to your event: 
A performance by a local or well-known musician

A comedy set from a well-known comedian

A special guest speaker (this could be a celebrity or other influential person in your nonprofit's cause area) 

A reveal (this could be the unveiling of your next fundraising campaign theme or the focus of your upcoming major project)
Make sure to provide a sneak-peak for your surprise in your marketing materials to pique supporters' interest. Let them know that you've got something special planned, but don't reveal exactly what it is. Drop hints in the week leading up to the event to get supporters guessing about what the surprise could be. 
5. Promote your event across multiple platforms.
To pull off a successful nonprofit event, you need to spark supporters' curiosity well in advance. This is where your marketing strategy and tools come into play. 
Salsa's guide to constituent relationship management recommends creating a communication strategy focused on targeted and personalized communication. The most powerful marketing strategies incorporate a combination of communication platforms, including social media, email, and website promotion. Here are a few tips for using each platform to generate buzz for your event: 
Social media:

Use your social media platforms like Facebook, Instagram, Twitter, and LinkedIn to raise initial awareness of your event. Share your event's theme, sign-up page, and any related fundraising pages. Also, use your social media platforms to tease your surprise event activities. 

Email:

You will likely be able to reach a slightly different audience using your email outreach in addition to your social media marketing efforts. Use your emails to share your event registration page and get recipients involved in your fundraising efforts. As your event gets closer, you can make your fundraising requests more urgent to encourage supporters to give before the event begins. 

Your website:

Your organization's website

is a great resource for engaging a wider audience, including everyone from your new supporters to your long-time donors. Put your event on your website's calendar and highlight the event schedule in a blog post. Be sure to explain the purpose of your event and what attendees' donations will support. 
When you effectively build hype for your events, you can encourage more supporters to attend. A well-attended event shows supporters and donors that your organization is thriving and is worthy of continued support. 
6. Show your appreciation to event attendees. 
Your nonprofit's events are excellent opportunities to build goodwill among your donors. And nothing builds goodwill as quickly as expressing appreciation!
There are plenty of ways to say thank you to your donors. Here are a few ideas for effective donor appreciation: 
Donor appreciation wall:

Create an event display that features the names of your top donors. You can organize the display by grouping donors based on their giving tier. 

Goodie bags:

Give your donors a thank-you gift to take home. Your goodie bags can include free merchandise like t-shirts, mugs, face masks, and water bottles. 

Post-event thank-you notes:

Follow up with donors after your event with a personalized thank-you letter. If you have the time or volunteer power to do so, writing handwritten notes can be a great personal touch. Otherwise, ensure any gratitude messages you send are personalized with each attendee's name. 
Your appreciation efforts will not only get donors talking about your event but also thinking about it for a longer period of time. Genuine thank-you messages stick in donors' minds, especially when they're considering whether to continue supporting your organization in the future. 
A noteworthy nonprofit event can't be planned overnight. It takes significant forethought and organization to get a great nonprofit event off the ground, especially in today's digital-first world.
By using dedicated planning tools, appealing to supporters' preferences, and offering them something unexpected and different, you can continuously create the type of events that supporters look forward to year after year. 
Categories: