How to Craft a Purpose Statement to Improve Your Nonprofit's Business Processes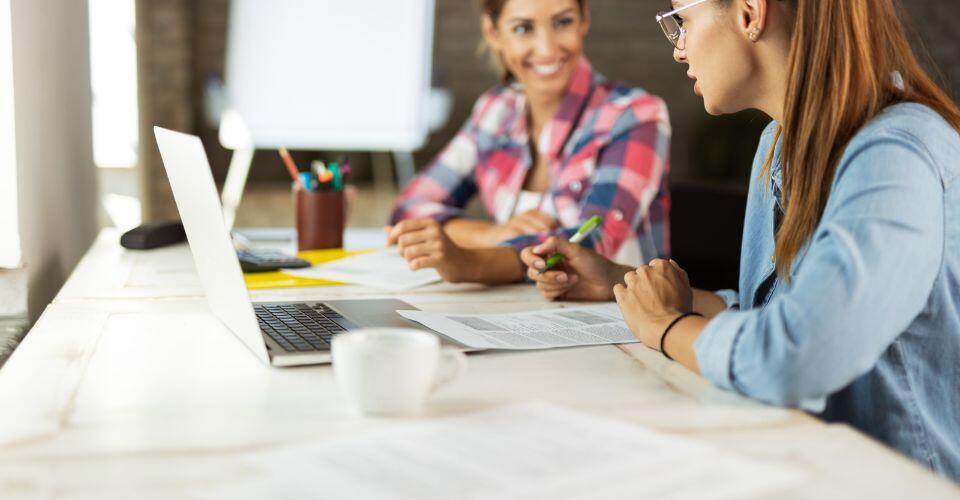 I recently wrote a blog about improving your nonprofit's business processes and building a culture of innovation. I covered multiple ideas about how to improve individual processes and develop a culture of continuous innovation and improvement.
I pointed out that an important first step in any process improvement project is defining the purpose of the project. It defines what innovation is needed and focuses people on a central goal. An easy way to do this is by creating a purpose statement.
In this article, I'm sharing five steps for building an effective purpose statement to improve your nonprofit's individual business processes: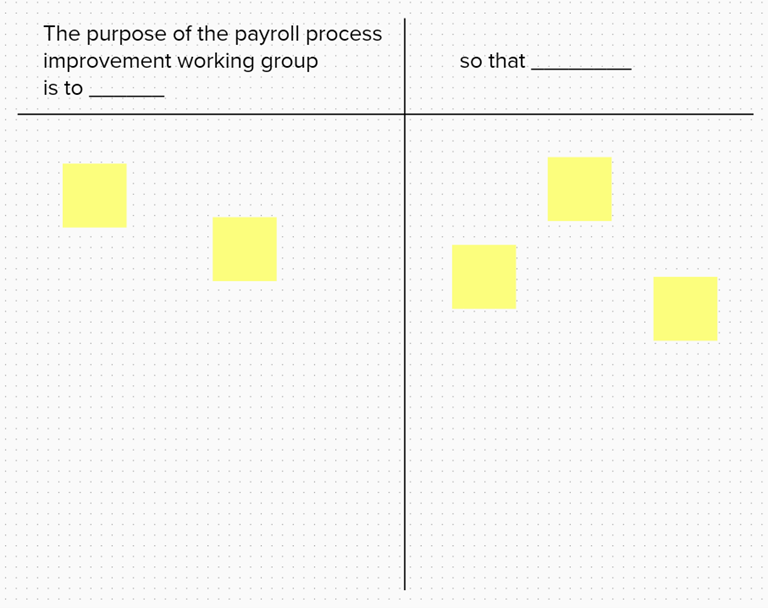 1. Set up the activity.
As the facilitator, invite your core business process improvement team to a meeting. The team should be made up of people who are involved in the day-to-day work around the process in question.
Using a virtual whiteboard tool or a physical whiteboard, create a two-column table. In the table, write "The purpose of [name of your project working group] is to ______" on the left, and "so that _____" on the right.
If you're using a virtual board, add empty sticky notes. For in-person whiteboarding, make sure you have enough sticky notepads and pens for each participant.

2. Ask for ideas.
This step is where innovative thinking really comes into play. Ask the team to fill in the sentence with as many ideas as they can. Make sure they know that the sentences do not have to be complete; for example, a person might have an idea for the left side of the sentence, but not the right.
Also, be sure to let the team know that no idea is a bad idea. The point is to generate as many options as possible so that the team can discuss options and arrive at an agreed-upon purpose.
By doing this exercise, you'll gain an understanding of where the biggest pain points might be and what areas might need improvement. This exercise also contributes to improved morale and buy-in for the broader process improvement project, as individuals have a chance to voice their ideas.
Once you notice fewer ideas going up on the board, give your participants a couple of minutes of warning, and then wrap up the brainstorming.

3. Determine the team's favorite ideas and phrases.
Give your participants a few minutes to review the ideas. You can facilitate this step in a few ways. For example:
Give people three to five votes and ask them to vote for their favorite sticky notes. If you're meeting in person, you might use stickers for voting; for a virtual meeting, use the voting feature on the virtual whiteboard.
Ask people to call out words or phrase from the sticky notes that that they like. Then bold or highlight those words directly on the stickies.
Do a combination of voting and highlighting phrases that people like.
The point of this step is to make sure you truly understand both what people think is the purpose of the team and what language speaks to them.
4. Draft a purpose statement.
Collect all of the ideas. Using the favorite ideas from the sticky notes, draft a purpose statement that captures as much as possible from the session. It's okay if it ends up being a run-on sentence (purpose statements often are).
Here is an example of a purpose statement: The purpose of the payroll process improvement working group is to ensure employees are paid in a timely manner while reducing the time it takes to process payroll so that employees can rely on a timely paycheck and the payroll specialist can work on other high-priority tasks.
In addition to capturing an accurate statement, what matters at this point is that participants know that their ideas were considered, and they played a role in defining the purpose statement, which ultimately builds buy-in and trust in the project. To that end, be sure to use the language from the sticky notes so that people on the team see themselves represented in the statement.
5. Review the purpose statement with the team.
Ask participants to review the statement – either during your next meeting or via email – and provide any suggestions they might have for improving it. If any changes are made, repeat this step until all participants approve the statement.
Once you have a final purpose statement, be sure to continually refer to it throughout your business process improvement project. It's a guide for your entire project that can help ensure you stay on task and avoid scope creep.
For example, when the team needs to make a decision, it's a good time revisit the statement and remind everyone of the purpose of the project. Decision makers should ensure that whatever decision they make supports the agreed upon purpose.
Take the next step for process improvement at your nonprofit
Here at Heller Consulting, we help nonprofits to select and implement technology as well as improve business processes to use the technology in a way that helps them deliver on their missions.
Learn more about our business process improvement services that can help your organization work more efficiently, interact more effectively with donors and constituents, and stay resilient in times of change: Contact us today.
Join the list
Want more nonprofit tech resources delivered to your inbox? Fill out the quick form below!