Earning a Salesforce Certified Sales Cloud Consultant Credential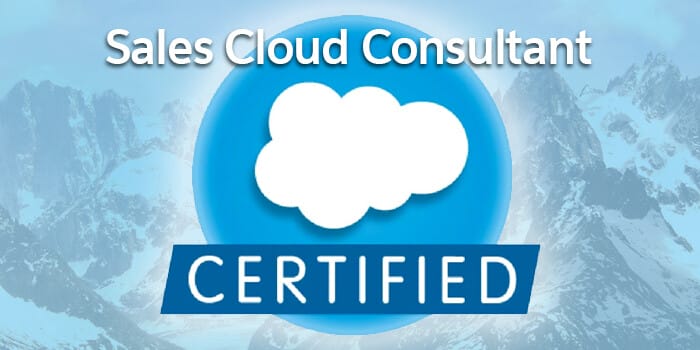 The Salesforce Certified Sales Cloud Consultant credential is a respected achievement in the Salesforce community. More detailed than the Administrator and Advanced Administrator certifications, a Certified Sales Cloud Consultant has proven that they can design applications and interfaces that allow sales and marketing teams to increase their productivity and prove their success. Hellerite Kate Bennet recently earned her Certified Sales Cloud Consultant credential and shares a few tips that helped her along the way.
What certifications do you currently have?
I previously earned my Salesforce Administrator and Advanced Administrator certifications, and now I am a Salesforce Certified Sales Cloud Consultant.
"Sales" isn't as common a term for nonprofits. Does this certification apply to your work?
The Certified Sales Cloud Consultant content is focused on functionality that an administrator in the corporate sector likely uses regularly. There is a lot of fantastic crossover between how corporate and nonprofit sectors use the Salesforce platform. While this certification focuses on some features that aren't a part of a typical nonprofit implementation, I gained an incredibly valuable understanding of all that the Salesforce Sales Cloud can do and see many potential nonprofit use-cases for future projects.
How long did it take you to earn this certification?
I studied off and on for about 8-10 weeks, using the Salesforce study guide and related Salesforce online resources and practice exams. After one failed attempt and more studying, I signed up for the Sales Cloud Consultant Exam Prep course from Salesforce University. It was a one-day course that covered most areas of the exam with great slides and a knowledgeable course instructor who helped provide context to the content. Three days later I took the exam again and passed.
What other resources did you use?
I always study for exams first by reviewing the Salesforce study guide. That document has links to related content. The benefit to starting there, is that you can trust the content to be accurate and current. From there I reviewed some of the Sales Cloud areas of CertifiedOnDemand.com, and took practice exams from FocusOnForce.com. I reviewed a handful of free online flashcards but never felt I could 100% trust that they had the right answers, so I didn't put too much time into those. I also used Trailhead for very targeted areas of study, like multiple currencies.
Did it change the way you look at the Salesforce platform?
No, but it did touch on areas I don't regularly use like Territory Management and Multiple Currencies so I learned more about the capabilities of the larger Salesforce platform. Some of the information doesn't apply to my nonprofit work, but for a general Salesforce consultant, this information is very valuable.
What advice would you give someone who was thinking of going through the process?
Having already received my Admin and Advanced Admin certifications, both of which I passed on my first attempt, I felt this exam was more difficult. Study hard and in a concentrated time frame. As soon as you feel like you have studied enough and have passed a couple of online practice exams, don't wait to take the exam. Do it while the material is fresh in your mind.
At the end of the exam, Salesforce now shows you a percentage pass/fail in every topic area, so if you fail the first time you will be able to note which areas to focus on. If you don't pass the first time, try not to get discouraged and get back to studying as quickly as possible. Think of a failed exam as an expensive practice exam, get back to studying, and learn from your mistakes.
Click here to get more information on the Salesforce Certification process.
Categories: