Business Intelligence for Nonprofits: Power BI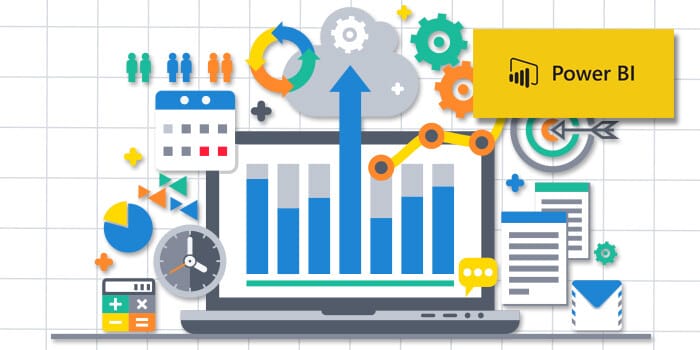 In August we posted the first installment of our Business Intelligence for Nonprofits series covering the Amazon Web Services based tool set Quicksight. This month we are taking a look at Microsoft's Power BI suite. It's essential for organizations to understand that effective use of business intelligence tools and techniques can transform their stored data into a valuable asset that provides evaluation of past efforts as well as insights needed for future decisions. Find out more on what business intelligence can do in these two papers designed to get nonprofits started on the road to effective BI strategies. Business Intelligence for Nonprofits was released in 2014 and covers some of the early tools adopted by nonprofits. For details on getting started with your own analytics initiative, please download our paper Introduction to Analytics for Nonprofit Executives or contact us directly to discuss your specific needs.
Power BI
Product Description
Microsoft Power BI is a suite of business analytics tools that connect to over 50 applications and on premise data warehouses through the Power BI gateway. There is no need to transfer data to Power BI as it can be embedded in your app or rest over your data using SQL Server Analysis Services. Power BI can be accessed through the Power BI Desktop application, the cloud-based Power BI Service, and on the go with Power BI Mobile.
At a Glance
Reports?
Yes
Dashboards?
Yes
Other Notable Features?
Quick Insights performs analysis for users to draw insights from a subset of data.
Beginner, Intermediate,
Expert?
Setup and maintenance will require expert skills especially if an organization is interested in leveraging SQL queries for their analysis.
Cloud, On Premise,
or Both?
Both
Total Cost?
Dependent on an organization's data structure and complexity, costs can range from free to $9.99 per month per user.
Support Options?
Step-by-step training videos on the Power BI site and select cities have Power BI user groups that meet regularly.
How it Works
Power BI connects to a data source of your choice, allowing you to query off the data set, and then build visuals to display on a report. A report is comprised of multiple graphs, essentially presenting many pages in a report. A dashboard is a copy of a report page that is interactive for end users. Dashboards can be shared with specific users via email and include varying privacy settings. Because Power BI is a Microsoft product, data can be exported to Excel to be manipulated further and visuals can be added directly into PowerPoint. A notable feature of Power BI is its Quick Insights functionality that runs an analysis on a subset of data to identify insights for the user and produces reports displaying the findings.
Usability
Power BI requires expert skill set to fully leverage its robust reporting capabilities. It is a powerful tool for large organizations with multiple data sources and especially for organizations that have their own data warehouse. Reports can be accessed through all three Power BI channels, with Power BI Service and Power BI Mobile being the most end-user friendly. Users can interact with reports by typing in a question of their data and having Power BI produce a visual answering their question based on chart titles, column names, and calculated fields in the underlying data set. A Power BI admin can also add featured questions to a data set to recommend to colleagues.
Cost
Microsoft's Power BI offers both a free and paid subscription service. The paid service costs $9.99 per user per month and includes scheduled hourly sync, connectivity to live data sources, 1M rows per hour data streaming, and 10GB per user data capacity. The free version includes 1GB per user data capacity, daily scheduled data sync, and 10K rows per hour streaming data.
The Bottom Line on Power BI
Microsoft Power BI has extensive reporting capabilities that allow users to integrate multiple data sources and quickly draw insights from an otherwise disparate set of information. It will require an expert skill set to fully leverage all that the application has to offer but shows promising potential for any organization with a drive to dive into business analytics.
If you have more questions about QuickSight or how to get started with your own analytics initiative, contact us.
---
Introduction to Analytics for Nonprofits
Never before have nonprofit organizations had the opportunity to acquire, maintain, and effectively utilize vast quantities of information about their supporters, beneficiaries and advocates. To take advantage of this information, organizations must go beyond basic reporting and explore the quickly expanding world of "analytics". But what does all this really mean to your nonprofit? Is it worth the effort and investment? Download Introduction to Analytics for Nonprofits now to get a clear overview of analytics for nonprofits, learn the primary barriers organizations encounter, and understand the key ingredients to a successful analytics initiative.
Categories: