Business Intelligence Tools for Nonprofits: Einstein Analytics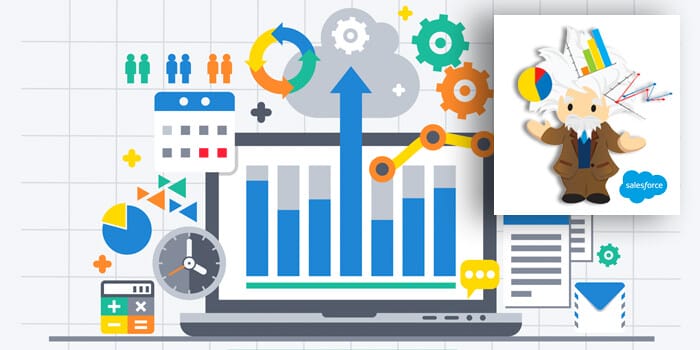 This month's business analytics for nonprofits write up is about Salesforce's Einstein Analytics. With this post as well as our 2014 whitepaper on business intelligence for nonprofits, our goal is to provide quick snapshots highlighting the basic features and functionality of each product. Organizations just starting to examine their choices will be able to clarify which tools might be suitable for their organization and warrent a deeper look. It's essential for organizations to understand that effective use of business intelligence tools and techniques can transform their stored data into a valuable asset that provides evaluation of past efforts as well as insights needed for future decisions. If you have specific questions about getting started with your own analytics initiative, please download our paper "Introduction to Analytics for Nonprofit Executives" or contact us directly to discuss your specific needs.
Einstein Analytics
Product Description
Einstein Analytics, formerly Wave Analytics, is Salesforce's native analytics cloud designed to enhance standard reporting functionality. An organization can choose to implement Sales Analytics, Service Analytics or choose a custom solution through the Einstein Analytics Platform. All solutions offer Einstein Actions that are built-in action alerts that allow users to create tasks, update records, or share data insight based on reports. All reports and dashboards created on Einstein are mobile responsive and optimized for every Android and iOS device including  Apple Watch.
The most notable feature of Einstein Analytics is Einstein Discovery which is Salesforce's built-in AI-powered analysis tool. Einstein Discovery can be run on an organization's data to draw insights, find correlations, and make predictions. It can then present its findings in a way that's easy to understand and make recommendations on next steps to take.
At a Glance
Reports?
Web-based, point and click functionality.
Dashboards?
Yes
Other Notable Features?
Einstein Discovery
Beginner, Intermediate,
Expert?
Intermediate
Cloud, On Premise,
or Both?
Cloud
Total Cost?
$75/user/month for Sales or Service Cloud Analytics. Custom Einstein Analytics Platform app start at $150/user/month.
Support Options?
Extensive knowledge base and case support
How it Works
Einstein Analytics analyzes any data on the Salesforce Service cloud, Sales cloud, or custom solution on the Einstein Analytics Platform. An organization can choose to work with a Salesforce Certified Specialist in establishing data load configurations for any datasets that live outside of the Salesforce CRM ecosystem. All information is stored on the cloud and can be accessed through any internet connection depending on security settings in place.  Users must have a full Salesforce license to be able to view any reports and dashboards created within Einstein Analytics. Einstein Discovery leverages the newest advancements in artificial intelligence and works to analyze information and identify trends and correlations. It then performs thousands of statistical checks to validate its findings. The pre-built algorithms used to uncover new insights can be accessed by any business analyst and modified to best fit an organization's needs.
Usability
Salesforce Einstein Analytics comes with many role-specific, pre-built reports and dashboards that are specifically geared towards for-profit organizations. Nonprofits would need to develop their own KPI reports and dashboards using Salesforce's intuitive point-and-click report builder. There are many online resources and tutorials on the report builder and users can also leverage the Salesforce community to ask specific report-related questions.
Cost
Licensing costs for Einstein Analytics for Service and Sales cloud are $75/user/month. If an organization were to develop a custom app for the Einstein Analytics Platform, user licenses would start at $150/user/month. These costs would be in addition to standard Salesforce licensing costs. Nonprofits should contact their Salesforce Account Executive for information on nonprofit discount pricing.
The Bottom Line on Einstein Analytics
Einstein Analytics super-charges native Salesforce reporting capabilities with enhanced functionality and business intelligence analysis. While the solution is geared towards for-profit organizations, nonprofits can leverage its power to gain new insights into their own KPIs and understand their data better. The solution would work best for organizations with large datasets that need help making sense of multiple data points. Given its sophistication, it would also best suit an organization with a well-thought out BI strategy and clear questions they want to answer from their data.
If you have more questions about Einstein Analytics or how to get started with your own analytics initiative, contact us.
---
Introduction to Analytics for Nonprofits
Never before have nonprofit organizations had the opportunity to acquire, maintain, and effectively utilize vast quantities of information about their supporters, beneficiaries and advocates. To take advantage of this information, organizations must go beyond basic reporting and explore the quickly expanding world of "analytics". But what does all this really mean to your nonprofit? Is it worth the effort and investment? Download Introduction to Analytics for Nonprofits now to get a clear overview of analytics for nonprofits, learn the primary barriers organizations encounter, and understand the key ingredients to a successful analytics initiative.
Categories: