Becoming a Certified Sales Cloud Consultant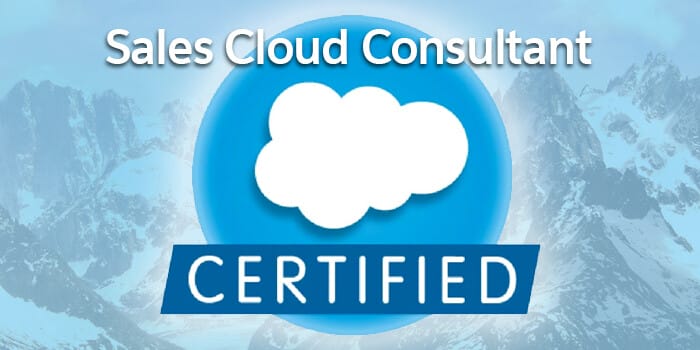 The Salesforce Certified Sales Cloud Consultant credential is one of the advanced certifications offered by Salesforce, and encompasses sales, marketing, analytics, and the interfaces required to successfully design and implement Sales Cloud solutions. Jennifer Thall has recently earned this certification and we asked her to share her thoughts on the process.
How long did it take you to learn and earn the Sales Cloud Consultant certification?
I studied on and off over the year, but finally dedicated about three weeks of more regular and serious studying.
Are there shortcuts for it? Longer paths?
Well, the prerequisite to this exam is the Salesforce Certified Administrator, so there aren't really any shortcuts. But there is definitely a lot of overlapping information between the two exams, so I can see someone getting both certifications in quick succession.
Did it teach you new things or did it just put community recognizable labels on the things you already knew?
Both! While I was familiar with the bulk of the material – Contacts, Accounts, Leads, Opportunities, Campaigns, security, workflow automation – there were definitely aspects that were very new or for which I had no prior hands-on experience.
There are some features and objects that don't get a lot of use in the nonprofit sphere – Orders and Contracts and Forecasts, for example – so that's where I had to focus some extra studying.
Did you work on it alone, or with a group of people? What resources did you use?
I studied for this exam by myself but I referenced some resources compiled by Amplify (formerly Girlforce).
I used the basic exam Study Guide to create my outline of topics, and I referenced a lot of the Salesforce Help & Training "Implementation Guides" for the various topic areas. Those are written from the perspective of implementing a feature or functional area, which is what the exam is testing your knowledge of.
Were there things that weren't helpful?
Searching for flashcards or (free) practice exams online for this certification produced really mixed results. Since free materials are often created/compiled by random people who have taken the exam before, there's no quality control and materials can quickly get out of date as Salesforce's products grow. I'm not saying to avoid these materials in general, but take them with a big grain of salt.
How will you apply this in your day to day?
There are a lot of subjects in the exam that overlap with Salesforce features commonly used by nonprofits, such as Campaigns and Opportunities, so it's always a good idea to be as knowledgeable as possible about those topics. The exam also introduced me to new features, such as Territory Management, that I may be able to apply to meet clients' requirements. All of this gives me more tools to be able to configure Salesforce to better meet clients' needs. 
Did it change the way you look at the Salesforce platform?
Not really, but it was a reminder that the "original" or "intended" usage of Salesforce is somewhat different in for-profit industries than it is for nonprofits. Even usage that has become a "best practice" in the nonprofit arena is often a creative reimagining of Salesforce's original intent. That's not a good or bad thing – I think it just speaks to both the flexibility of the tool to meet varying needs as well as the innovation in the nonprofit space. 
Would you recommend getting certified to other people?
I think getting the basic Salesforce Administrator certification is a great idea for anyone who is looking to expand their knowledge of the Salesforce platform – especially if they're already doing the work of administering it for their org! This Sales Cloud Consultant exam (and its companion, the Service Cloud Consultant) are geared towards implementers – which is the bulk of the work done here at Heller. There are a lot of questions about the implementation project lifecycle, including documenting requirements or conducting user testing. This exam might be good preparation for admins who are looking to take the leap into the consulting arena.
What advice would you give someone who was thinking of going through the process?
Don't skip any topics because you think you "already know" them – it's always worth refreshing and solidifying that information too. Focus more on the topic areas that you're less familiar/comfortable with.
When you're taking the exam, mark the questions you feel "iffy" about. Remember, a passing score is 68%, so after you answer all the questions, come back to the "iffy" questions and try to narrow them down so that you feel pretty confident you're within passing range.
Click here to get more information on the Salesforce Certification process.
Categories: