5 Essential Tips for Crafting an Expert Fundraising Strategy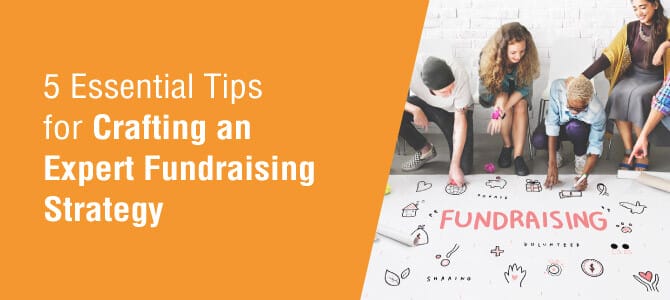 Guest Post by Aly Sterling
When the only constant element of our political and economic environment is its daily instability, it can be difficult guide your nonprofit with confidence. You can't always predict what will happen next month (or even next week), but there are some steps you can take to begin ensuring the stability of your organization.
By assessing and optimizing your fundraising strategy, you can increase your organization's endurance and adaptability in uncertain times.
That is, a strong and adaptive internal process for fundraising strategy is the ultimate safeguard against a rocky environment.
Read through these tips for bolstering your organization's fundraising strategy and consider the ways that you could incorporate them into your existing methods and protocols:
Take a look at your current fundraising program.

Find the right consultant for your fundraising strategy.

Identify areas of growth to target in your fundraising strategy.

Research your fundraising software options.

Implement a strong stewardship strategy.
Smart organizations know that refining their fundraising strategies is a continuous job.
Take the opportunity to read through these tips and refresh your perspective on the most important part of your nonprofit's operations: its fundraising strategy.

No matter if you're planning a major capital campaign or an annual fund drive, it's crucial that you never treat fundraising strategy as a one-and-done task.
This doesn't mean that you need to start from scratch every time you begin a new project, though. Use your current fundraising program as a starting point!
Among other things, a strategic assessment of your current fundraising strategy should identify:
Your organization's most important stakeholders

The state of your internal fundraising structure and culture

Your rates of fundraising success and failure

Key fundraising metrics central to the success of your nonprofit

Your processes for feedback and improvement
A fundraising consultant can help you to assess every element of your existing fundraising strategy and identify areas that need improvement.
This information will be invaluable after you've identified your exact goals and begin to plan your new strategy. Understanding the areas in which you historically come up short and where you typically succeed is essential to crafting a strategic vision for future growth.
Perhaps your consultant will reach the conclusion that you're short-staffed, for example. Periods of change can be an excellent time to invite a fresh perspective into the mix. Check out Aly Sterling's list of the best nonprofit job boards to find candidates with the critical fundraising skills that you've discovered your organization is missing.
External guidance is extremely helpful at this early stage of the fundraising strategy process since it's often rather difficult to pinpoint our own weak spots. This, however, is the just first step to designing a more adaptable and achievable plan of action.

Professional nonprofit fundraising consultants are trained to craft effective and streamlined fundraising strategies. Whether you're looking to enact changes large or small, you'll most likely want some outside help.
Do your research and discuss your options with your board of directors. Find a consultant with experience helping a diverse clientele; this will ensure a more flexible fundraising solution.
Next, identify the fundraising consultation services that will be most helpful in revamping your strategy. An ideal fundraising consulting firm will offer one or more of the following services:
Campaign planning.

A fundraising consultant will help you plan fundraising campaigns that that align with your goals.

Technology consulting.

Finding

the best new CRMs or database systems

and incorporating them into your fundraising strategy can be difficult without some help.

Nonprofit leadership training.

A nonprofit consultant can help your staff and board remain up-to-speed and engaged with developments in the nonprofit world.

Feasibility studies.

Your consultant can conduct a feasibility study before your next campaign and prescribe next steps to take to prepare for the campaign you envision.
Nonprofit feasibility studies, in particular, are an essential part of any major campaign or fundraising program. By revealing your fundraising weaknesses, they'll identify your performance metrics that need the most attention and help your team address these issues throughout your broader fundraising strategy.

After assessing your past strategies, realistically identifying your new goals, and finding appropriate external guidance, it's crucial that you find the specific areas of growth that your new fundraising strategy must target.
Remember, an effective fundraising strategy update will help you maintain your donation revenue, but a great fundraising strategy will grow your overall capacity.
You and your fundraising consultant can plan for growth by plotting out the specific areas that need improvement. Depending on your organization's past fundraising performance, these might include:
Your overall returns on fundraising investments

Your rates of donor engagement, segmented by type

Your rates of donor and prospect growth
With expert guidance, you can then diagnose why your organization failed in these areas. Too few prospects? An uncompelling mission or uninspiring project? Were your goals simply too ambitious?
For example, say your rates of digital donor engagement are distressingly low. Your fundraising consultant will recognize this problem area and identify the missing technologies that will boost this key metric when incorporated into your new fundraising strategy.

Updating your fundraising strategy presents a great opportunity to incorporate new fundraising software into your campaigns and operations.
Look over key metrics that you've identified as growth targets. Chances are an effective fundraising software solution exists to address each one of them.
If your organization has been overdue for a technology update anyway, now's the time to consider how some new software might not only streamline your operations but also provide a boost to your donor engagement and fundraising revenue.
Fundraising software can optimize any aspect of your fundraising strategy, including:
Prospect identification and development.

Databases of wealth markers, giving history, and political contributions are invaluable for finding major prospects. Prospect generator tools make it easy to quickly identify and target proven donors.

Digital marketing tools.

Strong donor engagement relies more than ever on your web presence, so take the guesswork out of your digital marketing and cover all your bases with

customized automated campaigns

.

Donor management.

An effective CRM will compile and organize all your important donor data, providing the analytic reporting you need to make strategic decisions and ensure your fundraising efforts hit the targets you've identified.

Optimized donation pages.

Providing a cleanly-designed donation page will vastly improve your donors' user experience of your site, creating a positive impression and building a stronger relationship.
Most importantly, any up-to-date fundraising software that you choose to incorporate into your new strategy should integrate with your other digital tools.
This kind of software integration enables you to create your own custom suite of fundraising software solutions that you can continually adapt to best suit your strategies. For instance, check out this list of the best SalesForce apps for nonprofits from Double the Donation.

This final fundraising strategy tip is too often overlooked by nonprofits looking to reach their goals quickly, but effective stewardship is the key to organically growing your base of support for the long term.
Have your fundraising consultant help you to identify the areas where your stewardship strategies have failed in the past. Do you have poor donor retention rates? Do very few of your donors upgrade into a higher giving range? Do you rely too heavily on single type of donor?
Donor stewardship is essential to maintaining any growth that you achieve, so it should be considered an integral part of your fundraising strategy and not an afterthought.
Your fundraising consultant should identify the kind of donor relationship metrics that your new strategy should prioritize. These include donor acquisition and retention as well as donor upgrade rates. If your organization features a membership program, your membership software should easily provide you with these metrics.
It's important that once you identify the aspects of stewardship with which your organization struggles, you actively incorporate some plans to address them in your fundraising strategy. For instance:
If you have low acquisition,

work with your consultant to write a clear case for support when approaching new prospects. Communication and transparency will build trust.

If you have low donor retention,

think of specific ways to engage donors with your current campaigns. Keeping them involved will keep them thinking of you.

If few of your donors upgrade,

be sure to create individual stewardship plans for your major donors and communicate with them personally through their preferred channels.
Look over your entire fundraising strategy and identify some specific ways to cultivate your donor relations for each campaign on your calendar.
By planning ahead and making stewardship an integral part of your fundraising strategy, your growth will be truly sustainable, easing the stresses and stakes of your future fundraising projects.
Political and economic pressures might present significant fundraising challenges for nonprofits of all sizes, but the easiest way to safeguard your organization's stability is to design and implement a strong fundraising strategy.
By planning ahead, continually improving your techniques, and seeking outside help, you can adapt your fundraising strategies to any new goals or external challenges that come your way!
This is a guest post by Aly Sterling, Founder and President of Aly Sterling Philanthropy .

Aly Sterling is an accomplished speaker, active board member and proud leader of Aly Sterling Philanthropy, a national consulting firm based in the Midwest. Her expertise includes fundraising, strategic planning, search consultation and board leadership development for organizations of varying sizes and capacities. Read more about Aly here.
Categories: