We've Worked from Home for Two Decades. Here's What's Worked for Us.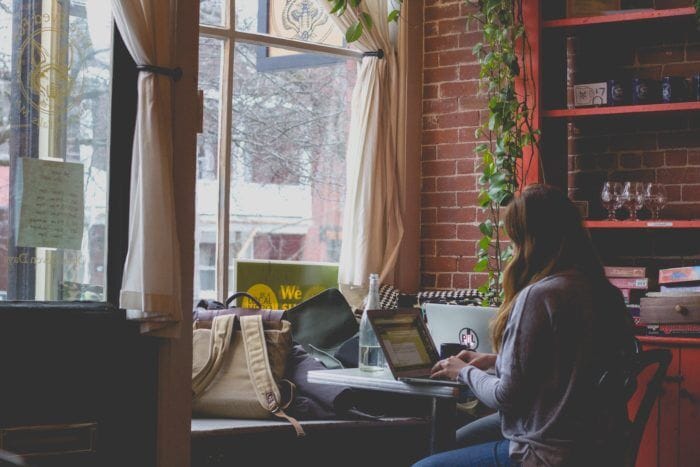 With thousands of workers now suddenly faced with doing their jobs remotely, we wanted to offer some lessons we've learned from over twenty years of remote collaboration with our clients and each other.
Our team has consisted of folks from across the country, in different time zones, who worked from home offices, co-working spaces, or the occasional coffee shop when staff members need a change of scenery. We've vetted and used various teleworking technologies, and we strive to strike the balance of not letting work seep into home life and vice-versa.
We've seen it all – or so we thought. Before we start with our tips, we want to acknowledge that for many of our own staff members and other workers across the country, this time is not a typical "work from home" environment. Mounting challenges of kids suddenly out school, partners suddenly working from home as well, and shelter in place orders in effect for many of our communities means that we are all navigating these uncharted waters together in some respects.
Now, onto the tips and tricks!
#1: Try to have a separate place for work
This might not be feasible for everyone, but if you are able to carve out even a corner of dedicated space for your "office" it will make the work and home balance more manageable. Sitting on your couch or working in your bedroom blurs those lines and makes turning on Netflix more tempting. Most of our staff members have a room or corner for their desks, laptops, and monitors. This removes distractions and makes it easier to be "at work" instead of "at home."
#2: Stick a work schedule, but make it your own
Similar to having a dedicated space, having dedicated time for work is crucial for keeping work and home separate. This isn't to say that you must work a strict 9-5. Many of our consultants during this time are blocking off their calendars with times to get outside, have lunch, and meditate. An example from one of our consultants:
7 – 8 am: Emails and set up for the day
8 am – 9 am: Walk outside
9 am – 12 pm: Available for meetings/work
12 pm – 1 pm: Lunch
1 pm – 3 pm: Available for meetings/work
3 pm – 3:30 pm: Mental break
3:30 – 5 pm: Available for meetings/work
5 pm: Hard stop to transition to home life
In addition to setting a schedule for yourself, it helps to block time on your calendar at the end of the day to catch up on email, complete quick action items from the day's calls, and review agendas for the next day's meetings.
#3: Over communicate with your coworkers
Especially if you are used to an in-person office environment, working from home can feel lonely and isolating. We combat this at Heller by encouraging our staff to send messages to each other throughout the day and allow meetings to have time for chit-chat. Even just one "how are you doing?" chat during the day can make you feel more connected and break up the monotony of meetings and emails.
We've also been especially mindful of communicating internally about our extenuating circumstances due to COVID-19. Many of us are now balancing work with children and partners suddenly at home. We're also used to being able to go to co-working spaces and coffee shops to break up the week. It's crucial that we are upfront with these changes and challenges. For example, we openly communicate during the beginning of meetings if there will be children noises in the background or if we might see a 6-year-old walking in the background of a video call. Acknowledging repeatedly that these are unique times and setting expectations for yourself and your coworkers can ease stress and keep dialogue open.
We're Here to Help
This is an unprecedented time for workplace environments. A sudden switch from in-person offices to working from home is an adjustment that many of us have gone through and we'll continue to share what works for us as we continue learning.
Categories: