Volunteering with 100+ Women Who Care of the CSRA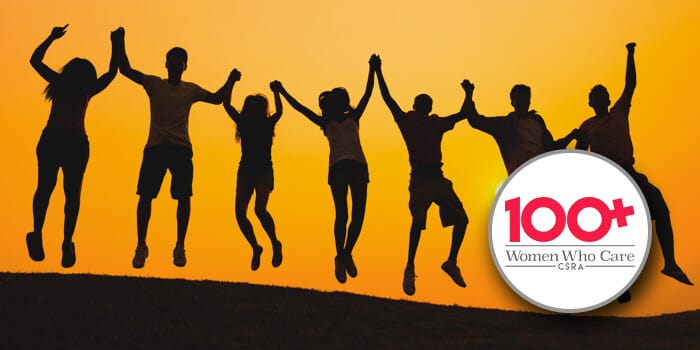 Supporting nonprofit organizations is more than just our jobs at Heller, it is an effort we are passionate about both in and out of work. To help support the causes and groups our team believes in, Heller provides employees time to volunteer for their favorite nonprofit organizations. It's one of the reasons we earned a B Corp Best for the World Award, but more importantly it is an essential part of our culture. This summer, Heller Services Consultant Dawn Oliveira joined the steering committee of a local group of women who work to raise funding for nonprofit organizations in the greater Augusta, GA area.
Where Did You Volunteer and What Was Your Role?
Shortly after relocating to Augusta, GA from Washington, DC this year I reached out to the local 100 Women Who Care chapter in order to find out how I could become a member and get more involved in the local community. To my surprise, the group's founder approached me a few weeks later about joining their steering committee. She learned about my work with nonprofits organizations and previous giving circle membership, and thought I would be able to contribute to the group's goals. I happily accepted.
My primary role as part of the local chapter is to find ways to incorporate social media and technology to support our recruitment and outreach efforts. In addition, our chapter hosts meetings four times a year where participants nominate and then vote on a local nonprofit organization to receive our quarterly award gift. Members give $100 at each meeting, and with the goal of attaining 100 members, that enables us to award a gift of $10,000 or more to a local charity each quarter!
What Inspired You to Volunteer?
I've always been interested in supporting nonprofits and local initiatives. While my job at Heller affords me the opportunity to work with a number of diverse and impactful organizations, I love being able to make those same connections and contributions in my own community. After having been part of a women's giving circle back in D.C. I knew the tremendous impact that a group of women could have when they combine their financial support of local nonprofits. I was thrilled to find a 100 Women Who Care chapter in my new hometown.
To date our chapter has awarded over $10,000 to five deserving organizations. The stories of how our contributions have allowed them to move their missions forward inspires me to help get our group to 100 members and beyond.
About 100 Women Who Care
100 Women Who Care was formed in 2006 by Karen Dunigan of Jackson, Michigan. Since then, more than 350 chapters, including Men, People and Kids Who Care have formed worldwide.
100+ Women Who Care of the CSRA is our local chapter and we are dedicated to providing for those in need in the Central Savannah River Area. Our group has one-hour meetings four times a year where we select a charity. Then each member simply writes a $100 check directly to the organization. The combined $10,000 impacts our local area without time-consuming fundraising events and planning, allowing for direct benefit to their immediate needs.
Categories: