Team Heller Sorting and Serving at Second Harvest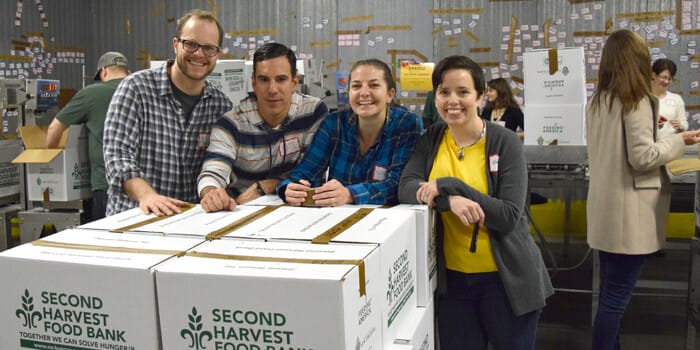 One in six households in Louisiana are at risk of hunger, and Second Harvest Food Bank of Greater New Orleans and Acadiana is leading the charge to relieve the strain on families struggling with rising costs and weak economic forces. By providing food to 474 partners and programs they make up the largest anti-hunger network in the state, also providing community kitchen meal service, nutrition education, and much more. The millions of pounds of food that Second Harvest provides to communities in need was destined to go to waste, but instead is redirected and distributed to the dinner tables of thousands of families across the region.

To achieve this monumental task, Second Harvest relies on teams of volunteers to help sort, evaluate, pack, and distribute the large volumes of donated foods. So when the Heller team all came together for their annual company retreat in New Orleans this year,

volunteering at Second Harvest stood out as the perfect way to spend a day working together while helping those in need. For a team of consultants spread across the country and rarely able see each other in person, this type of event goes a long way toward enriching the team spirit. And to be sure, we had a blast and were in great spirits.
As soon as we arrived, a hallway full of car-sized boxes containing thousands of various donated products was lined up and ready to go. Then our Second Harvest leader put us into smaller groups and set us loose on our tasks.

Group 1 sorted and evaluated food for freshness, reviewing each item's date and condition. Group 2's job was to direct food down the conveyor system keeping the flow even and the options diverse as it traveled to the final step.  Group 3 had the last step of  boxing, weighing, and sealing up the food in manageable packages, and loading them on palettes for shipping. When all was said and done, we packed up over 32,000 pounds of food that would soon be distributed where it was needed most.
As we finished with the last boxes and cleaned up our areas, we looked with pride on what we had accomplished that day. While a different type of task than most days, we still got to work together, have fun, and help others.
Categories: