Strategic Technology Management: The Continual Reshaping of CRM
Since its evolution out of the for-profit world's customer relationship management software a number of years ago, constituent relationship management (CRM) has been often viewed by nonprofits as simply a technology or a set of software applications. In reality, CRM is much more than simple software. It is a combination of three things: systems, service, and strategy. Over the years CRM has been continually reshaped in response to nonprofit needs, constituency demands, and technological advances.
Some organizations might focus their attention on just one or two elements to the detriment of the whole – for example, utilizing a specific system to deliver a specific service without developing a cohesive CRM strategy to accomplish their overall goal.
It's worth taking a closer look at each element to better understand how CRM really functions and to better understand the role CRM plays, internally and externally.
CRM as a system Some nonprofits see CRM as a robust database that can store and report on a wide variety of information and support business practices for inputting, maintaining and retrieving that data. The nature of the data stored and the types of reports available vary by organization.
However, a primary characteristic of this definition is a focus on CRM as a system to facilitate work, especially fundraising, by staff members within the organization. Non-fundraising data is useful mostly because it supports deepening relationships in the fundraising process — in major donor cultivation, grant seeking, or broader marketing segmentation. Organizations that view CRM as a system want a 360 degree view of their prospects and donors, with data from various areas centralized in a single record.
CRM as a service CRM as a service is the point-of-view that CRM primarily serves constituent needs and enhances the experience of constituents who communicate with the organization. Like the "system" definition, it includes a database and business processes. However, these are oriented specifically around providing a superior service experience to constituents.
CRM as a strategy Some nonprofits see CRM as an engagement strategy that focuses each department's and individual's goals and activities around optimizing the constituent experience. But it goes even further to include proactive outreach to constituents and creating positive, pertinent experiences for them. Although they don't abandon traditional methods of nonprofit communications, organizations that see CRM as a strategy pay closer attention to constituent preferences, such as engaging through social media.
These three different views of CRM unintentionally create three very narrow – and restrictive – approaches that do not take advantage of its full potential and value. The real definition of CRM is the sum of them all.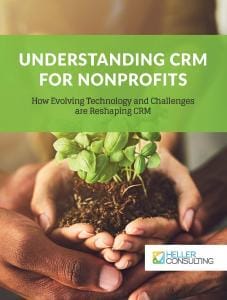 For more on CRM, download our free guide: Understanding CRM for Nonprofits 
CRM should really be considered a combination of people, processes, and technology used to deliver superior service to constituents. It includes a set of processes and supporting technologies used to acquire, retain, and enhance the relationships between all the different constituent groups who interact with a nonprofit organization. These groups can include donors, funders, partners, volunteers, clients, sponsors, suppliers, and anyone else who helps a nonprofit achieve its mission or are benefactors of that mission.
At its heart, CRM is actually about business transformation. CRM enables nonprofits to squeeze the most value out of the information they collect and process and use that information more efficiently to drive every aspect of their operation. Failure to embrace the transformative capabilities of CRM can doom a nonprofit to simply replicating their old systems and processes, never realizing the maximum benefits of their CRM investment. Optimizing today's CRM ecosystem requires dynamic strategic technology management, not just a relatively straightforward, static technology plan.
Nonprofit leadership has begun acknowledging that constituent interaction and behavior data is a valuable asset that should be used intelligently to further the organization's mission. Increasing numbers of board members across the nonprofit community are now recognizing that valuable data sitting unused is a wasted precious commodity.
The reshaping of CRM ecosystems is being driven in large part by the need of nonprofit organizations to be able to swiftly capture all that valuable data across all departments and then easily synthesize and analyze it to demonstrate impact and adjust course as needed to exploit new opportunities as they arise. This requires CRM to be proactively managed in real time, enabling nonprofits to make necessary changes – large and small – as needed to ensure that the critical CRM ecosystem is optimized at all times. The days of regarding CRM as a simple, static software solution with a traditional product lifecycle are long gone, replaced by a much more effective and efficient strategic technology management approach that has already proven itself to be the best way to manage constituent relationships.
To learn more about the changing landscape of nonprofit CRM, download our FREE Executive Guide, Understanding CRM for Nonprofits. 
Categories: