Salesforce App Builder Certification – The Salesforce Interface In-Depth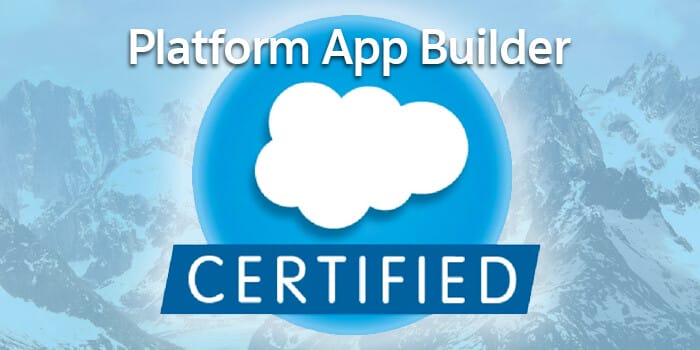 One of the newly revised Salesforce certifications is the Platform App Builder Certification. This certification incorporates the skills needed to design, build, and implement custom applications within the Force.com platform. Consultants with this certification have a rich understanding of how to design a data model and user interface to an application, as well as develop the business logic and security requirements. They are also required to utilize Lightning components for mobile use, design reports and dashboards, and finally be able to deploy their custom application. Heller's own Bre-Lyn Cober Wong has earned her Platform App Builder Certification, and below shares how she incorporates it into her work.
Platform App Builder is a newer certification. What is new and different about it?
The Platform App Builder certification was added as a richer step before the Platform Developer 1 and Platform Developer 2 certifications. It focuses on the features and functionality you can achieve with clicks within the Salesforce interface, while the Dev 1 and Advanced Developer certifications work with the underlying code. Many things can be done without writing custom code, so it's important to understand how to leverage what already exists in the platform. This is an advantage and time saving for me and our clients, and makes for a more effective and stable solution.
What inspired you to earn this certification and how did you get started?
From working with the platform and earning my Administrator certification I knew there was a lot that could be done with the existing interface. There is a vast range of data and controls we have access to, and I wanted to be able to do more with it for my clients.
I started looking for online resources and information, and while I found a lot, some of the free resources were a little misleading or out-of-date. It was very helpful for me to just read through the documentation, and work with the actual interface in a development org. After I learned more I started working with the Trailhead (trailhead.salesforce.com) modules, and signed up on the FocusOnForce (focusonforce.com) site. There I was able to learn a lot, and practiced what I would need to learn through several practice exams. In the end, the practice tests I did were harder than the actual exam, so I felt fairly prepared for the real thing.
You were already working in Salesforce daily, so was there new information to learn?
There was. This certification requires you to learn the full life-cycle of an application. With client projects you often focus on a subset or specific aspect of their system. I was able to get a richer understanding of each section of an application and how it connected to all the other components. I was also able to work with the newer Lightning Components much more. Not every client is ready to implement the Lightning interface components yet, so being able to dive deep in those capabilities provided a lot of new knowledge.
I was also able to work much more with the challenges of a mobile interface. We are required to incorporate this functionality into our client solutions more frequently lately, and now I am much more proficient in the Lightning and mobile capabilities. I also gained a more detailed understanding of how all the interface components and workflows connect within the platform. I knew the basics, but now I know why they work, and more about the capabilities and limitations of each component.
Does this certification change anything in your day-to-day work?
A big change that I've noticed is the way I look for solutions to client challenges now. I have new insights into how the system works so that I am not only able to design more efficient solutions, I'm able to find the root cause of issues when something is not working properly. I am also better able to define exactly what I need from a developer if I'm not able to create a solution on my own.
Would you recommend this certification to others?
I would. Since this one focuses on what you can do within the interface, it gives a solid understanding of how the underlying platform is structured. I can now do many things that I would have asked a developer to help with in the past. Even for those who will progress to the Advanced Developer certifications, this gives an extensive understanding of the front end interface and how it's connected. Going through the process was a workout for my solutioneering muscles, and that practice alone is helpful. The more you do it, the more experience you have in finding the best solution. If you are going to go for it, do a lot of studying. Do test exams and do a lot of problem solving. Find your best way to learn, and do it over and over.
Click here to get more information on the Salesforce Certification process.
Have you earned a Salesforce Certification? Do you have any tips or suggestions for people who want to get certified for Marketing Cloud or Pardot? Leave them in the comments below.
Categories: