Nonprofit Success Pack is Coming to Dreamforce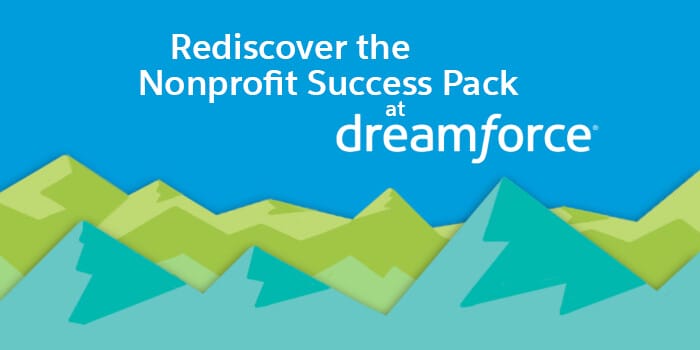 One of the big announcements for nonprofits at this year's Dreamforce is going to be the launch of the Nonprofit Success Pack (NPSP). For many years NPSP was known as the Nonprofit Starter Pack and helped thousands of nonprofits start using the powerful and flexible Salesforce platform for their fundraising and constituent management. From now on NPSP will be known as the Nonprofit Success Pack, a name that reflects its goal to provide end-to-end solutions for any size organization to succeed by enabling coordinated interaction with supporters, members, funders, volunteers, and beneficiaries.
While the name is new, the Nonprofit Success Pack is the same product that organizations have been relying on for years. In fact, organizations that have upgraded to the NPSP v3 are already working with the Nonprofit Success Pack- no upgrade issues, no migration hassles –  it's already there and there are no extra steps or costs to be concerned about. (Click here to watch the official announcement from Salesforce.org)
Guided by the Nonprofit Community
Since the beginning, NPSP has been a community-guided open-source package focused on the needs of nonprofit organizations. The Nonprofit Success Pack will continue to be managed and maintained by the same active community of users and developers that have provided their skill and insight for many years. To keep NPSP growing and providing the advanced capability modern nonprofits depend on, the community-based development is supported by a growing team of dedicated developers at Salesforce.org. This collaboration between the passionate partners and users that work with the product at organizations every day and a team focused on the intricate integrations with the complete Salesforce platform is a unique step and is already showing positive results.
What's New in the Nonprofit Success Pack: Engagement Plans
With the new name, there are a few additional updates that are worth highlighting. The first of these is the new Engagement Plans. Engagement Plans are defined as task list templates that allow internal processes to be standardized across an organization. They can be connected to almost any object in the system to schedule a series of specific tasks for a user to follow. With standardized processes and task lists, an organization can ensure that their best practices are applied across teams and departments, and shorten the onboarding time for new staff. The tasks generated by an Engagement Plan template are flexible, and allow for individual personalization to match unique situations when needed. This new feature will certainly be useful for major gifts officers and volunteer managers, and we expect it will soon become an indispensable tool for organizations aiming to increase their efficiency and productivity.
Read the documentation for Engagement Plans here, and see how it can be used in your organization. https://powerofus.force.com/articles/Resource/NPSP-Create-and-Manage-Engagement-Plans
Create and Manage Levels
Another new feature that has a variety of uses is the new Levels object. Levels provides a way to automatically group constituents based on where they are in a range of numeric values. The most quickly adopted use will certainly be grouping donors based on their total amount donated, and then triggering an Engagement Plan to assign a series of tasks based on their transition to a new Level.
But this feature isn't limited to just financial information, it can be controlled by any data point that can be numerically quantified. A total number of email interactions, hours volunteered, social media interactions, or even more complex calculated values like combining number of gifts and volunteer hours are all possible applications – there are so many ways to get creative with this feature and your organization's data. We look forward to utilizing this feature for our clients.
For more specific details on Levels and how they work, view the official documentation here: https://powerofus.force.com/articles/Resource/NPSP-Create-and-Manage-Levels
Nonprofit Success Pack is Lightning Ready
Released last year, the Lightning Experience is the redesigned user interface that has given the Salesforce platform a modern look and feel to match the advanced underlying capability of the platform. With this newest update, the Nonprofit Success Pack is committed to being Lightning Experience compatible to ensure that any organization that wants their system to take advantage of its streamlined interface and mobile compatibility is equipped without additional effort.
More than just a user experience adjustment, the commitment to Lightning signifies Salesforce's commitment to NPSP and its pledge that it will be developed alongside the core Salesforce platform. This internal support gives us confidence that the improvement and evolution of NPSP into an effective platform for all sizes of nonprofits will continue providing the features, support, and functionality that nonprofit organizations require to meet their unique challenges.
Looking to the Future of Nonprofit Success Pack
It is clear that Salesforce.org has made NPSP a dedicated focus for the future. By working with the established community and providing development support and guidance, they will continue to address the challenge of delivering an efficient and effective CRM platform for diverse nonprofit organizations. To achieve this, they will need continued collaboration with supporters to envision and develop flexible solutions. Specific use case solutions will need to be engineered in ways that can be applied in diverse ways within unique organizations. This flexibility within the platform is what has made NPSP an effective solution for so many nonprofits. Salesforce.org understands this, and by dedicating increasing time and resources to NPSP they are clearly demonstrating their commitment to providing a powerful CRM solution for the nonprofit community.
If you are attending Dreamforce, be sure to added this session to find out about where Salesforce.org is now and how they are planning for the future.
Salesforce Products for Nonprofits: Where We Are and Where We're Headed
Thursday, October 6th, 10:30 AM PT
Salesforce.org Lodge at Dreamforce – Session link
The Westin St. Francis Union Square Hotel – Map
Join the Salesforce.org Tech & Products team for the low-down on current — and future — product offerings for the nonprofit sector, including NPSP and relevant innovations from Salesforce.com.
To get up-to-date information on the newest features of the Nonprofit Success Pack, including invitations to webinars and exclusive hands-on events, sign up here. We look forward to sharing with you!
Categories: