Managing change is essential for nonprofits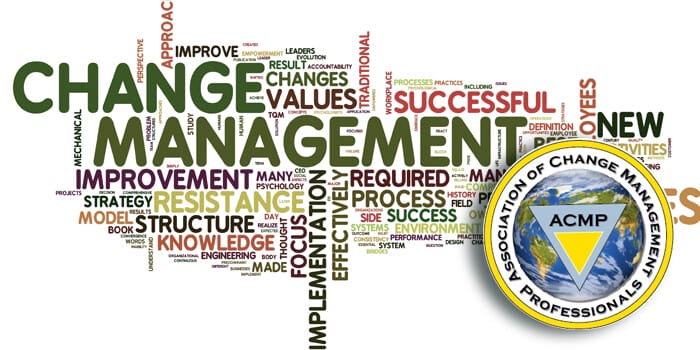 Managing change is a subject that is coming up more and more often for nonprofit organizations as they consider their technology systems. But it's not just technology that changes. Organizational strategies, processes, and systems all evolve together. To continue to be effective, the leadership, staff, and constituents all must adapt and evolve as well.
For almost 20 years we've been helping nonprofits manage change as they adopt and adapt to new constituent relationship management (CRM) strategies and technologies. We see CRM as a holistic vision of your key constituencies, the strategies you use to fully engage those constituencies, and the technology you use to support those strategies. One characteristic is common in the most successful organizations– those that are prepared for and manage change effectively are most likely to experience success with their initiatives. It's not about which strategy they decide to follow. It's not about which technology they choose. It's not about the experience of their teams. These things certainly matter, of course, but even organizations sharing these attributes regularly struggle. The differentiating factor is the nonprofit's culture of constructively anticipating and engaging with everyone in the organization about the changes they will experience. A sound approach to change lays the foundation for any success.
Managing change in enterprise nonprofits
The theme of change is especially relevant to enterprise nonprofits. These organizations must adopt new strategies and technologies at an unprecedented pace. A primary driver is the expectations of their constituents. Contemporary prospects, donors, volunteers, and advocates are demanding more and more interaction and engagement. Their expectations are being set by commercial organizations like Amazon and Netflix engage with them in pro-active, highly personalized ways. Nonprofits are pressed to keep sufficient pace. This demand is not just from an organization's external stakeholders; internal staff expect a "high-touch" experience in the workplace as well. Communication tools we use every day— mobile phones, websites, social media— have increased everyone's expectations.
The good news is the challenge of meeting rising constituent expectations is shared both by nonprofits and commercial organizations, and the latter are devoting significant strategic and financial resources to developing effective CRM strategies and solutions. Those efforts are funding the improvements that software vendors are making to their offerings. The nonprofit sector can benefit from the solutions brought forth and tested by commercial entities and select those that prove effective and adaptable to our specific organizations. We can then customize thoroughly tested solutions to meet the unique needs our constituents. Commercial organizations are essentially our R&D departments. When appropriate CRM strategies and technology solutions are shown to be effective, we can move forward and embrace them.
Technology is leading change
Technology is a leading driver of change at many nonprofit organizations, revolutionizing how we engage with constituents. Consider the first website launched by your organization. Many large organizations were challenged to develop this singular "public face" when for so long the organization only was known locally in distinct local ways.
The same story holds for national email marketing where national communication and fundraising strategies are now used where they may not have previously existed. Communication channels are proliferating. Internal focus is required to meet the demands of these new opportunities.
Within organizations, aging technologies are being replaced. Enterprise nonprofits often take advantage of web-based solutions, moving their technology infrastructures to the Cloud. As traditional "offline" software is retired, the new web-based systems can offer significantly different possibilities for both internal users and external constituents. From the technology perspective, the line between "offline" and "online" solutions and strategies has been blurred. Where the boundaries used to be clear– "What systems does a constituent use to engage with us? What information is for use inside our organization versus something we can easily share with the outside world?"– new solutions offer additional opportunities to provide a very personalized experience for our constituents. Again, changes we need to adapt to, and that can bring significant benefits when implemented properly.
CRM systems are making great strides in providing sophisticated tools to manage information about and engage with constituents. Nonprofits are now able to utilize advanced CRM tools to manage their fundraising, communication and mission delivery efforts in unprecedented ways. As these systems evolve, they are helping organizations move towards the coveted "360° view" of their constituents and deliver high-touch, personalized engagement experiences. The capacities of these systems, finally affordable to nonprofits, is enabling organizations to develop a CRM vision that allows them to marry engagement strategies that address constituent expectations with the technology that can deliver on those expectations. This capacity is a significant change for many nonprofit leaders who have never had access to the capability inherent in advanced systems.
Change brings risk, but it is manageable

As nonprofits adopt sophisticated engagement strategies and CRM systems, it is vital to prepare for the internal and external change this represents to the organization. In the commercial sector, it has been well documented that the failure rate for CRM projects can be 50% to 60% or more. <link>
Why do so many projects fail? At the most basic level there are three main reasons:
First, a lack of vision that clarifies the goals of the project.
Second, failing to align the CRM initiative with organizational strategies.
Third, not securing the buy-in and support from stakeholders who view the CRM implementation as a "technology project" rather than the broader organizational opportunity it represents.
Notice what's not included? Failure of the technology itself. Technology has many limitations, but most often those are not the reason for failure. Instead, it's almost always about expectations, commitment, collaboration and effort. All of these can be addressed through appropriately anticipating and managing change at the organization.
The preceding was adapted from Heller's white paper "Managing Technology Change at Enterprise Nonprofit Organizations." To read more about how nonprofits can manage change during technology initiatives, please download the paper now, and contact us if you have any questions.
Download now:
* These fields are required.
Categories: