Integrated Cross-Channel Marketing for Nonprofits is Essential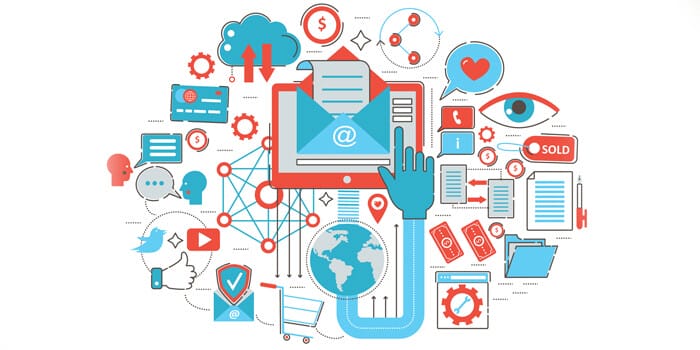 As our world becomes more digitally connected, nonprofit and Higher Ed constituents are faced with an increasing quantity of messages coming from multiple channels. Emails, social feeds, and ads across the internet are all becoming customizable to individual preferences. While 'being known' was once a unique customer service experience, constituents have come to expect highly relevant, personalized content and quick, simple interactions with organizations. They receive this from corporate brands, so why should the nonprofit they support be any different? Organizations that deliver an integrated multi-channel experience are already benefiting from the deeper and more rewarding relationships they are building.
Integrated marketing helps build relationships
Integrated multi-channel marketing communication is not a new concept for nonprofit and Higher Ed clients. Over the last decade, we've learned that when we communicate a consistent message to donors in more than one channel, they tend to give more. 1
We've also learned that today's connected world now means that simply communicating with donors in more than one channel is not integrated marketing. Your message must be consistent, cohesive, and most importantly, connected to your constituent's interests.
"Integrated marketing communication is a way of looking at the whole marketing process from the viewpoint of the customer" – Philip Kotler 
In the past, we had 'communication' teams planning email blasts to send the same information out to an email database. Even with tailored segmenting, the message was relatively similar, designed to appeal to a large group of supporters. While this is much better than not providing information at all, many constituents are left feeling that their relationship with the organization is based on clearly visible donation dollar, volunteer hour, or support tiers. The relationship begins to feel very one-way towards the organization.
A new experience is possible. With today's technology, the most effective 'engagement' teams plan detailed strategies that map out a series of interactions between the organization and a donor, volunteer, or client. These engagement strategies become specific "journeys" that are tailored to the specific audience. It's a given that a donor would follow a separate journey from a volunteer or a client. But what about the constituent who is donor, client, and volunteer? The donor we know gave direct donations, but also participated in your signature event, and influenced the giving of 40 additional donors? Basic segmentation might get us to a few different engagement journeys – one for donors, one for event participants who were engaged with fundraising, one for volunteers, etc.

Make sure you are doing more than just asking
But what about giving back to your donor, in the form of high quality, reliable information that is of interest to them? When we build relationships over time with our supporters by providing them with high quality mission-based content to the right constituent at the right time in the right format, we show them we care about them and what they are interested in. Putting the constituent at the center of the organization's content strategy will result in a more personalized and satisfying experience for the subscriber. Taking a long term view of nurturing relationships with personalized content and cultivation strategies leads to better fundraising response over time.
A journey can include interactions and experiences across multiple channels and multiple departments or functional areas. A supporter can learn more about the impact of their contributions, learn about your organization's advocacy efforts or read important information that can impact their lives personally. A personalized engagement journey might also allow your supporters to get feedback and results on their own donation, and feel like they are in a partnership with you in the organization's mission, instead of simply being a funding source you tap over and over again. This personal connection is vital as it becomes easier for one person to support a variety of causes. Many constituents will choose to support an organization where they feel like part of the team over an organization that simply accepts their donations each month.
How can we accomplish a personalized experience for our constituents?
Know your audience
Who are you reaching now? Which critical audiences are you missing? What do you know about those people? Age, demographics, geographic location, interests, level of comfort with modern technologies…understanding these and other characteristics of the people you are and want to reach will help you identify the best content and the best channels to reach those people.Modern day Constituent Relationship Management (CRMs) like Salesforce and Microsoft Dynamics CRM allow us to truly know our constituents by capturing all this information in a single place.
Segment your audience
Today's CRMs and marketing platforms offer a variety of options for analyzing and grouping your audiences into microsegments using all of the information you have available about your constituents. The ability to identify microsegments quickly and easily is critical to being able to engage with your constituents in a personalized manner.
Content, Content, Content
High-quality content about your organization's mission and the impact of your work is critical to creating compelling content. Ensuring a wide variety of stories that will be of interest to your key audience segments is no small task, and much has been written about content marketing for nonprofits.
Marketing Automation allows personalization at scale
It's easy to communicate with one donor, advocate or volunteer in a highly personalized manner. Doing so with thousands of constituents in a sustained manner over time requires automation. ***
Tools for integrated and automated marketing for nonprofits
Whether you are just starting, or well established in your marketing journey, there are a variety of effective solutions available to nonprofits. Each comes with benefits and challenges, like any technical solution. For many nonprofits, the entry into integrated marketing often starts with the alignment of direct mail and email campaigns. For others without an established direct mail program, the entry into integrated marketing might come with the alignment of content marketing across web, email and social media channels.
Today, there are dozens of solutions available to help organizations with integrated marketing campaign planning and management and with marketing automation. The idea of evaluating and choosing the right solution can be overwhelming. It's not unusual to feel frustrated with your current technology and want to move quickly to replace it with a new tool with all the bells and whistles. Far too many organizations start that way – and the problem is that technology alone just isn't going to solve your acquisition, fundraising, or engagement issues. Read more about the critical importance of having a solid strategy in place before looking at the technology in our Marketing Automation for Nonprofits Whitepaper.
How we can help
At Heller, we believe strongly that strategy comes first, then technology. Our team of nonprofit experts has developed a clear methodology for helping you match your strategic goals and practical needs to the features and benefits of leading marketing tools, platforms, and solutions. We can help you clarify, articulate, prioritize and balance the needs of individuals, departments and the organization as a whole so you're optimally prepared to find the right software solution for you. We coordinate with your team to:
Clearly articulate and prioritizes the strategic goals and practical needs of the organization
Develop use cases and demo scripts that reflect current and future situations
Identify potential vendors and coordinate vendor demonstrations
Evaluate and score the solutions with client staff, and aggregate scoring results
Develop the final report and clearly present findings and specific recommendations
For more information, review the resources below or contact us so we can discuss your specific needs.
---
Selected Resources

Tips for Nonprofit Marketing Automation
Nonprofit marketing automation is in the midst of a technology tipping point. Powerful marketing automation tools have been available to large commercial organizations for many years, but recently the cost and feature range have become much more appealing to nonprofit organizations who want to deliver uniquely personalized messages. In this paper, we interviewed nonprofit communication pioneers from DonorsChoose.org, Greenbelt Alliance, Sierra Club and more who have taken the plunge into marketing automation. They share insights on how to approach a new marketing automation effort, what to look out for, and how to make the most of this technology.

Managing Technology Change at Enterprise Nonprofits
The fact is while change is often necessary and healthy, it can a disruptive force, and is rarely easy. Interestingly, it's our response to change that determines whether we feel positive or negative about what's happening. Download this paper to learn factors that influence an organization's response to change, a process for managing change, and how managing change effectively can impact the success of a nonprofit organization's CRM and technology initiatives.
Categories: