How Do Nonprofits View Change?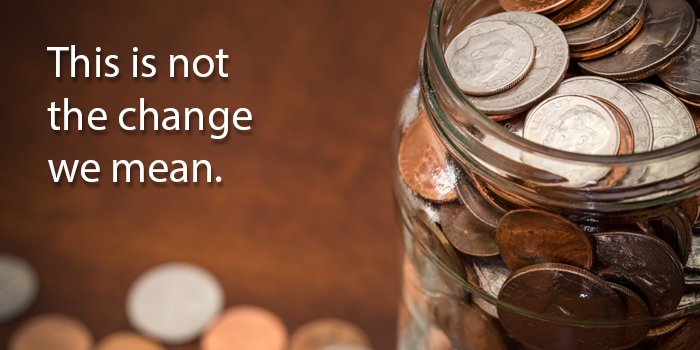 It's nearing the end of the year, and many nonprofits are their busiest during this quarter. With all of the year-end campaigns, fundraising activities, and general calendar-year close going on, it can be a time when an organization can feel at capacity. To make sure that no one burns out, organizations plan carefully to make sure that every task is assigned appropriately and that all that hard work is rewarded with bowls of chocolates or even a morning celebration when the year-end fundraising goal gets surpassed.
A planned approach like the one above goes a long way to stave off end-of-year burnout. This same approach should be in place when an organization undergoes any technology change, particularly those that span over an extended timeframe. Saturation and fatigue with change is one of the top five project failure factors, right alongside lack of sponsorship and poor communication. In our recent change management survey, we found that while a majority of respondents indicated their organizations are continually searching for new opportunities in innovation, they have inadequate structures or systems in place to support change, and there is inadequate leadership and management support for changes.
In Heller's experience working on implementations of technology ecosystems, we are just one piece of the puzzle in an ever-changing organization. Placed alongside all other components of an organization's operations and culture, a technology project may be taking place at the same time as a department restructuring or a large facility rebuild. There is no shortage of innovative ideas and updates that take place in the nonprofit sector, and organizations take advantage of the most appropriate operational changes that will move them toward their mission. Of the 650 organizations that participated in Prosci's 2011 Best Practices in Change Management benchmarking study, nearly 75% expected the amount of change at their organization to increase in the next two years whereas only 8% expected it to decrease (Source: Tim Creasey, Prosci).
Over the past few months we have been collecting responses with a quick quiz on readiness for change and are already seeing similar results. Our basic survey of nonprofit organizations already shows 66% of respondents indicating their organization is continually searching for new opportunities and innovation.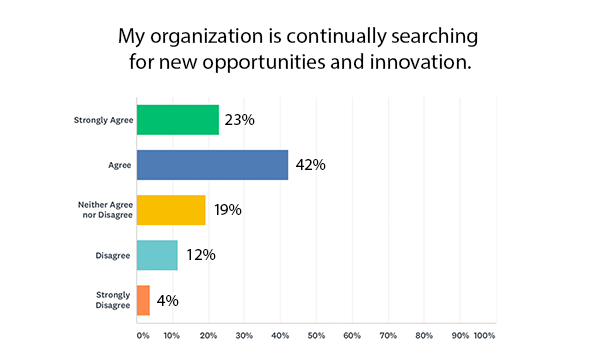 Almost by definition, new opportunities and innovation would bring some degree of change. Unfortunately, much like holiday fatigue at this time of year, change fatigue is real. Prosci has shown this for larger commercial organizations, and we see the same for nonprofits in our survey– 59% indicated that fatigue very much does exist.

So how do you address the risk that comes with the change saturation that can arise when making simultaneous, complex shifts in process, operations, and technology? In our experience, careful planning for these busy timeframes ensures success. First and foremost, we have found that doing an assessment of the landscape at the start of a large project identifies additional anticipated change. Alongside that piece of the puzzle is the sequencing of the technology changes that are part of the implementation. Breaking down a large project into manageable phases allows for specific departments or teams to plan for the times when they will need to be more involved and provides a clear path for when they will have less project-focused activities occurring. Fatigue from transitions is also a key element at the sponsor level. A phased approach will ensure that leadership on the project is also factored into the equation.
Other Findings On Change Readiness
Our survey also found that while 27% of nonprofit respondents believe their organization has the systems and structures in place to support and monitor change during initiatives, another 27% are right in the middle, and 46% do not. Both our sample and rigorous studies by Prosci indicate there is a need for more structured planning around change.

The results are only slightly more positive when it comes to respondents' perception of their organization's leadership's ability to manage unplanned change, with most of our respondents in the middle of the curve:

The nonprofit sector has always been one to embrace change. Fundamentally, organizations' missions are about enacting a change in the community! It is no surprise then, that change is a constant for the nonprofits we work with. With some thoughtful project and change management, organizations can move through changes, get to the end goal, and ensure that everyone is ready to take on the next challenge without burnout.
Are You Ready For Change?
Understanding if your nonprofit is ready for change can help you prepare for the many challenges you may face. Planning ahead for the appropriate conversations and establishing effective communication channels can help your team embrace the changes to come.
So how do you gain this understanding? The first and easiest way to get started is to ask a few simple questions. Rarely does anyone want to admit they are resistant to change, so it's important to ask your team how they perceive the organization they work with to get a better picture.
Complete the Is Your Nonprofit Ready for Change? quick quiz below to get an idea of where your organization stands. These are just a few of the questions we ask our clients early in a project. They are designed to provide a basic snapshot of your readiness for change. At the end of the survey, you will have an opportunity to compare your responses to those of other organizations, and can request more information.
Start the Quick Quiz
Special thanks to Catherine Moore for her expert insights and collaboration on this post.
Resources To Manage Change
Heller is committed to helping organizations manage technology change. We will publish more resources, success tactics and strategies throughout the coming year. Find out more about how Heller approaches change management and view our current resources here.
Categories: