Business Intelligence Tools for Nonprofits: Tableau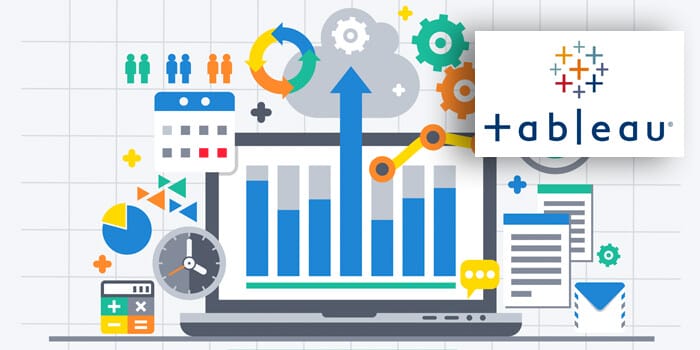 November's business analytics for nonprofits write up is about industry leader Tableau. If you've been reading the rest of the series, you know our goal is to provide quick snapshots highlighting the basic features and functionality of each product. Organizations just starting to examine their choices will be able to clarify which tools might be suitable for their organization and warrent a deeper look. Find out more on what business intelligence can do in these two papers designed to get nonprofits started on the road to effective BI strategies. Business Intelligence for Nonprofits was released in 2014 and covers some of the early tools adopted by nonprofits. For details on getting started with your own analytics initiative, please download our paper Introduction to Analytics for Nonprofit Executives or contact us directly to discuss your specific needs.
Tableau
Product Description
Tableau software is a drag-and-drop tool with direct connection to various data sources that does not require pulling data into a data warehouse. Tableau's strength is creating visual representations from large amounts of data that are easy and quick to manipulate. The software works with spreadsheets, SQL databases, or cloud applications such as Google Analytics and Salesforce. It can be deployed on-premise with a desktop report writer component and a server-based or cloud-based interactive end user component where users can log in and manipulate the reports. Once visualizations are created and published they can be viewed by logging into the server or can be published to the web.
Tableau also has its own foundation that offers free Tableau licenses to qualified nonprofits and Service Corps volunteers who offer pro-bono Tableau consulting to nonprofits who are eager to use their data more effectively.
At a Glance
Reports?
Drag and drop functionality
Dashboards?
Yes, through Tableau Desktop
Other Notable Features?
Tableau Service Corps
Beginner, Intermediate,
Expert?
Intermediate
Cloud, On Premise,
or Both?
Both
Total Cost?
Tableau Desktop $35-$70 pending on edition plus additional $35-42 depending on data housing structure (server or cloud)
Support Options?
Extensive knowledge base and case support
How it Works
Data is pulled from Tableau Online or Tableau Server into the desktop application to design reports that can then be published for others to see and interact with. Although Tableau can connect to live data sources, users can create extracts to improve performance by taking advantage of the Tableau data engine or by reporting on a subset of data from a larger data source. While Tableau is not geared specifically toward nonprofits, as with most BI tools it should be able to connect to and create metrics for any tabular data. Data security for users can be set up in a variety of ways including database login account, authentication mode, and user data filters.
Usability
The desktop design tool is relatively easy to use, but as with other BI tools, Tableau requires a degree of understanding of the structure of the data source(s). Adding new data tables is intuitive, but it does involve manual linking of data files, which could be time-consuming for a complex data source. It is easy to change the view of the data and to change between various types of charts with a single click. Tableau offers many different ways to slice-and-dice information so it is recommended that any user spend some time reviewing tutorial videos to understand the full range of functionality Tableau offers to create visual representations of data.
Cost
Cost of the tool is dependent on what Tableau Desktop edition an organization selects and where they choose to store their data. Tableau Desktop Personal Edition is $35/user/month and Professional Edition is $70/user/month. The biggest differences between the two editions is that Professional offers connections to hundreds of data sources and the ability to publish reports and dashboards back to Tableau Server and Tableau Online.
The second cost an organization should consider is where to host their Tableau data. An organization could choose to select Tableau Online or Tableau Server. Tableau Online is a SaaS solution with maintenance, upgrades, and security fully managed by Tableau. It is a great option for organizations that do not have the bandwidth or personnel to manage information on in-house servers. Price for Tableau Online is $42/user/month. Tableau Server is an alternative to Tableau Online that stores data on an organization's server or on a public cloud such as Amazon Web Services, Microsoft Azure, and Google Cloud Platform. Price for Tableau Server is $35/user/month.
Tableau offers small non-profits and NGOs a free Tableau Desktop licenses allowing everyone in the organization to access information. To qualify, the organization must be an officially recognized tax-exempt organization, have an annual operating budget under $5 million, and not be a school/college, healthcare organization, government agency or religious institution.
The Bottom Line on Tableau
Tableau is one of the most straightforward BI solutions for users and administrators. Tableau's accessible price point and free nonprofit licenses makes it a good option for small to medium sized nonprofits, though there is no deterrent to larger organizations as well. The company appears to have good software support including online manuals, tutorials, knowledgebase, case support, and a user support community. Nonprofits can also benefit greatly from Tableau Service Corps volunteers to aid in data interpretation and visualization.
If you have more questions about Tableau or how to get started with your own analytics initiative, contact us.
---
Introduction to Analytics for Nonprofits
Never before have nonprofit organizations had the opportunity to acquire, maintain, and effectively utilize vast quantities of information about their supporters, beneficiaries and advocates. To take advantage of this information, organizations must go beyond basic reporting and explore the quickly expanding world of "analytics". But what does all this really mean to your nonprofit? Is it worth the effort and investment? Download Introduction to Analytics for Nonprofits now to get a clear overview of analytics for nonprofits, learn the primary barriers organizations encounter, and understand the key ingredients to a successful analytics initiative.
Categories: