5 Strategies to Assess Last Year's Year-End Campaign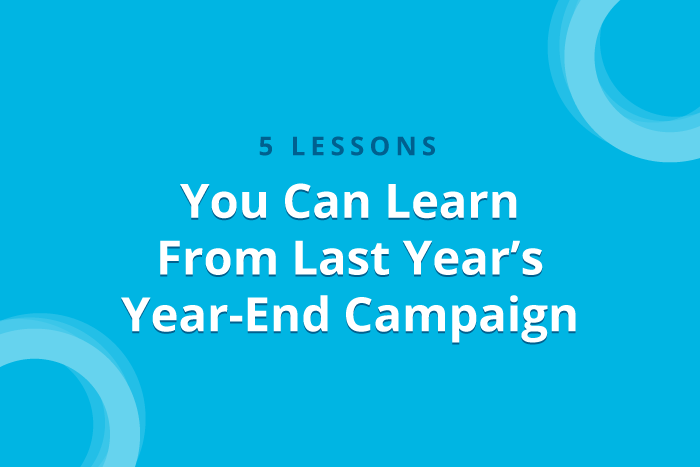 This is a guest post from John Killoran, Snowball Fundraising.
Your year-end campaign is arguably one of your most important fundraising activities of the year. You spend hours planning and preparing for it but once it's over, you rarely look back to assess your success beyond whether or not you reached your fundraising goal. Taking the time to understand what went well and what can be improved can drastically step up your planning for this year's campaign. 
In order to succeed your organization will need to ensure you're taking a strong digital approach to your year-end fundraising every year. As you review your campaign, keep a forward-thinking mindset to identify areas for growth and change, particularly in the digital realm. Our five strategies will help you assess how successful this year's campaign was and what you can learn from it to get your campaign for next year underway: 
Assess your top-level performance and KPIs

Dig deeper into the performance of specific fundraising activities

Make note of technology gaps that held you back

Review your marketing results

Brainstorm ways to maximize impact next time
The easiest way to stay organized and implement all of our tips is to have a fundraising software solution that makes your work easier. Make sure your current software has the capabilities you need to succeed!
1. Assess your top-level performance and KPIs
Having clear set goals and key performance indicators (KPIs) helps your team stay on track and focus on what matters during a campaign. After the campaign is over, tracked KPIs allow you to assess the success of your campaign and how you can improve for next time. Take a look at what went well and what didn't and begin brainstorming how you can improve on each goal or KPI during this year's campaign. 
If you didn't track any KPIs this year, you should take time to sit down with your team and identify what you could have tracked and what would have been helpful to analyze.
Here are a few KPIs you could choose to track: 
Total number of individual donors

Number of new donors

Total donation amount 

Average donation size 

Open/Engagement rates

Attendance at a fundraising event
These are only a few suggestions but there are many more that your organization can choose to track that will best fit your needs and your specific year-end campaign. 
2. Dig deeper into the performance of specific fundraising activities
As you assess our KPIs, you'll want to take a closer look at specific fundraising activities (and their success). Depending on how successful different fundraisers were,  you might want to explore some new activities or focus on a few reliably successful fundraisers. A personal favorite of ours is text-to-give fundraising, but there are many other options for exciting campaigns. You can even combine a few fundraising activities to reach different segments of your donor base. Here are a few types of activities you could try:
An auction

An end-of-year gala

A peer-to-peer fundraiser 

An in-kind donation drive (this works great around the holidays!)

A matching gift drive
Consider your most successful fundraisers in the past and how your supporters are most likely to engage when deciding on the right fundraising activity for your organization. 
The reason we love text-to-give for year-end fundraising is that many people want to give and get involved with their favorite nonprofit over the holidays, but it's also common for people to simply get too busy and forget. When you can't get a hold of your supporters to join you for an in-person event or to help you fundraise the traditional way, your team will need to get creative. 
One of the best ways to reach your supporters when they're at their busiest is through a text-to-give campaign. Mobile giving donations have gone up 205% over the last several years and are one of the most convenient and easy ways to give. 
These campaigns are easy to set up and allow your donors to give from anywhere with just a few clicks. Your supporters can donate while standing in a checkout line, waiting in the carpool lane at their kid's school, or sitting in the waiting room for an appointment.
3. Make note of technology gaps that held you back
When you're taking a look at what fundraising activities fell short of your expectations, it's important to take a critical eye to the reason behind the lack of success. If you need to improve convenience and efficiency, some tech investments might be able to significantly improve the fundraising success of some of your tried-and-true fundraisers. Or, it may be time to try some new and more innovative fundraisers. Once you know what kind of fundraising activities you want to focus on for your next year-end campaign, you can begin investing in the necessary tools. 
Assessing your tech stack can be as simple as making sure your CRM is functioning properly and your data is well organized. Or, it can mean investing in new software for a variety of purposes, from donor management to text-to-give, livestreaming, peer-to-peer fundraising, and more. 
Assessing last year's campaign and beginning your year-end planning early gives you ample time to identify what investments you want to make and how you can fit them into your budget. A solution that makes your job easier and saves your team time is well worth it!
4. Review your marketing results
Another factor to consider when assessing the success of your fundraising campaign is how effective your marketing was. If you weren't reaching new potential supporters or engaging your existing donors through your marketing materials, you should get your team together to put together an improved marketing strategy for this year. 
Creating a strong marketing strategy will require a lot of pre-planning and research about your audience to understand which platforms are worth investing your time and potentially your money into. It's better to focus on a few platforms that will be effective than to spread yourself too thin to be successful on any platform. 
Once you figure out the platforms you want to focus on, Snowball's nonprofit marketing guide can help your team best utilize your website, online ads, direct mail, email marketing, social media, outbound text messaging, or any other platform you've chosen. 
5. Brainstorm ways to maximize impact next time
Remember those KPIs we talked about? They come in handy after every single campaign!
Whether or not you've tracked KPI's in the past that you can learn from, now that you know, you should be tracking KPIs during every year-end campaign. 
Once your campaign is over, your team should get together to assess its success. Take time to compare your actual KPIs to the goals you set out at the beginning and identify potential spots for improvement. 
For example, if your matched gifts last year were lower than you'd like, you could try implementing automated matching gift outreach this year and measure the increase in matched gifts. According to 360MatchPro, about $4-7 billion in matching gifts funds go unclaimed each year so this is a great way to maximize the impact of your campaign. 
To continue our example, if you've already implemented automated matching gift outreach, you could also try reminding donors with an end-of-year email stream that helps explain matching gifts and gives them the resources to check their eligibility. By measuring the open and click rates of these emails, as well as any increase in your matching gifts, you'll be able to see if and how this new practice is increasing matching gifts. 
These five strategies can help you and your organization make the most of the year-end giving season year after year. Whether you're reviewing your year-end campaign for the first time or simply improving your strategies, make sure you consider your specific donor base for maximum efficacy.
Categories: