4 Tips to Tap into the Power of Virtual Volunteering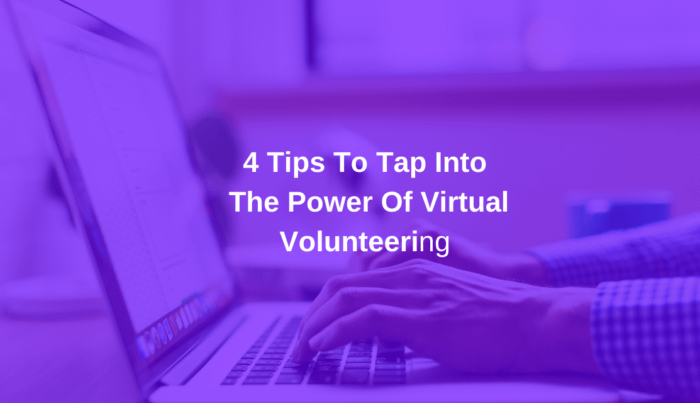 As organizations worldwide have gone virtual when possible, many nonprofit organizations have chosen to take their volunteer programs online as well. Virtual volunteering can keep your volunteers engaged and help your organization continue to do meaningful work, even when we're unable to meet face-to-face. There are so many skills your pool of volunteers has to offer; it's just up to you to harness them for good. 
At InitLive, we work with organizations to refine their volunteer management strategies and make the most of their volunteers' abilities. We've witnessed nonprofits undergo major transitions during the COVID-19 pandemic, doing everything they can to maintain momentum. We understand the complexities of going remote, especially when it comes to managing volunteers. 
Based on these firsthand accounts, we've pulled together this article, which provides actionable tips to help leverage your volunteers through virtual volunteer programs. Here's what we'll cover:
Identify what roles need to be filled.

Provide a complete onboarding process.

Don't let your standards slip.

Have a foolproof technology plan.
We may be physically separated due to social distancing guidelines, but that doesn't mean your nonprofit's efforts have to suffer. Let's dive in, so you can make the most of virtual volunteering.
1. Identify what roles need to be filled.
There is no point in starting a virtual volunteer program without a clear understanding of what that program is trying to accomplish. That is why investing the time in a clear virtual volunteer program plan and setting goals is well worth it. Establish what outcomes you want to achieve and then start considering how you'll accomplish them through a virtual volunteer program. 
As you get started, here are some online program ideas to spark some inspiration: 
Telethon fundraiser 

Virtual tutoring to help essential workers and their families 

Virtual wellness calls

Contactless food drive 
Once you have a clear understanding of each of the types of opportunities you want to offer, you can establish what volunteer roles are required to execute the program's activities. There are a lot of operational activities in every program that can be done completely virtually. 
Here are some examples of virtual volunteer roles: 
Community outreach coordinator 

Food service administrator

Social media coordinator 
Once you have a clear list of all your volunteer roles, it is important to create a detailed role description that provides a volunteer with a good idea of what the role entails and the skills required to do it. You will want these roles in your volunteer management solution, which will help you match the right volunteer to the right role and allow you to reuse detailed role descriptions across all your programs. 
2. Provide a complete onboarding experience.
Even in the digital space, starting a new volunteer program still requires volunteer onboarding and training. Now that in-person training sessions aren't on the table, you will need to explore how you can set your team up for success through virtual training. Since the nature of virtual volunteering is remote, it is even more important to invest in comprehensive training coupled with great communication to ensure all your volunteers are happy and productive. 
Here are a few virtual training methods that organizations are currently leveraging: 
Virtual Meeting Training Sessions –

This is as close to an in-person training session as possible. You can train your volunteers in lecture- or webinar-style sessions through Zoom, Microsoft Teams, or Google Meet. 

Online Courses

– Many organizations choose to invest in a learning management solution to create, host, and track volunteer training. You can create an online training course and share it with volunteers to complete within a certain time frame. 

Training Handbooks

– Some organizations choose to create training documents and request that volunteers review them prior to working with the organization. This method can be risky because you don't have visibility on if a volunteer has done the training. 
However you choose to train and onboard your volunteers, what is important is that all your volunteers are equipped with information to do their best work. In turn, they'll be more successful in their roles, resulting in a more fulfilling experience.
3. Don't let your standards slip.
Although circumstances have changed and virtual volunteering comes with new management challenges, it is important to maintain the same volunteer code of conduct and program best practices. Upholding standards, policies, and procedures will ensure that all new virtual volunteer programs continue to work within your organization's existing structure. 
Now, extra effort in facilitating virtual volunteers and educating them on these best practices may be required since everyone is working remotely. To keep things running smoothly, you need to clearly state expectations and policies during training and be available to support volunteers while they are doing their work. 
Staying engaged with your volunteers with frequent check-in communications to ensure they feel like they are a part of the team will go a long way in ensuring your program is a success. Send out frequent volunteer surveys to better understand how you can improve procedures to support your team better. Finally, make sure to communicate your gratitude to your volunteers frequently and share any wins with them, keeping everyone motivated to do their best work. 
4. Have a foolproof technology plan.
Managing a nonprofit organization's operations can be a daunting task, but it doesn't need to be. Now more than ever before, nonprofit organizations are rethinking how they manage their operations to accomplish more with the same resources. This is exactly why purpose-built technology solutions are created. It is important to build a customized technology plan that meets your organization's needs today and any predictable future needs. 
There are so many technology solutions available, and many of them can be brought together to deliver integrated technology strategies to help your organization meet its goals. For example, Salesforce's CRM helps manage donors, and members can integrate Salesforce directly with InitLive's volunteer management solution. Bringing solutions like this together can help convert volunteers into donors and donors into volunteers, furthering everyone's engagement in your organization and cause.
Learn more about handling massive technology updates and using your resources to advance your mission. Check out the guide, At the Crossroads of Nonprofit Digital Transformation.
If you aren't sure where to start with your technology plan, a skilled consultant can help you determine your needs and evaluate your options. Getting the right solutions set up the first time will ensure long-term success for your organization and all the important work it does in the world. 
While this past year has been challenging for all organizations, it is important to keep the momentum moving in the right direction, and virtual volunteer programs can help accomplish that. By keeping the nonprofit engine warm and continuing to help when possible, your nonprofit will be ready to kick into high gear once life returns to a more normal state. Now it's up to you to establish your goals and start exploring how you can tap into the power of virtual volunteering. 
About the Author
Cassandra is a passionate content creator dedicated to fostering positive impact through thought leadership in both the Nonprofit sector and live events industry. You can find her work at www.initlive.com or on Linkedin and Twitter.
Categories: