Dreamforce 2017 Is Almost Here!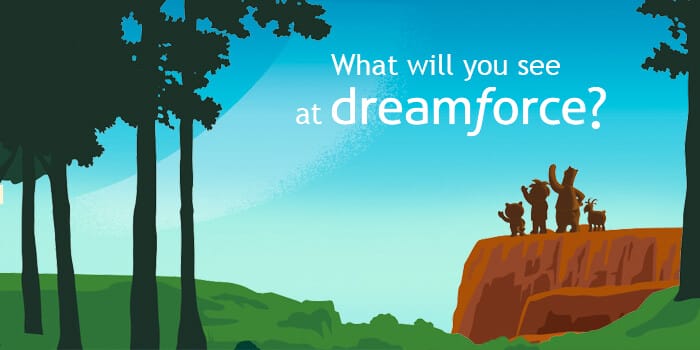 In 2016, over 171,000 people registered to attend Salesforce.com's spectacular Dreamforce conference. Over 8,000 attendees and 118 breakout sessions were specifically for nonprofit and higher education causes. Dreamforce 2017 promises to be even more exciting, informative, and spectacular! If you are coming to San Francisco to be part of one of the largest software conferences in the world, we'd love to meet up with you. We can catch a session together, discuss your technology challenges, or even just provide tips on how to make the most of Dreamforce! Just use the contact form to the right and we'll contact you to pick a convenient time!
We'll be in the Grand View Theater in the Salesforce.org Lodge
Heller will be on stage in the Salesforce.org Lodge again this year sharing best practices we've learned through hundreds of client projects. This year we'll be speaking with The Chicago Council on Global Affairs' Database Services Officer Sara Darga about how The Council used a comprehensive Change Management Success Framework during their Salesforce implementation project. They will outline how the combination of an effective change management plan and real-time monitoring was instrumental in helping them achieve 100% user adoption on their system.
Change Is in the Air: How to Strategically Support Change Management 
Thursday, November 9, Noon PT
Salesforce.org Lodge, Grand View Theater – Session link
Westin St. Francis Union Square Hotel – Map
Please join us, and be sure to stay in the Salesforce.org Lodge afterward for open discussion with other nonprofits with similar challenges.
---
Join us for Girlforce@Dreamforce
Girlforce is an online group more than 4,400 strong who use Salesforce to support nonprofits and higher education. Its mission is to enable women/nonbinary/trans persons in our Salesforce community to be fearless leaders in technology. This is their fifth year at Dreamforce, and we are proud to be a sponsor of the Girlforce@Dreamforce Breakfast. Join us Tuesday morning to learn more about the community, events, and resources they share all year, and what they have planned for 2018.
Tuesday, November 7, 8:00 am – 10:30 am PT
Salesforce East Tower
Ohana Floor – 30th Floor
350 Mission Street , San Francisco, CA 94105 – Map
---
Don't Miss Out!
As we head into 2018, Heller is planning even more webinars and events, so to stay on top of the what's in store, be sure to subscribe for updates from the Heller team!
Categories: