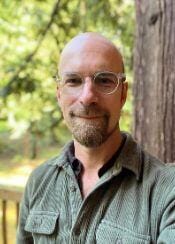 Kashi Whitten
Business Lead, Strategy Practice
Kashi has been working with nonprofits for over 25 years. Before joining Heller, he was Vice President of Technology at San Francisco AIDS Foundation, where he created a vision, strategy, and roadmap for the organization's technology evolution, including client-side leadership of a Salesforce and peer-to-peer fundraising systems implementation. Prior to that, Kashi led the engineering team at an award-winning IT consulting firm. He spent two decades studying and teaching at Saiva Siddhanta Theological Seminary at Kauai's Hindu Monastery, where he co-authored and edited many books and educational materials and provided IT leadership and strategy for the ever-evolving work of Himalayan Academy. At Heller, Kashi provides leadership on strategy and roadmap projects and collaborates on the development of robust strategic service offerings.  
Kashi puts people first, giving way to compassionate and empathetic listening, clear and rigorous communication, and the ability to draw out the best in others, giving them the confidence to express their innate creativity in accomplishing the mission of their organization.  
Certifications
PROSCI certified Change Practitioner
Microsoft Catalyst Training
Education
Doctoral-level studies in Religion, Hinduism, Meditation, Yoga, Counseling.  
Interests
A passion for music has Kashi practicing on a pipe organ here and there, an enthusiasm for great food often has him in the kitchen creating magic for friends and family, and a love of nature frequently draws him out to California's majestic redwoods and up to the mountains.